Jatese Puppies - Java
by GMerz
(Foothill Ranch, CA USA)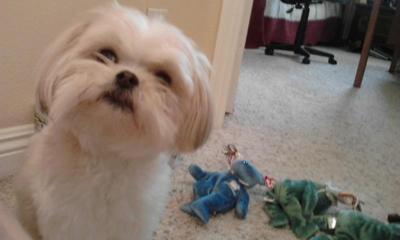 Always ready to help
Always there for us. Java has been a part of our family since we were lucky enough to find him Dec 2010. One of four Jatese puppies, Java was the smallest, yet very tender and loving... It was love at first sight for myself, daughter and even my 6'2" husband. Recently finding out that I was facing another health challenge and always an animal lover, the reason for my search and a dog was to have a compassionate companion to hug and cuddle as I faced potential and ongoing cancer treatments. After two years now, I have to say that we have not been dissapointed. Our Japanese Chin Maltese mix Java has given me and our family countless days of snuggles, laughs and smiles. He is always there when I need to get my mind of other and unpleasant things. He loves to play chase with our cat, bury his "toy bones" and howl with my husband and daughter as we bond at the end of a day. I recommend this mixed breed to great families that want a great addition to their lives.

Join in and write your own page! It's easy to do. How?
Simply click here to return to Tell Us About Your Jatese!.