Maltese Cocker Mix - Jewlez
by Lawana Heard
(Olney, TX)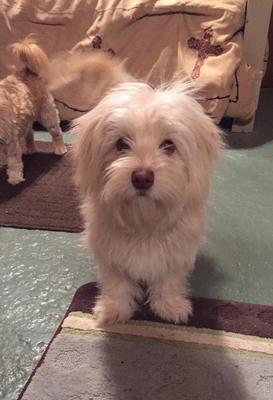 This is before she got her first hair cut. I loved her hair like this
We got Jewelz when she was 8 weeks old, she is now 9 months old. She is so loving and affectionate, loves to be snuggled and loved on. She is a Maltese Cocker mix, she has white silky hair with a little strawberry blonde in her tail.

Loves the water and mud. Very playful and also loves people. She has potty trained very well. Only time she has a accident is when she is in the house to long alone.

Until I seen these other pictures of the mix I wasn't sure what breed she was. The lady I got her from told me she was a Maltese Cocker mix, but as she was growing I wasn't sure! She had green eyes and a brown knows. She is a very unique dog. We have totally fell in love with her. She loves treats. I have watched her grow and have notice she does not like to jump up or down on things. She will wait for you to help her.

I am so glad I have found others of their breed on this site!!