Maltese Maniac Monthly - UPDATE Nov 14
Hi,
I'm so sorry, the links on the email I sent you yesterday were not working. Here is an UPDATED VERSION:
I hope you had a great Halloween celebration with your Maltese. Did you dress them up? Disco failed to stay still enough to get dressed up this year, but he did manage to put on some pink for my friend who is battling breast cancer.

I got alot of feedback about what you would like to see in a book about Maltese and the finished product is finally ready! Complete Maltese Care Made Simple eBook
---
Question of the Month
I'm desperately looking for a Maltese puppy, but I can't pay the crazy high prices most breeders are asking for. I would love to give a Maltese a loving home, do you know of anywhere or anyone that doesn't charge so much? - CHYANNE ROBBINS

I understand how frustrating it can be to find a Maltese puppy that you can afford. If you want a top quality show dog, you most definitely will need to pay a high price and go to a breeder for your Maltese. However, if you are just looking to love and care for a Maltese as a companion, I would suggest that you find a Maltese rescue near you. Here is a list of the best Maltese rescues in the US. You can also go to your local humane society, but a rescue specializing in Maltese dogs would be the easiest way to find a Maltese: Maltese Rescues in the USA
---
Great Doggy Deals
Is your Maltese getting older and having joint or arthritis pain? Don't let the little guy suffer! EntirelyPets has many natural remedies and supplements to make your Maltese feel all better and they're having a FLASH sale only from today until 11/19/14 for 15% OFF. Grab some relief now here - Joint & Arthritis Supplements
---
Tips and Tricks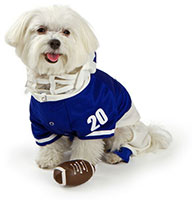 When you're training your Maltese, your goal should be to build a strong bond of mutual trust and respect with your dog. It's not a master-slave relationship. It's more like a captain-team player relationship. You're both moving towards the same goal, and you should both enjoy the process of training and learning together. Learn more about training your Maltese the right way!
---
Contact Me
I'm constantly adding new content to the site and would love to hear any feedback, good or bad. Please don't hesitate to contact me!

If you find this newsletter useful, please feel free to recommend it to a friend. Let's continue to grow the Maltese Maniac community together!
---
Connect with Maltese Maniacs
Connect with over 4000 Maltese dog lovers, submit pictures and videos, and brag about your little ones. Join Maltese Maniac on Facebook

Learn about the latest Maltese dog news, web pages, and user submitted stories as soon as it breaks. Join Maltese Maniac on Twitter

Know whenever any new web pages appear on Maltese Maniac, such as user submitted stories and photos. Subscribe to the Maltese Maniac Blog
---