Want to Know How to Have the Best-Groomed, Best-Behaved, Healthiest Maltese in Your Entire City?
Have a happy, healthy Maltese the easy way

Hi, I'm Katie, the creator of "Complete Maltese Care Made Simple".
As a Maltese owner, I've experienced a lot of the same frustrations you're probably dealing with right now.
The stress of a Maltese that just won't listen...
The big vet bills from preventable health problems...
The time wasted trying to combat behavior problems...
The feeling your Maltese

isn't looking as good

as she should because you're not sure about grooming...
The sense that there's just not enough good information out there about caring for a Maltese...
I love my Maltese dogs more than anything in the world, but after battling with these universal Maltese owner problems myself, I eventually got fed up. I decided I was going to figure out how to solve each and every one of these problems - and that's exactly what I did.
"Great layout, easy to read. It is a good book for someone getting a Maltese for the first time."

- Janice Jones

I studied the most up-to-date training techniques, health care info, and grooming guides specific to Maltese. Everything I learned has gone straight into this ebook.
This ebook represents dozens of hours of research and trial and error to figure out what really works for Maltese dogs.
As a result, all information in here is Maltese specific.
This isn't just another generic dog training guide.
It's a guide carefully designed to give you absolutely everything you need to know about training, grooming, and caring for your Maltese; from puppyhood through to old age.
"I learned lots of helpful tips about training. I would recommend this book to other Maltese moms & dads! It would be especially helpful for new parents."

- Sabrina Adkins
Preview the First 10 Pages Below

Here are some of the IMMEDIATE benefits you'll get from Complete Maltese Care Made Simple...
SAVE TIME - by learning the best methods to get FAST training results, as well as my own special techniques to give your Maltese a quick workout when there aren't enough hours in the day.
SAVE ENERGY - my exercise techniques give you alternatives to long walks for the times when your Maltese needs a workout but you don't have the energy.
SAVE MONEY - you'll learn tricks and techniques professional dog trainers use to create amazing levels of obedience and cure annoying problem behaviors rapidly.
SAVE EVEN MORE MONEY - by learning to maintain a proper grooming and healthcare routine, you'll cut down on expensive trips to the vet.
REDUCE STRESS - a disobedient Maltese can be a huge source of frustration! Learn the principles and techniques that will let you retake control of your home and your life, cure problem behaviors, and keep your dog under control.
TAKE PRIDE IN YOUR MALTESE - no need to feel embarrassed in public because your Maltese isn't well groomed or misbehaves. Your dog will look pristine and obey your every command.
"This book was concise and answered all my questions. I would definitely recommend it to all Maltese owners, and the book was also relevant to owners of mixed breeds."

- Marsha Kimber
A Sneak Peak At What You'll Find Inside...
The keys to reading your dog's mind by understanding her body language
The 10 unbreakable principles of training a Maltese
What it REALLY means to be a "pack leader" - and how you can achieve it quickly and painlessly
The reason rewards are so much more effective than punishment in training your Maltese (it's not what you think!)
---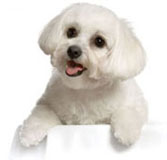 A foolproof method for discovering what motivates your dog the most
How to make your dog obey - even when there are no treats around!
How to put top knots in your Maltese's hair
The most common diseases that afflict Maltese - and how to spot them early
One major thing almost ALL Maltese owners do that actually makes problem behaviors WORSE (you've probably done this in the last week)
---
What to do as a last resort to cure stubborn problem behaviors
How to cure "Small Dog Syndrome" and keep a bossy Maltese under control
Specific tips for beating all these problem behaviors: digging, excessive barking, aggression, biting, peeing inside and more...
Why most Maltese owners get housetraining COMPLETELY WRONG...(and how to make sure you aren't one of them)
---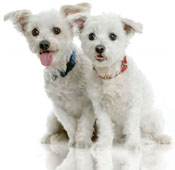 Rare tips on how to introduce your Maltese to other dogs and animals safely, without aggression
How you CAN teach an old dog new tricks
The ONLY ebook that addresses training Maltese mix breeds
A chapter dealing specifically with training rescue dogs
A complete chapter on puppies, answering every question you have about feeding, training, housetraining, anxiety problems and more...
Finally, A Simple, Easy to Follow Guide That Anyone Can Understand and Apply to Get Instant Results
The frustrating thing about many dog training and care guides is that they're way too complicated. You read them to understand your dog better... but you only end up more confused.
I've taken the complicated concepts out of expert dog training manuals and simplified them so that absolutely anyone can understand them.
---
60 Day Money Back Guarantee
I've put my heart and soul into making sure this ebook beats any other Maltese guide out there. That's why I'm willing to put my money where my mouth is and offer a water-tight 60 day money back guarantee.

Buy the guide today and if at any point in the next 60 days you feel the guide hasn't lived up to your expectations, you can get a full refund - no questions asked.
That's a full two months for you to try out all the tips and techniques and see the incredible positive results in your dog's health, appearance, and behavior.
There's absolutely NO RISK to you - so why wait? Click the Add to Cart button and get instant access to the world's most comprehensive guide to Maltese care!
Marley(my angel) & Disco <(-'.'-)>
There are no shipping costs and no waiting.
This ebook is in PDF format. After ordering you will be taken to a download page where you get instant access to download the ebook to your computer. You will also receive an email with the download link.
P.S. Do you have any questions about the "Complete Maltese Care Made Simple" ebook? Please don't hesitate to Contact Me and ask.