Create a Personalized Dog Shirt
Find out how to customize your own dog lover shirts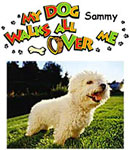 Are you looking for a personalized dog shirt for yourself or a fellow dog lover?
Then you've come to the right place! Take a look at these 20 creative and funny dog shirts that you can personalize with your dog's name and/or photo. These dog lover shirts are also available as sweatshirts and come in various colors.
Get one for yourself and another for that special dog lover in your life. They make great personalized gifts for dog lovers of all ages.
Select a design below and start personalizing your dog lover t shirts now!
Don't forget to create some custom dog shirts for your dog too!
Looking for more Maltese dog lover gift ideas?
Check out our Maltese Dog Gifts page.