Grain Free Dog Food For Maltese
So what's all the hype about grain free dog food? Well wolves, the ancestors of our precious little Maltese dogs, ate only meat.  While I recommend making your own dog food, a good commercially produced grain-free dog food comes in a close second.
Why Choose Grain-Free Dog Food?

For one thing, it's great to have if you're short on time, but really care about your dog's health. I would especially recommend a grain-free dog food for any dog that has skin problems or allergies. It can even help to reduce tear staining, which is the number one issue frustrating most Maltese dog owners.

Maltese dogs are also susceptible to hypoglycemia, also called low blood sugar. High protein dog foods such as grain free, raw dog food, and home cooked dog food can help with managing hypoglycemia.
Whole Paws Dog Food

I was recently sent a box of Whole Foods new line of high protein, grain free dog food to test out on my Maltese. My Maltese Poodle mix Disco is super picky about anything he eats, so this will be an interesting test.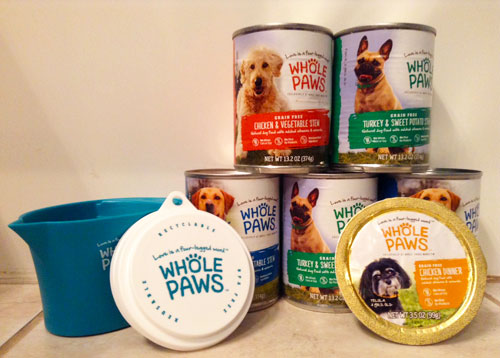 Looking at the ingredients for all Whole Paws® foods, I found that they are made with real chicken, salmon and other wholesome, nutrient-rich ingredients. They contain NO corn or soy, NO animal by-products, NO artificial colors, NO artificial preservatives and NO added sugar. That's a huge leap above most common, commercial dog foods!

If you're not familiar with Whole Foods new line of dog food, feel free to check them out on Facebook, Pinterest, Twitter and Instagram to learn more about special offers, tasty recipes, and fun tips!

Do Maltese Like Grain Free Dog Foods?

In the meantime I'll be experimenting to see if my Maltese will eat this healthy, new food. It will be great for travel and would give me a break from making homemade dog food all the time. Check back in a couple of weeks to see what happens!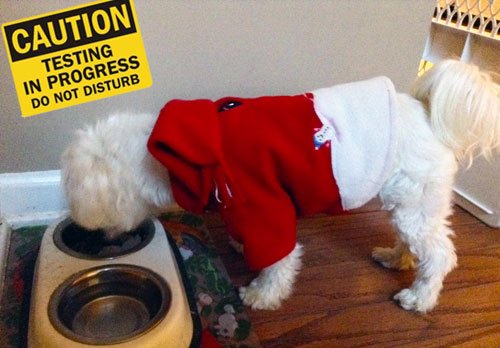 I have written this post on behalf of BlogPaws Pet Blogger Network for Whole Foods Market. I am being compensated for helping spread the word about Whole Foods Market's Whole Paws, but Maltese Maniac only shares information we feel is relevant to our readers.
Learn more about healthy dog foods

---
Maltese › Grain Free Food

Are you a Maltese Maniac?

Join other Maltese Maniacs and get:
Our exclusive monthly newsletter
Discounts on great Maltese dog products
Notifications of contests and giveaways