Find Cheap or Free Maltese Puppies
Are you looking for a Maltese puppy, but can't seem to find one that won't break the bank? Believe it or not, you can find cheap or even free Maltese puppies that are adorable and in great health.
Check out the list I've created below of the top tips for finding top quality, cheap Maltese puppies.

Adopt a Maltese Puppy from a Maltese Dog Rescue
Why Adopt from a Maltese Dog Rescue?
 Adopting a Maltese puppy from a specialized Maltese dog rescue is a great way to find adorable Maltese puppies for less. Maltese dog rescues specialize in saving lost, abused, or unwanted Maltese and finding better homes for them. Although most of the dogs they rescue are older than 1 year, they often have Maltese puppies available, just ask!
Cost of Adopting from Maltese Rescues
Maltese puppies adopted from a Maltese dog rescue are generally between $250-500. This fee usually includes spaying or neutering, current vaccinations, a heartworm test, and grooming.

Find A Maltese Puppy at a Rescue Group
To find the best places to adopt a Maltese puppy in the United States, check out this complete Maltese Dog Rescue list.

Find Maltese Puppies at Your Local Animal Shelter
Why Adopt from a Local Animal Shelter?
Although it may take a bit of patience, another great way to help disadvantaged Maltese dogs and get a good deal is to visit your local animal shelter. If they don't currently have any Maltese puppies, check back often or ask them to contact you as soon as they get one in. It's definitely worth the wait!

Cost of a Maltese Puppy from an Animal Shelter
Maltese puppies for adoption from your local animal shelter usually cost less than getting one from a specialized Maltese dog rescue. Adoption fees are around $25-150. This usually includes a spay/neuter, puppy shots, a vet checkup, and proper grooming.

Find Adorable Maltese Puppies for Adoption from a Shelter
The easiest way to find Maltese puppies this way, is to use this comprehensive search tool to find your local animal shelter.

Consider a Maltese Mix Puppy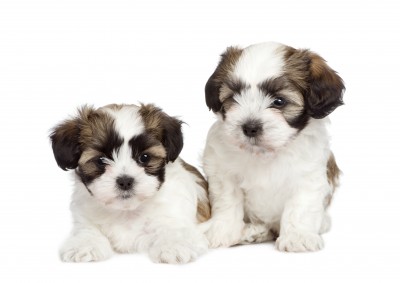 Why Get a Mixed Dog Breed?
If you still can't find a purebred Maltese puppy, consider adopting a Maltese mix puppy. Maltese mixes generally have many of the same characteristics of pure bred Maltese and can sometimes be even healthier. I have both a Maltese and a Maltese Poodle mix and I have to say that my Maltipoo is just as loving and even smarter than my purebred Maltese. With so many unique Maltese mixes to choose from, there's sure to be one that's right for you.
Cost of Maltese Mix Puppies
Adopting Maltese mix puppies can cost anywhere from $25 from a local animal shelter to $500 from a specialized dog rescue. What is included in this fee varies depending on where or who you are adopting from.

Find Out if a Maltese Mix is Right For You
Discover if a Maltese mix is right for you by viewing pictures and seeing what other owners have to say about their Maltese mix dogs.

What NOT to Do When Finding Cheap or Free Maltese Puppies
DON'T look for cheap puppies on Craigslist or other free listing sites. They are usually low quality and can come from unreputable breeders.


DON'T try to cut a deal with a Maltese dog breeder. If you pay less than their usual fee, the puppy may be the runt of the litter or have significant health problems.


DON'T buy the cheapest puppy you can find. They are usually unhealthy and living in horrible conditions in puppy mills. Research, get referrals, and investigate any place you are thinking of purchasing a Maltese puppy from.
Learn More About Maltese Puppies
| | |
| --- | --- |
| | Learn everything you need to know about Maltese puppies with our Maltese puppy guide. |
Did You Adopt a Cheap or Free Maltese Puppy?
If you so, let us know how you did it! Please tell other Maltese Maniacs how you found your Maltese puppy, how much he or she cost, and where you went to adopt your puppy.
How Other People Found Their Maltese Puppies
Click below to see contributions from other people who adopted a cheap or free Maltese puppy...

Are you a Maltese Maniac?

Join other Maltese Maniacs and get:
Our exclusive monthly newsletter
Discounts on great Maltese dog products
Notifications of contests and giveaways