Whole Paws Dog Treats Review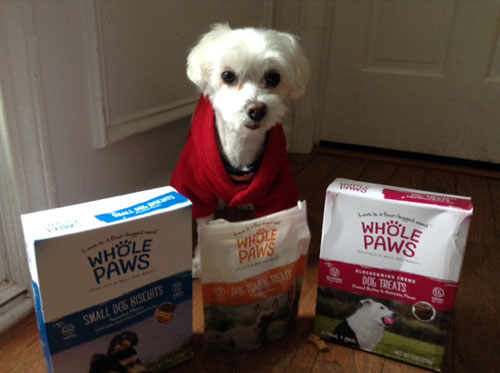 Looking for healthy dog treat to give your precious little Maltese? Whole Paws is Whole Foods Market's brand new line of grain free dog food and healthy treats that meets all of their strict quality standards. Sound good? Well my dog Disco was lucky enough to get a chance to test out 3 varieties of dog treats. He's pretty picky though, so let's see if he approves.
Whole Paws Small Dog Biscuits

First off Disco tried the Whole Paws dog treats made especially for small dogs. That's a plus, as some treats are way too big for little dogs like Maltese. The box passed the sniff test, but once I got one out, he wasn't so sure. It took Disco awhile to take a bite, but after lots of crunching, the whole piece was gone and he licked his chops.

Now as a pet parent, I am always concerned about the ingredients on commercial dog treats. I tend to feed homemade dog food just so I know exactly what I am giving to my precious Maltese, but when I took a look at the box, I was pleasantly surprised. There is NO corn or soy, NO animal by-products, NO artificial colors, NO artificial preservatives and NO added sugar.

Whole Paws Dog Cookies

Next up were the Whole Paws dog cookies. These cute treats are the same shape and size of Oreo cookies, they even looked good enough for me to eat! I didn't taste them though, I let Disco do the testing. He was pretty interested in these cookie treats at first, but Disco ended up just sniffing them and not even attempting to take a bite. I think they were a bit too big for him, maybe a larger dog would like these better.

The ingredients got a thumbs up from me though. All natural ingredients, no artificial flavors, animal by-products, or fillers. I could actually pronounce every ingredient and the list was pretty short.

Whole Paws Dog Training Treats

Last to try were Whole Paws dog training treats. Disco wasn't sure what to think of them at first, but the strong smell finally got to him and he took a bite. Success! Disco loved it and begged for more, so I had him do a few simple tricks for more yummy treats.

These training treats were super small, a great size for keeping some in your pocket at all times for those impromptu training sessions! And of course the ingredients were up to par with the others.  No wheat in these little treats makes it great for dogs with allergies too.

Your Healthy Treat Test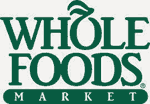 I'm pretty impressed with the ingredients in these healthy dog treats. If you like to give your Maltese top-notch treats, give Whole Paws dog treats a try and let me know if your dog likes them too!
Learn more about Whole Foods Market new line of dog food by checking them out on Facebook, Pinterest, Twitter and Instagram to find out more about special offers, tasty recipes, and fun tips!
I have written this post on behalf of BlogPaws Pet Blogger Network for Whole Foods Market. I am being compensated for helping spread the word about Whole Foods Market's Whole Paws, but Maltese Maniac only shares information we feel is relevant to our readers.
Learn more about healthy dog food

---
Maltese › Whole Paws Dog Treats

Are you a Maltese Maniac?

Join other Maltese Maniacs and get:
Our exclusive monthly newsletter
Discounts on great Maltese dog products
Notifications of contests and giveaways