Is There a Cure for Maltese Eye Stain?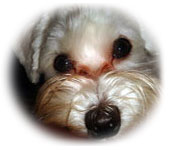 Maltese eye stain or "dog tear staining" is probably the most talked about topic for Maltese owners. Although my Maltese dog Marley doesn't suffer too much from it, many of her friends at our local Maltese Meetup group do. I've read countless articles about this common Maltese problem and wanted to find a way to help other Maltese owners. I decided to condense all of this valuable information on Maltese dogs into an easy-to-read format.
I found out that there are many ways to prevent dog eye stains once you know the exact source of the problem. Finding the cause of your Maltese tear stains is the key to preventing or even curing dog eye stain.

What dog tear stain remover worked for your Maltese dog? Tell us about it.
Maltese Eye Stain Causes

Maltese Eye Stain Solutions

Suggest Maltese Eye Stain Solutions
Do you know of any other solutions to Maltese eye stain? What has worked for your Maltese? Share your eye stain solutions and experiences with your fellow Maltese Maniacs!
What Other Maltese Maniacs Have Suggested
Click below to see Maltese eye stain solutions from other Maltese Maniacs...

Are you a Maltese Maniac?

Join other Maltese Maniacs and get:
Our exclusive monthly newsletter
Discounts on great Maltese dog products
Notifications of contests and giveaways