Natural Eye Stain Remover - Sisterly Love
My daughter's Maltese, Baxter, had eye stain problems until they got a mini Australian Shepherd named Bella. Bella is a natural eye stain remover and keeps her brother's eyes clean by licking them for him! Since they got her, Baxter's eyes stay nice and white. So sweet!!
Join in and write your own page! It's easy to do. How? Simply click here to return to Maltese Eye Stain Solutions.
Bentley's Eye Stain Remedy
by McKenzie
(Arkansas)
Here is a quick and easy natural eye stain remedy.

**Before bathing**
Mix one teaspoon of each of the following:

- Milk of magnesia
- Corn Starch
- Hydrogen Peroxcide


Mix evenly until pastey and apply on to stained area with Q-tips thick. DO NOT COMPLETELY WASH OFF. Let it dry and then bathe the pup. Apply once every two weeks.
Rose Hip Milk for Eye Stains
by Thor's Mommy
(USA)
My Maltese Thor had aweful eye stains, and also on his face, under and around his mouth and anywhere where he cleaned. I tried everything from Angel Eyes to baking soda wipes whitening shampoos and, then my vet did a liver level test on Thor and found his liver levels were high and put him on Rose Hip Milk. Two months after he was done with it the stains all went away. The vet said it can be bought at any Health Food Store.

Now my Thor is pure white as he should be. So I suggest to have your vet check their Liver levels if staining is a problem and talk to your vet about the Rose Hip Milk.
Tear Stain Remedies - Clip Fur
by Valerie
(Australia)
We adopted Charlie our Beloved Maltese several years ago,he had shocking tear staining to his face also his Paws when he arrived, I tried all sorts of over the counter remedies, NOTHING WORKED!, in desperation I decided to clip the fur around the eye area every two weeks, since keeping the fur clipped short around the eye location there are no issues with staining, he is a senior canine, now 12yrs, however he maintains that puppy appearance, I do all the clipping myself, I tried several groomers but was not impressed with their "rough treatment" of Charlie, he used to snap at them because they obviously hurt him, now when I groom him, he is so relaxed that he even falls asleep whilst I am clipping him, he thinks of it as our quality time together, and loves the pampering, Charlie is the "LOVE" of my life,he adores me and I him! regarding solutions, I really feel that none of them do the job, in fact the chemicals in them are quite unpleasant and the odour affects a dogs sinus, I recommend clipping the fur away from the eye area to reduce dog eye stain! Less stress for you Canine friend!
Remove Dog Tear Stain with MOM Formula
by Katie
(Kennesaw, GA)
I just got a Maltese Poodle or Maltipoo named Disco. He had very bad tear stains, so I decided to try a solution using products I already had.

I mixed up equal parts of Milk of Magnesia and Peroxide with a little bit of Corn Starch to make a paste (just thick enough so that it stays on the hair under the eyes). I applied it under his eyes to leave overnight.

When I washed it out in the morning, the tear stains were 90% gone. Now I give him 1/2 a Tums a day to keep the tear stains away and only use the MOM formula once a month.
Saline solution helps Tear Stains
by Fran
(Chesa., VA)
Wipe stains twice a day with cotton ball soaked in Saline solution Thimerasol free. A vet told me about it years ago.
Join in and write your own page! It's easy to do. How? Simply click here to return to Maltese Eye Stain Solutions.
No Dog Eye Stain - Fluffy
by Isha
(Chuncheon, S Korea)
I use a hot towel to remove dog eye stain on my Maltese - do this every time immediately after dog has been fed. Use fairly hot water and wet a small towel and wipe your dog's eyes and nose and mouse, if possible, the teeth, too. I do three time a day at least, it is easy if you make it a routine.
Remove Dog Eye Stain with Vinegar and Water

(Emma)
It started when my angel was around a year old. As she got older her dog eye stain was in blobs and I tried heaps of things 2 get rid of it. A little bit of vinegar and water cleared it and softened it and I pulled it off with a tissue. It came away easily after it is wet but I haven't found a way 2 get rid of the stain altogether.

P.S watch the dogs eyes you don't want any going in your precious dogs eyes :)
Simple Way to Reduce Eye Stain
by Doreen
(Rhode Island)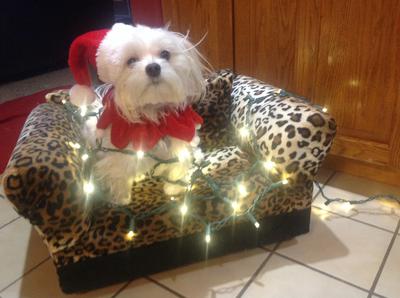 Merry Christmas
I just use a face cloth, water and Kleenex. From the minute he woke up in the morning, I would wipe his eyes with a Kleenex then with a small comb with tiny teeth, you know the one that's big on one end an smaller on the other, well I'd comb the hair around the eyes, get all the little crust out then wash it wit a warm face cloth or paper towel. Then I would check his eyes all day if they were wet I'd wipe with a Kleenex, sometimes I'd have to cut the hair around his eyes and I did that every day for 15 yrs and they stayed clean, I'm on Maltese number 2 and do the same thing. I swear by that.
Dog's Own Saliva Fixes Eye Stain
Let your dog lick your finger frequently and wipe out the corner of the eye. The natural enzymes in the saliva very slowly break down the dark colouring and it is the most simple technique.

Works with any dog to keep their eyes clean. It is just so hard to transfer enough themselves on fluffy dogs!


Join in and write your own page! It's easy to do. How? Simply click here to return to Maltese Eye Stain Solutions.
Water and Soft Cloth for Tear Stains
by Doreen
(RI)
I have had one Maltese for 13 yrs, which I had to put down last March. Which I haven't gotten over yet, not even a little, still crying, but back to the tear stains from day 1 to about 5 months I tried every thing, but I must add I also washed her eyes 5 or 6 times a day and all the dis coloring went away.

I used to cut the hair around her eyes also, people use to stop me an asked what I used, my reply was water an a soft face cloth, and I also combed her eyes 2 times a day, you know, because of the little eye bloggers an crust, he had the cleanest eyes ever. I'm on Maltese number 2 and I do the same. He also has clean eyes, try it!

Trimming Hair Stops Tear Staining
by Paula
(Auckland NZ)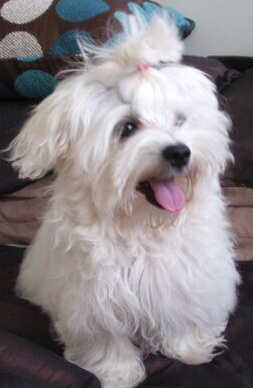 Bling Bling
I have had my Maltese Bling Bling since she was 3 months old, I started to notice the tear staining when she was around 4-5 months old - I tried the tear stain removing products from the pet store - they helped a little but didn't completely remove it.

I paid close attention to the tears & staining and noticed that the tears were produced when stands of hair got caught in her eyes so I very gently trimmed around to eyes - to my surprise the tears stopped and subsequently, so did the staining. She is now 6 years old and has no prominent tear staining at all.

I often have people comment about the lack of staining and how clean her face looks. Granted it is an exercise that I need to perform every few months however she is quite familiar with the protocol and is super patient sitting very still for me. Be very careful to ensure no harm to your beloved Maltese.
Milk for Cleaning Eye Stains
by Danielle Malka
(Montreal,Quebec,Canada)
Yes cleaning the eye stain with milk is the only solution that works! I've tried it on my Maltese Bijoux.
Join in and write your own page! It's easy to do. How? Simply click here to return to Maltese Eye Stain Solutions.
Less Dog Eye Stain with these Grooming Tools
by Donna
(Southlake, TX)
One way to decrease dog eye stain is using the right grooming tools. A long-time groomer said she never uses a shaver between the eyes. Said that can injure/irritate tear ducts and cause/increase staining. She only uses safety blunted scissors.
Join in and write your own page! It's easy to do. How? Simply click here to return to Maltese Eye Stain Solutions.
Using Warm Water to Remove Tear Stains
by Emily Maldonado
(Lawrence, MA)
I have a Maltese male and I was wondering what can I do to remove those stains. So what I did was get a cloth and put warm water on the tear stains every day, morning and night. So then it started removing! It's amazing RIGHT!
Remove Dog Eye Stain with Hot Water
by Ororoh Mon Ro
(Houston Texas)
One way to remove dog eye stain is with hot water. When you have a Maltese pup or older dog that has tear stains you can try to put VERY hot water on a thinly spaced comb and comb through the stains.

This only works if you do it daily or weekly. Be careful not to get the hot water in your dog's eyes!
Join in and write your own page! It's easy to do. How? Simply click here to return to Maltese Eye Stain Solutions.
Lemon Juice and Boric Acid Powder
by Joe
(Charleston, SC)
I had heard many years ago that boric acid powder was good for eye staining. It is the ingredient in commercial eye wash for people. It can be found in the drug store. I apply this powder to a clean and dry face, making sure not to get any in the mouth.

Well remember how lemon juice use to lighten hair in the sun? I decided to make a paste of lemon juice and boric acid powder. It worked great. I used the concentrated juice in the green bottle. It took a couple of applications, but did work.

Join in and write your own page! It's easy to do. How? Simply click here to return to Maltese Eye Stain Solutions.
Dog Tear Stain Remover - Peroxide
by Kevin
(Florida)
A great dog tear stain remover is half and half mixture of distilled water and peroxide, works wonders! Be careful not to get in dogs eyes. I use a q tip.
Hydrogen Peroxide and Conditioner
I mix my hair conditioner with Hydrogen Peroxide (ratio 2 conditioner to 1 HP)and brush it onto the stains with a tooth brush about 5 minutes before I shampoo my Maltese. By the time I bath her head the stains just disappear!

I use a toothbrush so I can be really careful around her eyes and a thick hair conditioner so the mix stays in place.
Join in and write your own page! It's easy to do. How? Simply click here to return to Maltese Eye Stain Solutions.
Soothing Collyrium for Fresh Eyes
by Debra Babski
(Fredonia NY)
You can get Collyrium For Fresh Eyes
at any drug store, for under $10.00. One drop in each eye, in the morning and one drop each eye at night. Works for my Havanese and my Maltese. This is the best price we found.

Join in and write your own page! It's easy to do. How? Simply click here to return to Maltese Eye Stain Solutions.
Dog Tear Stain Remover - Polysporin
I found that Polysporin First Aid Antibiotic Ointment
works well as a dog tear stain remover when they start to get red and soreness under the eyes. Works well at combatting any infection and loosening up the gunk that clogs their tear ducts.

Join in and write your own page! It's easy to do. How? Simply click here to return to Maltese Eye Stain Solutions.
Changing Locations Helped Eyestain
by Lori
(Seattle, WA USA)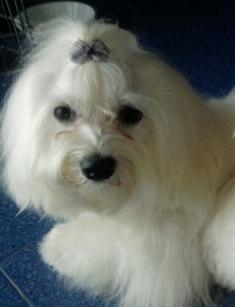 Nena with red tears in spain using Pretty Eyes
I want to tell everyone that reads this that I am stumped to what has happened to the change of red tearing in both my Maltese by simply changing locations. There has to be some answer: I am an American that moved to Alicate, Spain, along the Mediterranean sea. I purchased two Maltese female puppies that are nine months different in age. The older Maltese, Nena, always had eye staining and I used Pretty Eyes daily to keep the red to a minimum. The second Maltese puppy, Luna, had no staining what-so-ever. After 2 years, we moved to Washington, State.

Since we have moved here, our older Maltese no longer has tear staining and needs no products. The younger Maltese, Luna, that had no tear staining, now has tear staining and lots of it! I gave her a months supply of Tear Stain tablets by NatureVet and they were beginning to work. We then bred her and had to stop the supplements. Will start back after the puppies are old enough not to need moms milk. (her puppies are 2 days old)

By the way, both girls remained on the same dog food, Royal Canin, in both countries. If anyone can figure out the change of location connection, which I am sure there has to be one. Maybe the tear staining problem can be completely resolved. I would love to hear some comments to this question of location. Wish I could give my email, but please comment!
Join in and write your own page! It's easy to do. How? Simply click here to return to Maltese Eye Stain Solutions.
Dog Eye Stains Home Remedy
by Ron Williams
(Lions Bay BC Canada)
We got rid of dog eye stains by using home cooked dog food. Having had two Maltese Poodles (Father and daughter) there was an early time in their lives they developed red eye stain to start with. My wife slowly weened them off of hard kibble and went to natural good foods such as greens, carrots, broccoli, brown rice, fish and meats. All served after light steaming, to contain the food benefit.

Quite rapidly the red eye stain went and after cleansing eyes and slowly trimming off the red stain hair as it grew they became clear of any like problem. We enjoyed our Beau (the father) for 17 1/2 yrs and he slipped badly over that last six months and we were forced to make that awful decision.

Now his daughter Buttons (daughter) is 16/12, has so much spirit still but badly losing hearing and site. She handles herself well in our home but removed she becomes very disorientated. She is very active still in her comfort zone
and hopefully she will be with us for a while yet. She is so clinging and attentive to us and we cherish her every day we have her.
Are you a Maltese Maniac?

Join other Maltese Maniacs and get:
Our exclusive monthly newsletter
Discounts on great Maltese dog products
Notifications of contests and giveaways