Best Puppy Food For Maltese
Give your small dog the quality puppy food they deserve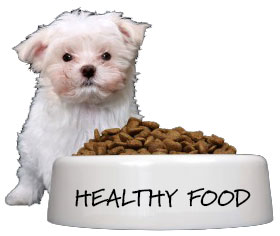 Although my two Maltese dogs aren't puppies anymore, I'm always on the lookout for the best puppy food recommendations I can give my friends with Maltese puppies.
I've done the research and found out which is the highest quality puppy food recommended by Whole Dog Journal and other reputable puppy food ratings.
Take a good look at the list below to find out what you should be looking for in a high quality puppy food for your best friend.
Criteria for the best puppy food for Maltese: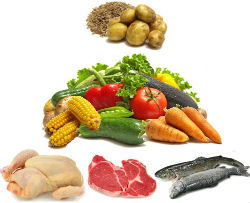 All natural, human grade ingredients
Hormone and antibiotic free
No by-products
High protein
Quality grains and no cheap fillers
No chemicals, preservatives or additives
Seperate line of food for puppies
Blue Buffalo Puppy Food - BEST  PUPPY FOOD
Highly Recommended by Maltese Maniacs

Blue Buffalo is one of the top recommended puppy foods for Maltese. Maltese Maniacs agree that you can't find a better quality puppy food. It also reduces Maltese eye stain in most puppies because it is gluten free and has a low grain and high protein content. 
GET Blue Buffalo Wilderness Puppy Food >>
---
Horizon Puppy Food
Horizon Legacy puppy food is grain free and the next best thing to having your Maltese puppy on a natural raw food diet. This premium puppy food contains lots of human grade meats, fruits and vegetables.

GET Horizon Legacy Puppy Food >>
---
Merrick Puppy Food

Merrick is a family owned company. They always get exceptional dog food ratings from the Whole Dog Journal and are widely know as one of the best puppy foods on the market. It's also great to know that all of their ingredients are sourced from the USA and their food is manufactured in the USA.

GET Merrick Classic Puppy Food >>
---
Orijen Puppy Food

Orijen is a very good puppy food with high amounts of quality protein such as chicken, fish, and eggs. A wide variety of fruits and vegetables are also included. Fish oils for heart health and sunflower oil for coat and skin are really nice extras.

GET Orijen Puppy Food >>
---
Wellness Puppy Food

Wellness often appears on top 10 best puppy food lists, is one of the best rated puppy food manufacturers, and have been reviewed and approved by the Whole Dog Journal. They specialize in hypoallergenic dog food so all of their products are free of wheat, corn, and soy.

GET Wellness Puppy Food >>
---
Wysong Puppy Food

Wysong makes a great wet puppy food or "dressing" as they call it. You can use this by adding it to any dry puppy food to make it super nutritious. Chicken, carrots, and barley are the main ingredients in this healthy canned puppy food.

GET Wysong Puppy Food >>
Do you feed your Maltese puppy food?
If so, your dog could be famous! Please tell us all about your favorite Maltese puppy food and we'll put it on our website. Why did you choose this type of food? Did your puppy experience any changes once he starting eating this food? Let other Maltese Maniacs know why this was the best puppy food for your Maltese.
What Other Maltese Puppy Owners Have Said
Click below to see what puppy food other Maltese puppy owners recommend...