Best Puppy Food For Maltese
Give your small dog the quality puppy food they deserve
Although my two Maltese dogs aren't puppies anymore, I'm always on the
lookout for the best puppy food recommendations I can give my friends with Maltese puppies.
I've done the research and found out which is the highest quality puppy food recommended by Whole Dog Journal and other reputable puppy food rating lists.
Take a good look at the list below to find out what you should be looking for in a high quality puppy food for your best friend.
Criteria for the best puppy food for Maltese: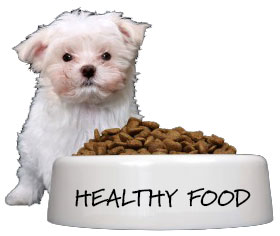 All natural, human grade ingredients
Hormone and antibiotic free
No by-products
High protein
Quality grains and no cheap fillers
No chemicals, preservatives or additives
Seperate line of food for puppies
Although all of the puppy foods below meet the strict criteria above, you'll need to experiment to find out which is the best brand of puppy food for your dog. Most of these premium puppy foods aren't available in grocery stores or pet superstores, so I've included this link to a page where you can buy the best puppy food online.
---
Blue Buffalo Puppy Food
Most Recommended by Maltese Maniacs
Blue Buffalo is one of the top recommended puppy foods for Maltese. Maltese Maniacs agree that you can't find a better quality puppy food. It also reduces Maltese eye stain in most puppies because it is gluten free and has a low grain and high protein content. 
---
Horizon Puppy Food
Horizon Legacy puppy food is grain free and the next best thing to having your Maltese puppy on a natural raw food diet. This premium puppy food contains lots of human grade meats, fruits and vegetables.

---