Fromm Dog Food - Belle and Sammy
by Susan
(Minnesota)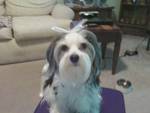 Belle
I feed my two Fromm dog food Adult Gold. Belle is 2 1/2 and Sammy is 8 months. The Fromm puppy food has just a bit too much protein for mine but I love Fromm as it's made here in the US and close to where I live. We have never had any tummy problems and their stools are always normal. I also supplement Belle, my Morkie with some Fresh Pet Select as she needs a little something on the side. We went through about every food out there when we got her and she would eat it once then refuse. She loves the Fresh Pet and never turns it down. There are several flavors so we can offer a change once in a while.


Join in and write your own page! It's easy to do. How? Simply click here to return to Your Favorite Puppy Food For Maltese.
Are you a Maltese Maniac?

Join other Maltese Maniacs and get:
Our exclusive monthly newsletter
Discounts on great Maltese dog products
Notifications of contests and giveaways