What Are Maltese Mix Dogs?
Maltese cross breed dogs & where to find them
A Maltese mix happens when a Maltese breeds with another purebred dog.
Although Maltese mix dogs will never be able to walk in a show ring, they are still wonderful dogs to adopt if you are a Maltese dog lover and want to save a precious life.
Please do not purchase these dogs from a breeder. If you discover a Maltese mix that would fit well with your family, you can easily adopt one at a Maltese Dog Rescue instead (and for a lot less money)!
Below is a list of some of the Maltese hybrid dogs that can be found in shelters and rescues. By clicking on each link below you can learn firsthand what other Maltese mix dog owners have to say about their dog's personality. You can also view pictures and videos of Maltese terrier mix dogs.
Read what actual Maltese mix owners say about their dogs' personalities.
Maltese Mix Dogs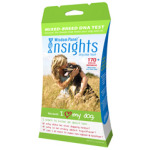 If you have a mix that is listed above, please click on that link and tell us about your dog there. If your dog breed mix is not listed above, please enter your story below.
Do you have a Maltese mix?
If so, your dog could be famous! Please tell us all about your Maltese cross breed and we'll put it on our website. What kind of personality does s(he) have? What makes him/her so special? Let other Maltese Maniacs know what to expect from a Maltese mix. Submissions must include at least 200 words of text and a picture to be accepted. Thanks!
What Other Maltese Mix Owners Have Said
Click below to see contributions from other visitors to this page...

Are you a Maltese Maniac?

Join other Maltese Maniacs and get:
Our exclusive monthly newsletter
Discounts on great Maltese dog products
Notifications of contests and giveaways