Maltese Shih Tzu Mix - Malshi
AKA: Mal-Shi, Shih-tese, Shihtese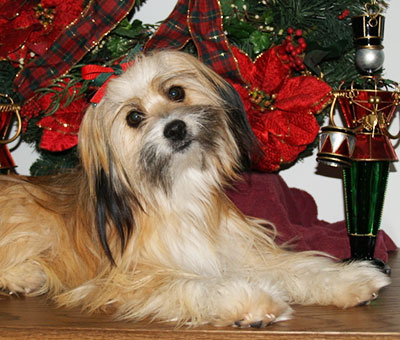 The Maltese Shih Tzu mix, aka Malshi or Shihtese, is a cross

between a Shih Tzu and a Maltese. These hybrid dogs are recognized by the American Canine Hybrid Club and can be registered on their site.

They are an adorable, little Maltese dog breed mix that comes in many different color combinations and is growing in popularity because of their playful personality.

Read more about the Maltese x Shitzu below to see if this is the right Maltese mix for you.


Do you have a Maltese Shih Tzu mix? Click here to join us on Facebook and post pictures of your lil cutie for everyone to see!
---
Personality
These dogs take on the temperament of both Shih Tzus and Maltese. They are spunky, hardy, and alert little dogs. Most make friends easily with other dogs and people and are very playful. These dogs do great with gentle and considerate children.
They have a lot of character and can be stubborn and clever. Some may be difficult to housebreak and need consistent patient training.
They also make a good watchdog, but usually do not bark excessively. Most people find them to have a courageous, yet gentle personality.
---
Cool Maltese Shih Tzu Mix Gifts
If you already have a Shitzu Maltese mix or know someone that does, check out these unique gifts for dog lovers below.


Create a personalized gift at Zazzle.


---
Appearance
This Maltese mix can come in a wide variety of colors, but is usually brown, black, or tan mixed with white and is sometimes solid white.

Their hair is usually long and straight. Therefore, they need daily combing and brushings.

Some shed lightly, while others do not shed at all and are hypoallergenic. Full grown Maltese cross Shih Tzu dogs can weigh anywhere from 8-15lbs.


---
Learn More
Find the perfect dog for you. Learn about other Maltese mix dogs.
---
What Other Malshi Owners Have Said
Click below to see contributions from other Malshi dog owners...