Black and White Malshi - Violet
by Shannan
(Palos Verdes Estates, CA, USA)
Violet is my 11 week old 2 lb. 13 oz. c. She is just wonderful and very smart. I had her fully house trained at nine weeks old. She is also crate trained, comes and sits on command and is learning to walk on her leash. Violet loves everyone she meets and is very good with our children. She is in her puppy biting phase which isn't so fun, but luckily enjoys her chewy toys a lot.


I researched this breed carefully and finally decided on a Malshi. So happy I did! I highly recommend this breed if you love toys breeds. I do recommend finding a rescue or reputable breeder to avoid the chance of supporting a puppy mill. There a lot puppy mills breeding Malshi's out there. But that's just my advice.
I'd love to hear what you think of Violet!
Black and White Malshi - Addie Grace
by Allison
(Georgia)
Addie who also goes by Adster and Addie grace is a 1 year old Malshi. She is the best dog I have ever had! Wonderful personality! She is great with kids and other dogs. She is a very loving dog!

She weighs about 4.5lbs and is black and white in color. She is my princess and one could never go wrong with the Malshi hybrid breed!
Black and White Malshi - Oreo
by Bonnie
(Cold Spring, KY)
My Malshi will officially become mine this evening. She is 5 months old, and is black and white -- hence her name "Oreo". I did not name her.

I am adopting her from a neighbor who bought 2 Malshis, but decided that one is enough. The other dog Ginger, is Oreo's cousin. Ginger and Oreo will have the opportunity to visit and play with each other. Her present owners are loving and caring folks.

Oreo is potty trained, shakes hands, sits, speaks and lies down. She is very responsive to commands. She's had her shots and she's been spayed. I knew that I would fall for both dogs upon meeting them. Both Ginger and Oreo were all over me, and I was in Heaven! Oreo will come with her little dog carrier, her bed, a darling pink sweater and other goodies. I'll take her to the same Vet and pet groomer she is accustomed to. My condo has the same layout that her present owners have.

I can't wait to bring my Malshi home and just cuddle and bond with her this weekend. We will have our girl party -- just Oreo and her Mommy. I will post a photo of her to this site ASAP.
Return to Tell Us About Your Malshi!.
Black and White Malshi - Oreo
by Phillip Carter
(Shenandoah, Virginia, US)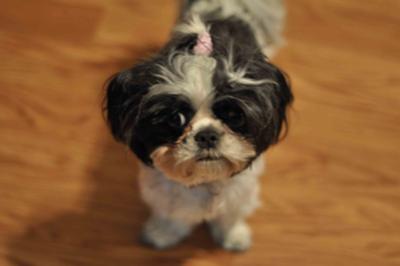 Oh my black and white Malshi is so wonderful, she just turned 1 november 14th and weights just a little over 5 lbs. She likes going for walks, all I have to do is show her the leash and she gets so excited sometimes she jumps right off the couch without being hooked. My Maltese Shih Tzu plays, sleeps in our bed, and is wonderful with kids, will allow them to carry her around, and is very good about not barking inside.
Black and White Shitzu Maltese - Koco
by Julissa
(Temecula, CA)
He is adorable, black and white Shitzu Maltese, 2 yrs. old and he likes to cuddle and sleep by your feet :)... They will become ur best friend. He became mine, but u have to train him as a puppy because thay are hard to train when they become adults. Maltese Shih Tzu dogs are easy to potty train and he LOVES the outside even though they're house dogs and I'm just addicted to him.
Return to Tell Us About Your Malshi!.
Black and White Maltese Shih Tzu Puppies - Bella
Bella is one of the best black and white Maltese Shih Tzu puppies. Before I had her I was a cat person, but now I love dogs too. She is almost 4 months old and weighs somewhere in between 4 and 5lbs.

She is very spunky and loves meeting new people.
When she was younger, she loved biting everything. She has since calmed down on that but still chews on some things.

I didn't think she was hard to potty train at all.
I haven't trained her to do any tricks yet, but she typically listens and learns fast.

She doesn't like being lonely, if I leave the room she is in she typically starts barking or whining. She is very alert.

I think Maltese Shih Tzu mixes are the most adorable puppies and if you are considering getting one, it is definitely worth it.
Return to Tell Us About Your Malshi!.
Black and White Shitzu Maltese - Jen-jen
by Chona Arles
(Cebu City Philippines)
My black and white Shitzu Maltese is very playful and loves to be around with people. She's very clever because even if we didn't potty trained her she just have her own instinct to urinate and poo-poo on a rag. She's an intelligent dog because if you teach her something she can easily get it like playing fetch. The best thing that I love about my jen-jen is she's very sweet and playful. My Malshi takes away the tiredness after the long hours of work.
Return to Tell Us About Your Malshi!.
Little Shitzu Maltese - Chewy
by Xai
(Elk Grove)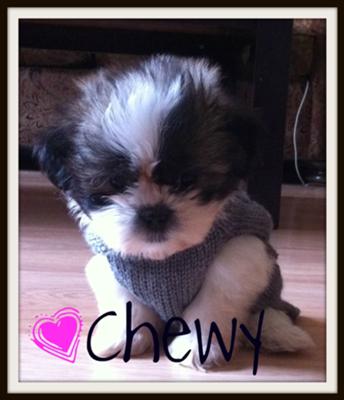 Meet my new addition...Chewy
I have always wanted a little Shitzu and I happened to stumble upon a Shitzu Maltese mix. My husband purchased him for me and my girls for Valentine's Day and he has brought the family nothing but happiness. Though he is only a little over two months old, he is very smart. He is already potty trained, learned how to shake, and alerts us when he wants to use the bathroom. He knows where in the house he is not allow to go.

How did he get his name? My husband says he looks like a little chewbacca and likes to chew on our feet as we sit or walk. He has the cutest face and when he looks at you, his cuteness just melt you away. He loves to snuggle after playing for a few hours and can snuggle all day long, besides when he needs to use the bathroom.

We have been blessed with him and his personality.
Return to Tell Us About Your Malshi!.
Malshi Friends - Onyx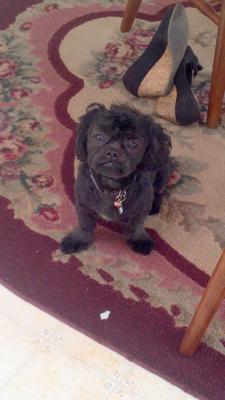 Really Mom!
Onyx my Malshi is 7 months old and super sweet. Him and my Chocolate lab are great friends and they love each other. we got him shaved on Sunday because he loves getting in bushes and he gets the branches stuck in his fur. we got him when he was 2 mths old and has been nothing but a big joy to our family
Return to Tell Us About Your Malshi!.
Black & White Maltese Shih Tzu Mix - Gi Gi
by Shari
(Michigan)
My Maltese Shih Tzu mix is the most loving dog you could ask for!