Adopted Mal-shi - Imogene
by Heather
(Melbourne, Australia)
We adopted our Mal-Shi from a rescue organisation in Melbourne Australia. Imogene is about 12-18 months old and is an absolute darling. She had a congenital heart problem involving a faulty heart vessel, and the rescue organisation paid for this to be repaired before adopting her out.


She has settled right into her new home with her new sister Verde a Miniature Schnauzer and is learning new things very quickly. Our Malshi is very bright and a quick learner, plus is very friendly to people and other animals. We are looking forward to having a lovely life ahead with Imogene.
Return to Tell Us About Your Malshi!.
Mal-shi - Daisy
by Geraldine
(Ontario, Canada)
Daisy is the cutest Mal-shi ever!! She is spunky, funny and I couldn't imagine life without her. She is an addition to our Golden Retriever, Haley, and cats, Choco and Roxi. Daisy is very affectionate and loves cuddles and always has to be near someone. She follows me around like a shadow all day. She has more of the Maltese tempermant and was difficult to house train and is still a little fussy about going outside in the cold and snow to do her business. I used to be a total cat person until I decided to get Daisy and now I am a total Mal-shi dog lover-I will never get another breed of dog!!
Return to Tell Us About Your Malshi!.
Male Malshi - Newt
by Alice
(Michigan)
I believe my male Malshi is special like everyone else who owns one does but he truly is! I had no trouble housebreaking him which I was grateful for because I lived up 2 flights of stairs and that is definitely no fun in the middle of winter. I lived and worked above a ceramic studio. He took his job seriously and everyone was in love with him. Enough so that one of the customers did a large art piece of him complete with frame that hangs down there today! I also had both doors open in the summer where he would lay in his bed next to the sidewalk to be petted by all who walked by. No kidding... my Malshi was only a puppy when he was trained to stay near the store and the only problem I would have is the dogs that came to see him! I have a bicycle with a basket on front and that's where he sits as we ride around town. It's so cute to see my Maltese Shih Tzu with his ears flying back and his nose in the air!

Due to his personality and intelligence, I use my male Malshi for stud. He's been a daddy twice. The time where I feel Newt is at his best is when were in the deep woods and is challenged by everything around him to keep up. That is when his courage and stamina come in the most. When he's not curled up smelling and looking like a prince he's out in the woods with black swamp-water legs and burrs stuck all over ears feeling like a king. My little Newt is black and white and weighs 6.6 pounds.
Return to Tell Us About Your Malshi!.
Mal-Shi - Juju
by Joyce
(California)
My boyfriend and I adopted a 2 month old Mal-Shi named Juju about a week ago and could not be happier with our little spunky bundle of joy.

He already has become such a precious addition to our family and has had no problem socializing with my older dog Trixie, as well as my parents (who aren't the biggest dog lovers, but fell in love with him at first sight!).

Juju is quite the smart little guy. He has been the easiest puppy I've had to potty train, though he still has a while to go before we can trust him to run around free in the house. And he has been catching on to learning commands such as "sit" very quickly.

Juju is one of the sweetest little dogs we know, and we feel very lucky to have come across him. My boyfriend and I cannot be happier with our Mal-Shi.
Return to Tell Us About Your Malshi!.
Male Malshi - Maximus
by Misty Meyer
(Flw, Missouri)
Maximus or Max, was an AMAZING choice for our family. I found a family trying to get rid of a male Malshi and we ended up adopting him. He has done wonders with my girls, ages 4 & 7. They are not always gentle with poor Max, but he is very gentle with them. It is a very important thing too. My oldest daughter has autism. He is patient and gentle with her and he gets excited to be around the kids. My Maltese Shih tzu lets them hug and kiss him and he has really helped my oldest come out of her shell. He is a therapy for her. My oldest daughter has allergies and since he doesn't shed much, her allergies have not been triggered. I am always amazed at how loveable and playful he is. At only a year old, he has plenty of spunk left. My Malshi likes to ride in the car, but he does try to "escape" :) He thinks it's a game. He likes to hide his treats, so they will be safe. And the most amazing part, is that he doesn't bark much. He usually just barks when he's dreaming. He sleeps with his legs in the air, and it's hilarious. The only downfall was that his first family didn't keep him groomed very well and they kept him in a cage. So although they said he was crate trained, he wasn't potty trained. It took a lot of coaxing for him to do all his business outside, but we showed him nothing but positive reinforcement with it. He excels with liver treats. He also had a new "do". We had to have our Maltese Shihtzu shaved because he was matted so badly so he only had hair on his curly tail and on his head. I thought he was still adorable. Bottom line: for a great apartment dog, who if treated right, genuinely loves to be around people, especially kids, choose this Maltese mixed breed. The love we have found with Maximus, is truly a blessing.
Return to Tell Us About Your Malshi!.
Mal-Shi - Sophie

(Minnesota )
Our Mal-Shi Sophie is wonderful!! She is really good with our children which are 9,5 and 3.

I would recommend a Mal-Shi to anyone. She loves to play and is also a great cuddler. We lover her very much.

Return to Tell Us About Your Malshi!.
Little Malshi - Sweetie
by Bonnie
(Waynesville, Ohio)
Sweet Dreams Sweetie
Sweetie is a bundle of love. We got our Malshi Christmas 2011 at the age of 8 weeks. Our 9 year old Peke-a-poo loves her too. They play and frolic, and I really believe that Sweetie is going to keep Boogie young, or at least young at heart. Sweetie loves to play fetch and is very good at opening the sliding screen door all by herself. She loves raw vegetables and can't wait untill we bring it in from the garden. She gives us so much love and joy. I would recommend a Malshi to anyone!
Return to Tell Us About Your Malshi!.
Mal-Shi - Milo
by Kristye Snith
(Martinsburg, WV)
Milo is turning 2 yrs old this June 2011, he came to us at 8 weeks old. Our family just loves our Mal-Shi to pieces, he is so full of spunk and energy! At any given time of time he can be chasing tennis balls with our children or sitting up on Mama's lap getting a belly scratch. Always so excited to greet us at the door when we come home from school or work. And look out he is the cutest watch dog ever! Mal-Shi's are so very smart and a ball full of fun!
Return to Tell Us About Your Malshi!.
Adopted Malshi - Chevy Boy
by Marsha A Barnes
(Lincoln, Nebraska)
Chevy Boy was a Malshi dog who needed saving. I found him on CL and went to meet him and his owner. This poor baby was so adorable, and loving... but was INFESTED TERRIBLY with fleas, his ears stunk terrible from ear mites and his rear end needed major attention. The minute I saw him I knew I had to adopt this Malshi and give him a good loving home. And for God's sake clean him up and make him comfortable.

He is a Shih Tsu Maltese mix. Chevy got his name because when I brought him home we drove home in an old Chevy Caprice (my husband fixes up old box Chevy's as a hobby) and whenever we went outside he'd run right under the Chevy. So I said to him, "Are you a Chevy Boy too baby?" And bam, there it was...

He's very loving, loves to give kisses, and will do so on command when I say, "Give u mama kisses." He's working on beg and shake right now. He can be pretty stubborn when we practice tricks, so he thinks he can get away with givin mama kisses instead of doin the NEW trick.

Chevy loves Dingo bones, he tosses it in the air, sometimes across the room and he chases after it. Once he's done playing with it he goes and hides it in a "secret" spot. Usually right in plain sight, but he makes sure he "digs, and nudges" a nice lil secret spot no one else can see but him. :)

All in all Chevy is a great Malshi dog with a great future adorable as can be, all the love a girl could want and knowing a dog was helped out makes it all worth it.
Malshi Sister - Chloe
by Shelley
(Memphis, TN, USA)
Our Malshi is the sweetest most laid-back little dog! We got Chloe as a puppy, to keep our full-blooded Maltese Casper company. She is so sweet, and loves people, loves to carry around her ball and play.

She has been a joy to have around since we got her 4 years ago. It is so fun to watch she and our Maltese play together, and they even nap together when its time to calm down. She is excited whenever she meets new people (though she can be a little jealous when our other dog gets attention) and she loves to go for rides in the car, or just lay outside on our deck in the sun.

Our Malshi is a wonderful part of our family, and we wouldn't trade her for anything!
Return to Tell Us About Your Malshi!.
Loyal Mashi - Lilly
by Darcie Dufoe
(Temecula, CA)
Lilly is just the best dog ever. And, mind you, I have had several and even gave a naughty one up. First of all, I thought all little dogs were yappers. Not the case! Our baby only barks if someone is at the door or my husband is romping with her. She has the most loving, playful personality ever.

A Malshi would be totally ideal for someone sick or handicapped or elderly. All they want to do is be by you. In fact, mine has to follow me to the bathroom, get up with me in the middle of the night to go potty with me and basically be at my feet all the time. This did take some getting used to because she has tripped me on a couple of occasions. Unlike all other dogs I have had, I can let her go in an unfenced yard because she would never leave my side. This however can be very tricky when we are on a trip that does not allow for a dog. She can get upset and not eat which breaks my heart.

Wonderful pet for all ages. Mine does not particularly care for strange men for some reason but we are working on that. She is two and a half years old now so may not be able to get her over this. My kids ages 10 and 12 absolutely adore her and she them. Excellent choice for our family.
Return to Tell Us About Your Malshi!.
White and Tan Malshi - Coco Chanel
by Aneish Lewin
(Cortlandt Manor , NY)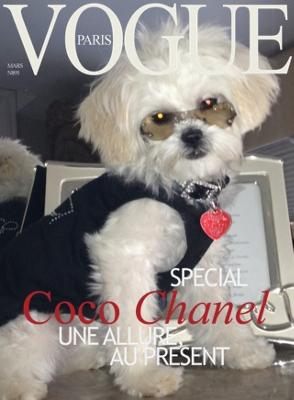 COCO CHANEL
My Malshi dog's name is Chanel she is White and Tan 7 months and 7lbs. Chanel is just my pride and Joy. She is friendly and playful with everyone. Whenever we go out people stop and play with her Boy oh boy she loves it. People say that dogs take on the personality of their owner. Chanel is so much like me. When i take her to the groomers her grooming report card is always 5 stars. SHE LOVE TO BE PAMPERED!!!!. She also love to get dressed up too . She love her sunglasses also!
Return to Tell Us About Your Malshi!.
Loyal Malshi - Tucker
by Kelly Long
(Lebanon, PA)
Tucker is a 2 year old Malshi and he is a very loyal and loving dog. He is by my side all the time when I am home and he may even be a little possessive of me. His Mama (Shih tzu) lives with us as well and he likes to be the center of attention and when I attend to her or am sitting with her he tries to push her out of the way so that he can sit on my lap and wants me to give him all of the attention. He is very playful and loves to run and is quit fast. He does bark at everythign that is going on outside and will let you know if someone tries to come through the frot door unannounced. He is a smart dog and learned to sit, lay down, shake a paw, and does high 5 too. I am in the process of trying to train him better on the leash because he pulls and wants to chase trucks motorcycles and bicycles and people who pass me when we are out for a walk. I do believe that if I were to take him to obedience training he could and would learn to do so much better onthe leash and on his walks. He LOVES people but will bark at stranges at first. I just LOVE Tucker and am so glad that I decided to keep him when Liz (Tuckers Mama) had her puppies. He is large for his breed 17lbs and was the "Moose" so to speak of the litter. Mama is 10 lbs and papa is 12 lbs so I am not sure where he got his size from. I would have loved to train him to be a therapy dog however he has some issues that would need to be addressed befor I could even consider it and I am beginning to think that maybe he won't be able to do that. BUT who knows... maybe he will... just need alot of training and patience. Well that is about it with my Malshi Tucker. Did I mention that he like to lay on me to sleep... he will drape himself across my stomach and sleep like that for hours or until I can no longer be comfortable and need to make him move. Thank you for letting me share.
Return to Tell Us About Your Malshi!.
Brown and White Malshi - Bella
by Christy
(Glouster Ohio USA)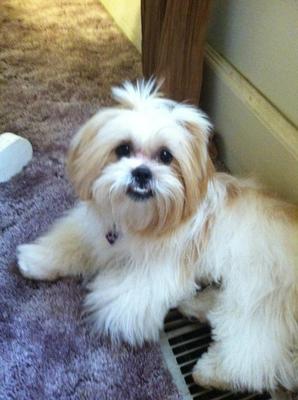 Our brown and white Malshi dog Bella is a little princess. After my Pekingese had to be put down somehow she came into my life. She follows me everywhere and is the best companion ever. Always crying when I leave her I always try to take her with me. She is now 8 months old. Her best friend is our cat Heidi which is not much older than she is. Our Maltese Shih Tzu mix has been a blessing to our family and I love her dearly.
Male Malshi - Chico
by Danny Lopez
(Houston, Tx (USA))
Chico is my 2 year old male Malshi. he turned 2 on April 2012 we got him when he was a year old, he is white with a whole bunch of lite brown shades. He learned very quickly on his own to poop/pee outside the house. He is mellow, and energetic, and very alert. he listens to me when ever i call him. I love him and he's definitely a keeper:).
Return to Tell Us About Your Malshi!.
Sweet Malshi - Gabi
by Johnnie
(Spokane, WA)
Gabi is now 4 years old and we don't know how we lived without her before. Our Malshi is such a sweet and lovable little dog. She loves kids, like to give them kisses in their ears. She's extremely smart and mom loves to dress her in costumes and enter her into contests, which she appears to like. We are going to have a wedding for her on St Patrick's Day 2013 in Lake Chelan, WA, after the Top Dog Parade. A local winery has generously agreed to let us have a short ceremony in their garden and the public is invited. If you are familiar with the parade in Chelan, please feel free to attend. Invitation will go out during the parade.
Return to Tell Us About Your Malshi!.