Shitzu Maltese Mix - Biscuit

(California)
My Shitzu Maltese mix Biscuit is by far and away the friendliest dog in the entire region.


She gets so excited when any type of human or canine enters her vision. Her body vibrates, her tail goes a mile a minute, and she absolutely has to say "hello." I let everything think it's just them, that's there's something about them that makes Biscuit love them so.
She's a happy, healthy dog at 16 months, very playful and pretty regimented with her schedule.
Join in and write your own page! It's easy to do. How? Simply click here to return to Tell Us About Your Malshi!.
Shitzu Maltese Mix - Buddy
by Gerald Ray
(Charsworth, GA. 30705)
My Shitzu Maltese mix is 7 months old. Weighs 6 lbs and shouldn't get any bigger. He is very playful and loves kids. He's just a big lovable ball of fur (or I should say hair).

He has hair not fur and does not shed. He looks like a toy teddy bear. I love the way my Shitzu Maltese pounces when he runs.

He gets along well with our other dog Boomer (full Maltese). They play and wrestle all over the house. We've had a problem house breaking him. It has taken months, but he's almost there.
Shitzu Maltese Mix - Bella
by Megan E
(Arkansas)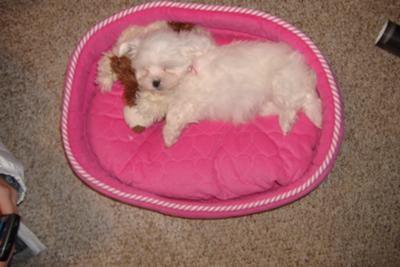 Bella, the first day I got her! She is about 2 lbs in this picture, she's almost a year old and 6 lbs now.
My Shitzu Maltese mix is the perfect dog! I love the little squirt so much! She was harder to housebreak, but she has gotten the hang of it.

She loves to play outside and run. Her run almost looks like a hop-it's the cutest thing ever. She has an innocent heart, loves children, and is very sweet. If you are looking at a Maltese, Shitzu Maltese are so much fun and so worth having!

She is almost all white, so tear stains are cleaned daily. We're about to try distilled water because we heard that it helps diminish the stains. She has an underbite like a Shitzu but is colored like a Maltese. She has one black spot on her ear, and black markings on her eyes and under her lip and paws.
Shitzu Maltese Mix - Rocky
by Steven Carosone
(Seaford, NY)
We got our Shitzu Maltese mix Rocky about 2 years ago and he has been a great member of our family. He is very playful and loves our kids (9 and 16 years old). He does bark a little more than we thought he would but he is very alert.

He loves to go out in the backyard to play and takes walks with the kids. We always get stopped by people to pet him. He has made our family complete and we wonder now how we ever lived without him.
Shitzu Maltese Mix - Cubby Riley Rodis-Katzman
by Josie
(Los Angeles, Ca)
Cubby Riley, our Shitzu Maltese mix, was adopted from Perfect Pet Rescue, last October 12th. He is such a joy and the cutest little boy. He was very skittish and scared when I met him. He was sitting under the volunteer's chair and was too scared to play with the other rescues. He was just rescued and this was his first outing at the pet adoption fair at Petco. when I saw him, it was love at first site and he has been a sweetheart. I got Cubby as my 2nd dog for a companion to my 1st rescue Anderson Riley, a wheaten terrier/poodle. unbelievably, Andy took to Cubby right away and they just happen to be similar in coloring. They look like brothers!! I was so excited that my boy Andy and I were in the same mindset. I took Cubby that very day.

Cubby is a joy and was named because he likes "cubbyholes." He is very outgoing and lovable now. He is still wary of people but is social, he has helped Anderson in that department, which is what I was hoping for. He is also great with our 9yr old short-haired tabby cat Tiger.

I use the Cesar Millan dog method and both my dogs are thriving.

What is special about Cubby is his joyful and lovable personality and his love for my husband and I, Anderson, Tiger, and THE TREADMILL. He loves to exercise and does this without a leash. He is up to 14 minutes on level 3. It is the cutest thing to watch and he gives a great example to me as well as Anderson.
Join in and write your own page! It's easy to do. How? Simply click here to return to Tell Us About Your Malshi!.
Shitzu Maltese Mix - Milly
by Grace
(Ireland)
Heres Milly my beautiful little 8 week old Shitzu Maltese mix girl. Shes the sweetest little pup and is so good! I have her a week now and I love her more every day! I've never had a small dog before and I'm so happy I decided to get a Malshi.

Rarf! from Milly the Shitzu Maltese all the way from Ireland...
Shitzu Maltese Mix - Missy
Our Shitzu Maltese mix has a very sweet personality, and was very easy to house train. We have two boys that are 4 and 6, and she is great with them. We also have an older white German Shephard, that also gets along great with her.

She loves to play with a tennis ball. I was a bit worried about the Shih Tzu Maltese mix but I don't have one single complaint. She is great.
Join in and write your own page! It's easy to do. How? Simply click here to return to Tell Us About Your Malshi!.
Shitzu Maltese Mix? - Millie
by Sand
(Chicago)
Millie is a rescue dog and we honestly don't know what she is, but looking at this site, she must be a Malshi. Could anyone let me know?

She's about a year old, very sweet, crazy about me, follows me everywhere, waits at the door for me when I go out. Great with my 2 young daughters, but can snap a bit/play-bite. She is a great walker, chases squirrels and birds. Loves being outside.

Her hair is more shaggy/curly than straight - maybe a poodle mix? Tail curls over back. Has a longer snout than a Shitzu (not a squishy face). Would love to know more about her so I can understand her better and how to train. Thank you.
Shitzu Maltese Mix Puppy - Monster
by Kathy Cisneros
(Whittier, CA)
What can I say about my Shitzu Maltese mix puppy Monster... his a monster! We got him on 06/16/2009 he was only 2 months. The breeders didn't take very good care of him, he smelled really bad he had poop stuck to his fur and very bad eye buggers.

When he 1st came home he was very shy and didn't want to play with anyone and just wanted to lay there. We figured it was because it was a new place for him. The 1st thing I did was give my Maltese x Shitzu a bath as I was giving him a bath Monster was filled with fleas :( Luckily we have other dogs and the shampoo was for fleas. That same night after his bath that took like 1 hour he went poop as I was cleaning it up I say he had worms. :( Poor puppies! :( 1st thing that morning I called the vet and they said it was tape worms from the fleas. So when I got home from work I gave him another bath and as I was giving him a 2nd bath I noticed he had patches of green stuff all over his skin. It almost looked like pus.

We took Monster to the vet they gave him Pills for his tape worms and Antibiotic for his skin problem... I also cleared him of all the fleas...after that day from the vet it was a completely different dog... he is so playful now a little hard to potty train but he's getting there. He did a lot better then all our other dogs. My Shitzu Maltese mix even growls and barks at our American Bulldog, too funny! I love my Monster!!!!!!
Shitzu Maltese Mix - Koa
Koa is an 18 month old male Shitzu Maltese mix puppy who is super friendly and sweet. He is 11-1/2 lbs and although his hair color is very light now, he started out very brown as a new puppy. He gets lighter and lighter (more Maltese looking) every time he goes to the groomer.

My Shitzu Maltese loves children and other dogs best, but gets along with most everyone. He even likes to play with cats, although most cats don't want anything to do with him.
Shitzu Maltese Mix - Frankie
by Erin
(San Diego)
Frankie is the "baby" of our family. Our Shitzu Maltese mix has a great personality and loves to be the center of attention. Food is a big motivator for him and we can get him to do just about anything for a treat.

He's good with kids and other dogs, he has two canine sisters that he seems to adore. We've had our Shitzu Maltese dog for two years and he's a great addition to our family.
Join in and write your own page! It's easy to do. How? Simply click here to return to Tell Us About Your Malshi!.
Shitzu Maltese Mix - Padmé
by Aimee
(Calgary, Canada)
Paddy is 3 now and she is a great Shitzu Maltese mix dog. Very smart, yes a little stubborn and very loving. I always say she is a lot like Piglet, she wants to be brave (and sometimes I am amazed how brave she can be) but it is hard when you are oh so small (she is 7lbs). My Shitzu Maltese mix is a great little side kick for me :)
Shitzu Maltese Mix - Nemi
by Camilla J Holter
(Norway)
I got my Shitzu Maltese mix from the Netherlands when she was 2 months old. she is now 2 years.

She is very obedient, she loves to play with stuffed animals and people. Everyone tells me how beautiful she is and how funny she is when she is showing off. I have taught her tricks with a clicker and some treats, she is very good.

My Shitzu Maltese girl is completely white and looks Maltese. the first year was her hair touching the ground, but then I had to comb and brush her every day and she didn't like at that much.

She doesn't bark as much as the other small dog's, more like a big dog's barking. She loves to cuddle with me and any other person, she sleep's on my lap and want to lay in my bed at night.

I love my Maltese Shitzu mix and want another one just like her.
Shitzu Maltese Mix - Charlie
by Jeff Hallaian
(Lynnwood, WA, USA)
Charlie is an absolute sweetheart Shitzu Maltese mix. He loves to curl up beside someone when he is tired. He will rest his arm on someone while snuggling up against their body.

For the most part he is fairly low maintenance. He is very shy and defensive with other dogs and small children but mostly submissive and never hostile. He is picky about his kibble, but will eat it when he gets hungry.

He knows the perfect way to melt anyone's heart by stretching his body up against someone and looking up at them with his big beautiful eyes. Overall, a joy to have in my life.
Shitzu Maltese Mix - Weezy
by Kara Rodriguez
(Patterson, CA)
Our Shitzu Maltese mix is very independent, she does what she wants when she wants. She is very protective of her family and mean to everyone she doesn't no.

Our little Maltese Shitzu mix is passive aggressive and thinks she bigger than she really is. She tons of fun but very, very needy.
Are you a Maltese Maniac?

Join other Maltese Maniacs and get:
Our exclusive monthly newsletter
Discounts on great Maltese dog products
Notifications of contests and giveaways