Maltese Shih tzu Puppies - Cheyenne
by Angie Rollins
(Oklahoma)
One of the most adorable Maltese Shih tzu puppies, Cheyenne, is 7 weeks old. So far potty training is going good, 2 small accidents in the 4 days she has been with us. Takes care of business quickly outside. Very playful with us and our cat Sam-Too, only batted once for being snippy. Have noticed Cheyenne is hot natured. She sleeps in her bed and has whined maybe 30 seconds when put in bed. My Maltese Shih tzu just seems wonderful!!!!
Maltese Shih Tzu Puppies - Mya
by Barbara Lumpkin
(New Haven, CT)
I purchased this beautiful creature in September '08. When I went to pick my Maltese Shih Tzu puppy up from the airport, at the first sight of her, I cried. Since then, she has been the joy of my life. I never thought I could love her as much as I do.

It's been 4 months and I am still amazed with her. She's always there to greet me at the door with the same enthusiasm as she had the very first time I came home from work.

Mya is energetic, playful, smart, very inquisitive and extremely lovable. She's the best four-legged companion one could ask for.
Maltese Shih Tzu Puppies - Mushu
by Belinda
(Covina, California)
We one of the best Maltese Shih Tzu puppies at 5 weeks. He was so little and so energetic! He loves to bite and kiss. He loves to play ball. He pushes his ball with his nose and chases it! He is very intelligent. At just 8 weeks he could jump on & off our couch. The only negative thing I can say is that we are having a hard time house breaking him, but we still love our Maltese Shih Tzu puppy! He is a ball of joy!
Shih-Tzu Maltese Mix Puppy - Jaide
by Janay
(New York)
Jaide is a Shih-Tzu Maltese mix puppy who will be a year in 2 months she's very playful, and she loves to play with my little sister whom is 7. she loves every and anyone even other animals. Everyone comes up to her to play with her. Her favorite game to play is tugger war and her favorite thing to do is beg for food.

She loves to run around in circles for about 5 minutes at a time and drag her little toy with her almost every where she goes. she loves to lay down with me and look at what I do on my laptop. she love giving kisses. shes very obedient shes goes to her potty when I ask her to. My Shih-Tzu Maltese mix loves going for walks in playing in the park.. she enjoys the baby swings and being picked up.
Maltese Shitzu Puppies - Fluffy
by Rachel Esparza
(San Bernardino, Ca, USA)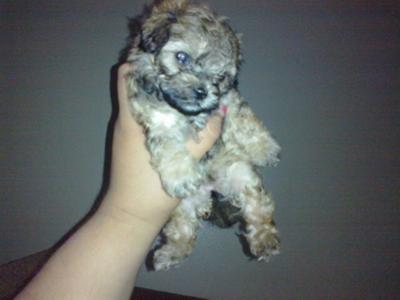 Fluffy 34 days old
Fluffy is a 34 day old Maltese Shitzu puppy. She is currently being bottle fed. Hr mother died and her mommies mommy had to give her and her brothers and sisters away early. She is quiet my Mini Pincher seems facinated with the puppy. She is very quiet but wants to snuggle nonstop. She gets comfortable any where and falls asleep rather quickly.
Maltese Shih Tzu Puppy - Oliver
by M Joy Vitale
(Sterling Heights, MI, USA)
Oliver is our 14-week old Maltese Shih Tzu puppy, and a bundle of energetic love & FUN!!

He wants nothing more in this world than to be as close as possible to his "people" at all times, and has a very sweet personality that wants to please - he really is the best of both breeds Maltese and Shih Tzu!
Join in and write your own page! It's easy to do. How? Simply click here to return to Tell Us About Your Malshi!.
Maltese Shi Tzu Puppies - Rocco
by Simonne Liprino
(melb, vic, Australia)
My Maltese Shi Tzu puppy Rocco is a new addition to our home, he is just 7 weeks old. He had a bit of a rough start, when I went to pick him up he was on his own out in the garage. Rocco was put into my arms shaking from both the cold and fear. He clung to me immediately, my gentle stroking calmed his shakes. Rocco sat on my lap for the drive home. The first day he just slept on my knee or sat in his basket.

Three days later and he is the perfect little man (I knew he was) Rocco is no longer timid, and has the best temperament of any little dog I have met.
He is extremely playful at times, but calm and cuddly when you need/want him to be. Rocco is also extremely smart, he already has his poo place picked outside and will only poo in that area, at 7 weeks this was a shock to me.

I love this little Maltese cross Shih Tzu man I have taken into my home and I couldn't imagine having any other breed.
Maltese Shi Tzu Puppies - Sandy
by Jennifer
(Memphis, TN)
Sandy is a 14 week old diva and knows it. People when meeting her automatically can tell she's spoiled. My Maltese Shi Tzu puppy is very active, loves to run leash free, fetch sticks and learn new tricks so she can get as many treats as she likes for the effort. Her worst enemy is the vaccum cleaner and the vet. She can easuly pick up on our moods and will act accordingly. She is huge part of the family. We received her at 2 weeks old after her mother was stolen and the owners could not provide the time and energy to nurse her. She went from being weak and barely drinking milk from a bottle to a high energy, 6 pound outgoing fluffy little girl.
Malshi Puppies - Harley and Angel
by Glory
(Kitchener Ontario Canada )
These are our beautiful teacup Malshi puppies. Angel the female and is white with caramel markings and Harley is the male with the black markings. They are now ten weeks old and Angel is just over a pound and Harley is two pounds. They are very energetic and friendly love to cuddle. Angel is paper trained already although Harley is proving to be more of a challenge... typical male... lol.

My grandaughter who lives with me and is three and a half loves them. I have always raised and bred bouviers so this is a big difference for me to have such small dogs. Angel was sick and I had to nurse and coax her into eating. Finally I found something she liked hamburger and rice which the vet approved but said i would now have a hard time getting her to eat anything else... and it might prove to be her permanent diet.

When Malshi puppies are so small to begin with you cannot wait for them to eat since they could develop sugar lows and this could lead to serious health problems.They can not skip a meal this can also cause health problems. When they have been active you should feed them to make up for the lost sugar used in play and through the energy they have used up. If you are in doubt put a bit of corn syrup on your finger and put it in their mouths to make sure their sugar levels are up high enough. I will update the pics as we go and I know these adorable Maltese Shihtzu puppies will be with our family a long long long time.

YOU CAN NOT HELP BUT LOVE FACES LIKE THESE. WE FEEL TRULY BLESSED TO HAVE THEM IN OUR FAMILY. THE JOY AND HAPPINESS THEY HAVE BROUGHT ALREADY IS AMAZING... XXOO.

IF YOUR LOOKING FOR A DOG THAT WILL LOVE YOU AND IS EASY GOING , LOVES TO CUDDLE AND ARE SMART THIS IS THE DOG FOR YOU.
Maltese Shih Tzu Puppy - Maggie
by Miss Britty
(California)
Maqgie is my 3 month old Maltese Shih Tzu puppy and is very playful. She LOVES people, is a little shy around other dogs, but that's from not being around them much. She is amazingly smart learning to fetch, sit, lay, "wave bye", and other tricks in a matter of days. She is a little worm and will find her way through any open door...

Mommy is her favorite person in the world, but my Maltese Shih Tzu wags her tail and get so excited when daddy gets home from work... If you scratch her be prepared she will roll right over to get her tummy rubbed, and she doesn't feel the need for toys when she can find a clean pair of socks to play with!
Maltese Shih Tzu Puppies - Belle and Rustie
by Deb
(Manchster, NH, USA)
I got my Maltese Shih Tzu puppies Belle and Rustie when they were 9 weeks old. They are 15 weeks old now. They are a mix Shih Tzu and Maltese. Belle is the terror and Rustie is the shy one. They are sisters from the same litter. They have both learned so quickly what is a "no-no" and look at at you with their cute little faces and you can not stay mad. They are so happy to see you and love to give puppy kisses.
Shitzu Maltese Puppy - Cookie
by Chalan
(California)
Cookie is a very playful Shitzu Maltese puppy and was easy to house train using puppy pad and crate training. Cookie is a loveable dog that is about 10 pounds at 8 months old. He is hypo allergenic and gets professionally groomed every 2-3 weeks. Cookie is our 1st and only dog and is loved so much. We think that he thinks hr's human. He tries to walk on 2 feet and loves to be center of attention. We named him Cookie because he was a perfect mixture of brown and tan and looked like a chocolate chip cookie, now he is tan all over except for the brown fur on the tips of his ears. Cookie is the best little dog for our family. We love our Shitzu Maltese puppy and would do anything for him.
Join in and write your own page! It's easy to do. How? Simply click here to return to Tell Us About Your Malshi!.
Maltese Shih Tzu Puppy - London
by Kimberly
(Royal Oak, MI)
This is my Maltese Shih Tzu puppy London. She is 8 months old now. In this picture she was about 4 months. She is constantly making me and everyone who knows her laugh because she is so silly and fun. She is one of the best things to ever happen to me, I love my Maltese Shih Tzu dearly!
Shih Tzu Maltese Mix Puppies - Biscuit
by Denette Gallman
(Granger, IN, USA)
Our little Shih Tzu Maltese mix puppy Biscuit has just turned 6 months old. He is a little darling and weighs approx. 6lbs. He is mostly Maltese, only 1/8 Shih Tzu. He had litter mates that had more color. His extra color is a little buff on his ears and face. When we went to the breeder to purchase a new puppy, we had intended to buy one with more color. But this little guy just stole our hearts!

He gets along great with our other dog, a 2 year old Bichon Frise Poodle mix. He is very playful but loves to lay in your lap, too. Housebreaking is coming along. He has gone to pet training classes and does well, but is sooooo full of energy there!

We are so happy that he is a part of our family!
Are you a Maltese Maniac?

Join other Maltese Maniacs and get:
Our exclusive monthly newsletter
Discounts on great Maltese dog products
Notifications of contests and giveaways