Malshi Puppy - Lila Mae
by Tina
(Mercersburg, PA, USA)
Our Malshi puppy Lila came in to our lives about 2 months ago. She is now 5 months old and has added so much to our family.


She is a friendly, curious, busy little girl. She loves to chase bugs and leaves.
Her favorite place to be is my flower bed. She especially enjoys laying in my vinca vine :)
I was not particularly a "dog person" but Lila warmed my heart and has convinced me that everyone in the world should have a Malshi!!
Malshi Puppy - Little Prince
by Nelley
(California)
Little Prince is our adorable Malshi puppy. He is very smart and knows how to sit, lie down, and stay at 2 months old. Although we're still paper training him he goes to his pad most of the time by himself.

Little Prince has the puppy cut and has a white and black coat. Our family had to get him after seeing him... we say he wears pants because he's half black and half white.

Our Malshi is very lovable. Although he bites due to his playfulness we know he's just a baby and teething. Little Prince loves my four daughters and we couldn't have wished for more. We take him to the park almost everyday and he prances through the fields. We love this Malshi as if he were our baby.

Gave him this name because he's very broad. His eyes look focused. Little Prince is always fun. He is either very playful or completely calm like a lap dog. This little puppy is very observant.
Malshi Puppy - Bailey
by Michelle Ingle
(Vale, NC)
My son got his Malshi puppy for his birthday. Her name is Bailey and she is the sweetest dog ever! She does pretty well pottying outside.

Occasionally she has accidents in the house, but she's improving. She sleeps with my son at night and she sleeps all night and doesn't have any accidents during the night. Our entire family has gotten attached to her. I would recommend a Malshi puppy to anyone. Especially with kids.

Bailey is now 15 weeks old and weighs 3 1/2 pounds. Does anyone else know about how much bigger she should get?

UPDATE: She is now 22 weeks old and weighs exactly 6 pounds! She is the best dog we ever had! She is puppy pad trained and is very good natured. Our whole family loves her.
Malshi Puppy - Hercules
by Vanessa
(New Zealand)
Our Malshi puppy is Hercules, at present he is 15 weeks old and a real cutie! He's being a bit stubborn with house training but we are getting there. He's heaps of fun, loves to fetch and have cuddles but can be a bit yappy when playing. We think he has a bit of Beagle in his heritage (ha ha) as he is always nose to the ground, but mostly Maltese Chihuahua mix. My Malchi puppy does shed a little bit which is a shame because I was hoping he wouldn't, but he's just so cute we wouldn't change him for the world!
Join in and write your own page! It's easy to do. How? Simply click here to return to Tell Us About Your Malshi!.
Malshi Puppy - Sweetie
This is how we got our Malshi puppy: A little while ago we lost our 7 year old Mini Schnauzer. She died of a seizure in front of our eyes before we could get her to the hospital. the house just wasn't the same with her passing. It's so quiet without the Rosie-Girl yapping and running through our home like she was crazy. We decided we needed a new dogie friend, but I could not deal with having another Schnauzer due to the memory of Rosie-Girl right now.

I did some research and learned about all the toy breeds out there. I came across information on the Malshi and thought this would be the perfect little dog for us. We searched for a Malshi breeder and was able to locate one not too far away from where we lived. They also had a new litter of puppies ready for adoption.

When I saw Sweetie's little face, I knew we found our new little friend. We pick her up from her breeder this coming Sunday, December 13.

I will write more about her upon her arrival home.
Malshi Pup - Marli
by Krystal
(Sydney)
Marli was the most playful Malshi pup in the litter when me and my partner went looking for a pup. She saw us and ran straight up to us, chewing on our hands, licking EVERYWHERE! We knew we had to buy her when she started barking so loudly as we walked off. I came back and bought her after contemplating for some time.

She LOVED to bite when we got her, she has left quite a bit of bite marks on everyone. Now she is overly protective with us and once we pick her up she gains this sense of confidence and will rip to shreds anyone that comes near her. She is a very smart, loyal and PLAYFUL Malshi dog now at 10 months old.

She has a little snappy personality and you must be careful to nurture a kind nature in the dog as a pup or else they will be aggressive to others.
Join in and write your own page! It's easy to do. How? Simply click here to return to Tell Us About Your Malshi!.
Malshi Puppy - Chip
by Kaylee
(USA)
Hi I'm 11 years old and have a Malshi puppy named Chip he is the best dog in the whole world he is 11 weeks old and 2.5 lbs, he is 4 inches tall from head to paw and very lovable.
Malshi Puppy - Leokadiay
by Rozanna
(Cheektowaga, NY, USA)
I just got my Malshi puppy yesterday. Her name is Leokadiay (Lolly for short). She is 12 weeks old and she is so special to me already. She is a tri color.
Malshi Puppy - Rio
by Donna
(Kettering OH)
Rio is a very playful Malshi puppy even at just 6 weeks and 3 days old. Still a baby and sleeps alot but when he is awake, he is very playful. He is so special to my little girl and myself. I know he will be the perfect addition to our little family. I am very happy that I decided to go ahead and adopt him. It was my daughter that picked him out when he was just 3 weeks old, of course I didn't see him for the first time until it was time to pick him up, and it was love at first sight.

Rio plays so well with my friend's two dogs who are Yorkies. He is very funny in the morning when we all wake up and he sees us for the first time of the day, his little tail is just wagging so hard that it is cute. I love my Malshi Rio and everything about him,. I know I made the right choice in adopting him.
Two Malshi Puppies - Lela and Deno
by Blair Davis
(Memphis, TN)
Sweet and loving at all times my two Malchi puppies have brighten up every point of my life. I use to want children I have two now and they make me so happy!!!!
Join in and write your own page! It's easy to do. How? Simply click here to return to Tell Us About Your Malshi!.
Malshi Puppy - Prissy
by Dominique Grizzle
(Raleigh, North Carolina)
My Malshi puppy is 4 months old and I brought her home at 1 1/2 months. She is very adorable and everyone loves her. While I am going places to run errands everyone is stopping me to pet her or to ask a million questions. So no matter where you go someone will stop you. My Malshi feels that everyone is suppose to stop and give her attention. If they don't she will try to run after them or bark at them until they turn around and give her the attention she feels she is suppose to get. She doesn't eat that much. I always give her plenty of food and she eats what she needs and doesn't just eat it all because it is there. She is very energetic and because she is a lap dog she demands a lot of attention. I don't buy her many toys because I found out she plays with household items more. For example she loves empty water bottles. She can play with it for hours. She also loves PVC pipes from home depot and she is so happy. Training her was easy. I say things like outside, eat, water, play and up. She will jump up to whichever she wants. It makes my life easier. One way I have trained her when she poops on the floor is to take all of her toys away and put them in her toy chest. Then I do what I have to do dont give her any attention. My Malshi gets really sad when I do this and has realized she has been a bad girl when I take her toys. I do advise anyone who is going to get one to get them some type of small toy the first day you get them. Somehow my malshi cannot go anywhere without the first toy I bought her. It is a squeeky racoon. Even though my mom had to sew it back together and it is all scraggly looking she loves it to death and no matter where we go she has to have it with her.
Join in and write your own page! It's easy to do. How? Simply click here to return to Tell Us About Your Malshi!.
Malshi Puppy - Lola
by Niamh
(Dublin, Ireland)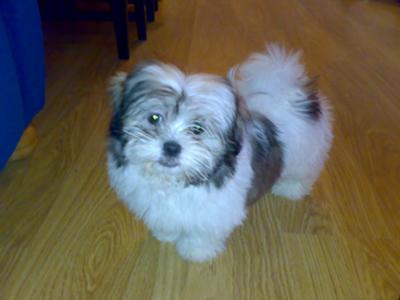 Lola
Lola is a 6 month old Malshi puppy. She is mostly white with some grey patches on her face and body. She is such an affectionate dog and loves her walks. She is training very well and is very good with my 7 year old daughter. Lola is a very playful pup and loves everyone she meets.
Join in and write your own page! It's easy to do. How? Simply click here to return to Tell Us About Your Malshi!.
Malshi Puppy - Lilly Grace
by Kari
(Flower Mound, TX)
Lilly Grace is full of energy and very spoiled already! Our Malshi puppy is now 4 1/2 months old! We just had her first haircut - her hair was sooo long and we live in Texas - need I say more? She is soo funny in the morning she takes out every single toy in her toy box and lines them up! Our Maltese Shih Tzu puppy hates bows, etc. in her hair. She hates to get her hair brushed. She hates getting baths! Lol - she will have to learn to love each of them! Our Malshi puppy is just a little sweetie pie and loves to cuddle!
Join in and write your own page! It's easy to do. How? Simply click here to return to Tell Us About Your Malshi!.
Malshi Puppy - Bella Rose

(California)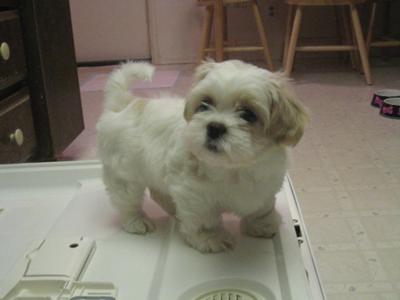 Bella Rose
My Malshi puppy Bella is 12 weeks old. I have been feeding her Blue Buffalo small breed puppy dry food since I brought her home 4 weeks ago. The bag says to feed her 1/4 cup of food per day and I did that for the first week but she was always acting like she was starving. I can't imagine a puppy only eating that small amount of food. So I have been feeding her 1/3 cup 3 times a day. she still is always going to her bowl to see if there is food. I hope I am not feeding her too much or too little.

Bella is the most precious dog ever. She is so sweet and she is the Queen of the house. I am so happy I got her!

I'm still having a little trouble with potty training but she gets better at it every day.
I wouldn't recommend this breed to anyone who doesn't have a lot of time to spend with it. Maltese Shitzu puppies are very needy!

Bella has learned to fetch her ball or play with a certain toy on command. She is very smart!

She sleeps in my bed with me and I don't need an alarm clock anymore because she wakes me up every morning at 6:30 by licking my face and biting my hair and ears. My Malshi puppy will only do that for about 2 minutes. If I don't get up she will bark until I do.

She is the light of my life. She makes me laugh every single day. I LOVE my Maltese Shitzu puppy!!
Are you a Maltese Maniac?

Join other Maltese Maniacs and get:
Our exclusive monthly newsletter
Discounts on great Maltese dog products
Notifications of contests and giveaways