Mal Shih - Max
by Missy Wilson
(Louisville, KY)
He is life of our family. So full of energy and personality. Max is condsidered to be my third child. The Mal Shih is such a great family dog. He travels well and very well behaved. I will always have a Mal Shih :)
Return to Tell Us About Your Malshi!.
Mal Shih - Midget
by Carol Bennett
(Summerside, PEI, Canada)
I got my Mal Shih thru someone putting an ad on Used Pei for free. I got her right away because for some reason I knew she would be the perfect puppy of 18 months for my daughter. She is so loveable & playful. She loves to try and get the attention of my cats to play with her. She loves her bath time. She sleeps in the bed under the covers. My Maltese Shihtzu loves being outside & run around. Midget gets nervous when meeting new people for the first time so we have to carry her & she hugs us or put her head on our shoulder and holds on tight. She is the greatest. Best puppy for my 13 year old Border Collie Sheltie mix. They are alike in every way so gentle, loveable & loves to be cuddle & pampered.
Maltese Shih Tzu - Mickey
by Bunderlai
(Woodstock, GA)
This is THE best little dog ever!! I found Mickey at a Yard Sale. The lady had 9 healthy-looking Maltese Shih Tzu puppies. She had sold 4 and told me that the rest were going to the pound if someone didn't buy them! This adorable frisky, fluffy marshmallow puff came straight to me, wagging his tiny tail and begging me with his dark, expressive eyes to take him with me. He was the runt and, obviously, quite a bit smaller than the rest. At only 3.5 lbs., he immediately became part of our family.

Sixteen weeks later, and this little guy is my BFF! He is adorable, smart, cute, and loving with a non-stop abundant personality. We just had a Yard Sale ourselves. This picture is Mickey the Malshi in an antique baby carriage at the Sale. He certainly was the Star of the Show and LOVED every minute of the attention.

He smiles constantly. We love him and can't imagine life without him!

Laila, Adam and Mickey
Nino
by Michelle
(Mount Pocono, PA)
We bought Nino a month after he was born I'm so very in love with him he is a very clever dog and very loving he is 7 months now.

Nino was easy to train but I'm worried now because he doesn't have a UTI but he is peeing in corners and this is not like him.

The only thing I've changed recently is that sometimes I go upstairs w-o him and maybe this is why I think he is doing this can anyone help I've used the water and vinegar solution but he just started in another area.
Mal Shih - Spike
by Lesley Durham
(Ridgeway, Ontario)
My Mal Shih Spike was named for his personality. He may be small, but in his mind he's big and scary. He's not agressive, but he doesn't back down from a fight whether it's real or imagined. He's very loving and good-natured. He lets other dogs know that he is there at first, but he makes doggy-friends quickly and likes to play with them.
He tends to bark more than other dogs, that's one habit that I haven't been able to curtail. Quite often he seems to bark for no apparent reason and keeps it up for too long. Overall, my Maltese Chihuahua Spike is the best dog I've ever had.
Malshi Dogs - Riley and Cody
by Pamela Martin
(ForestPark,Ga)
I have two Malshi dogs. They are litter mates and are as different as night and day one is very passive sweet and loves to cuddle and is very obedient the other one is aggressive and takes no for an answer and very noisy. If we are out walking he notices every car and every person moving but they are sweet dogs. I adopted my Malshi dogs at two years old and they are now four years old. I wish I could have afforded to have them trained they were already housebroken, crate trained and netured and micro chipped so I have to count my blessings.
Return to Tell Us About Your Malshi!.
Little Malshi - Biscuit
by Diana
(VA)
My little Malshi is so adorable! Although sometimes they can get a little aggressive but they are usually lovely and very playful. They are very easy to train. Every dog has different personalities but I love my dog <3
Return to Tell Us About Your Malshi!.
Mellow Malshi - Bobby
by Michael Adams
(Fontana Calif)
My previous pup was a broken hair Jack Russell, attacked and taken by a coyote in Yorba Linda Calif. So this experience with a Malshi (& 1/3 Apso) is quite different, definitively stayin inside. Potty training isn't perfect, lots of peepee pads, but his temperment is sooo mellow. He follows step for step to the point that if I turn, he stays right behind around and around as I look to find him. It's kind disconserting, kinda funny. I will protect this puppy to the end of his dayz!!!!!! =)
Return to Tell Us About Your Malshi!.
Maltese Shitzu Dogs - Coco & Bijou
by Nathalie
(New Orleans)
I never had a small dog before but when I got my Maltese Shitzu dog Coco, she turned my heart upside down. She is so loyal and always by my side. I take her everywhere. Her favorite thing to do is to stroll in the French Quarter with her brother Bijou (yes I ended up getting two Maltese Shitzu dogs from the same parents). We take them to House of Blues where there is a courtyard. The staff totally loves them! WE usually order baby ribs so they can chew on the bones...
Return to Tell Us About Your Malshi!.
Mal Shi - Brandie
by Amber
(Vancouver BC Canada)
My Mal shi is very sweet, but also timid she gets along with other dogs. She doesn't bark much only at strangers and the doorbell of course. She loves to cuddle.
Malshi and Maltese - Abby & Millie
by Judith
(Melbourne, Australia)
Abby on the right is our Malshi, a sweet loving naughty little girl. Millie our Maltese is on the left she is a real lady very loving & gentle. Abby is 2 & Millie is nearly 14, needless to say we love them so very much & they are very spoiled.
Return to Tell Us About Your Malshi!.
Malshi Pups - Barkley and Jasper
by Jay Raxter
(Gastonia, NC, USA)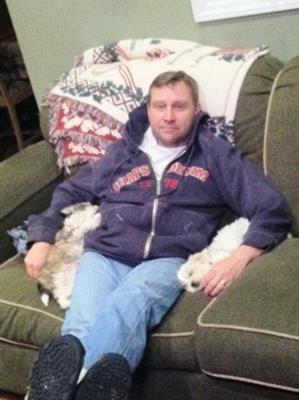 Here's our new Malshi pups..all tired out from playing and sleeping with Dad on the couch.
We just picked up our new puppy "Barkley" and his brother "Jasper". "Jasper" is going to my parent-in-laws. They are both male Malshi pupps and are only 9 and a half weeks old. They weigh 3.9 pounds and have the silky Maltese like hair. Since they're puppies it's hard to tell how well they will behave as adults. They are active, curious little guys who will play until they collapse. Just like a human baby, anything that can fit in their mouths WILL be chewed... be warned. So far the Malshi puppies are avoiding out older Bichon since she isn't used to puppies either. These are INCREDIBLY cute dogs and I am very happy with them.
Return to Tell Us About Your Malshi!.
Energetic Malshi - Sadie
by Kelly S.
(Malone, FL)
Our Malshi absolutely LOVES my kids! They love to play as much as she does so they end up tiring each other out by the end of the day! She sure loves her mama though n always wants to sit in my lap and be loved on! She likes to ride in the car n have her belly rubbed! I've never seen a more energetic dog!
Return to Tell Us About Your Malshi!.