Mal-shi Puppy - Roxy
by Geesje
(Almere, Netherlands)
Roxy is our beautiful Mal-shi puppy. She is 8 months now. We have her since July 2008.


She's quite a spoiled little brat. But on the other side, she gives us a lot of pleasure and joy. She's a real family dog, who doesn't like it when everybody has to go to school and work. She loves to walk outside, is very curious and likes to play with other dogs.
Mal-shi Puppy - Sonny
by Kristi
(Connecticut)
We love our Mal-shi puppy. He is 13 weeks old,and he is so lovable.

Although he likes to bite at your feet, our Mal-shi still is super sweet!!!!
Mal-shi Puppy - Butterscotch
by Rosemary
(Salt Lake City)
We got her our Mal-shi puppy at 7 wks old to be a sister to our Maltese Poodle. In just a couple of days, she was sleeping through the night in the kennel and using our doggie door to go potty. Really smart, playful, adorable and fierce! Love her.
Mal-shi Puppy - Gizmo
by Carolynn
(Canada)
I've just had this adorable silly Mal-shi puppy for two weeks. he was a birthday gift from my fiance. He is 13 weeks old and I am his second owner since the pet store. He weighs in at 4.4 lbs... he is the big guy !!!

Not sure why someone would have bought him and not loved him. He is adorable, spunky, lovable, and training very well... 70% house broken. He can give his paw, sit, stay, and fetch.

My Mal-shi has his own little puppy stairs to get up on the couch he learned to go up the first day ... took a couple of days to climb down... now he thinks its a game runs up and down just for fun. He has his own little pullout couch that he plays on and eats his treats on, and a little bed right next to mine... most nights he is great sleeping in his bed once in awhile he needs his mommy to cuddle him.

When we went to purchase him others were checking him out as well... but this little Malshi made the decision... he choose me. cried when his previous owner tried to take back into their arms.

He doesn't like to leave my side... daddy gets up at 5 a.m. for work and Gizmo follows... as I lay in bed I constantly hear daddy calling him to stay out of the bedroom... doesn't last long... I am now up at 6a.m. in the morning... only to come out get my 100 kisses and watch Gizmo fall back to sleep.

He is extremely friendly with everyone as long as mommy is around otherwise he doesn't leave my side. Driving in the car daddy tries holding him while I drive and Gizmo cries like a baby cause he wants to be on mommies lap.

I am disabled and my last of four children just moved out... my Mal-shi Gizmo almost makes up for the kids gone... he is terrific company.
Male Malshi Puppy - Twix
by Ms.PrincessChalea
(South Euclid)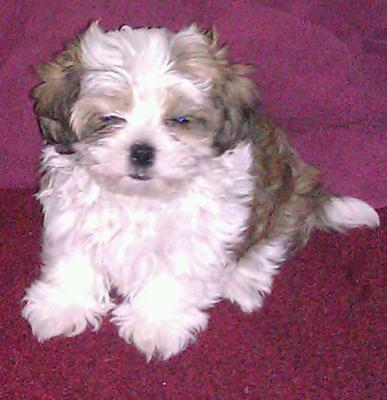 my baby boy Twix
I've only had my male Malshi puppy dog Twix about a week and he is already so spoiled. I love him and so do my children. He was born December 12th. Twix already loves to play fetch with my 11 year old and he loves to chase my 1 year old arond the house. I never knew I could love an animal this much!
Join in and write your own page! It's easy to do. How? Simply click here to return to Tell Us About Your Malshi!.
Mal-shi Puppy - Breeze
by James & Emily
(England)
Breeze is our beautiful 10 week old Mal-shi puppy. She has started to find her feet after being with us for 5 days. She loves to pull your socks off as well as playing with her rope bone.

Our Mal-shi puppy is a wonderful addition to our home, it is a joy to watch her learning everyday.
Shih-Tzu Maltese Mix Puppy - Hershee
by Margaret
(Powell, Ohio, USA)
This is my Shih-Tzu Maltese mix puppy "baby girl" Hershee. I named her that because she loves to give kisses. She loves to watch me get ready in the morning and sits while I blow dry my hair, put on makeup etc. I bought her at a local Petland and was told she was a Shih-Tzu. I thought she had a cuter face than a Shih-Tzu and I just had to have her and was looking for the perfect lapdog - it was her sweet face that I loved (her temperament is great, too). She was already 6 months old at the pet store and I bought her on her 6 month birthday.

She is now 17 months and adorable. My whole family is in love with her! We also have a 75 pound black lab that she likes to annoy by stealing his large bones and she jumps up to lick him and likes to clean his face!

My Shih-Tzu Maltese mix is a feisty girl with tons of enthusiasm and makes me sooo happy every day when I wake up with her in my bed!
Brown Mal-shi Puppy - Harry Baley
by Bobbi
(Kingston Springs, TN)
My Mal-shi puppy Harry is 6 weeks old. He is cocoa brown with white paws and a black face. Harry loves to play and plays hard. I regularly take him outside and he regularly does his business. He went to work with me today... in between naps, my Mal-shi made friends with everyone.
Mal-shi Puppy - Spark
by Stephanie
(Tallahassee, FL)
Spark is a Mal-shi puppy born in August 28, 2008, he's nine months. He's very quiet around people and a little bit naughty sometimes. He always chew on things and looks like everything is attractive to him because he attempts to bite most of the things specially small material.

He loves to run around in our apartment. My Mal-shi gets along with big dogs and other dogs at the dog park as well. He is kinda a guard dog because every person who walked by our place, he yaps and makes a sound of a lion at the end of the bark.

He is a little bit a trouble maker but he loves to be pet with people around him. He is a loving and calming dog whenever his around me. Above all, an energetic and enthusiastic dog my dog named Spark.
Mal-shi Puppy Parents - Mr and Mrs Louie-Vuitton
by Powell
(England)
My newlywed dogs have just had their first litter of absolutely adorable Mal-shi puppies! My pure Shih Tzu Darla-Dolly Vuitton gave birth to seven live Mal-shi puppies with her husband Louie-Vuitton who is my handsome Malshi.

She gave birth without any aggression or sign of pain-she is an absolute diamond-her and Louie-Vs temperament are fantastic and that has been passed down to their puppies hopefully.

I delivered all of their litter who encountered no problems what so ever,and it was a magical moment for myself and my family.

All puppies are thriving now at six and a half weeks. They sleep through the night but haver extreme bursts of energy and love playtime with their brothers and sisters who all mix well. They are home reared and will make fantastic family pets and the ideal lapdog-just like their daddy.
I have found the most wonderful homes for these cute dogs all of their new families live locally and are eager to welcome them home at eight weeks.

I would always own Malshi puppies - they are the cutest ever pets and are loyal and loving.They will normally bond with one member of the family in particular-Louie-V loves my nine year old son and follows him everywhere.

This breed is non-shedding and is great for allergy sufferers or people who are housebound like myself. It is advised that they are trained and learned basic commands as puppies.

Housebreaking can be a common problem I believe with the breed however Louie-V was fully house trained by eight months.
Enjoy your Malshi!
Mal-shi Puppy - Kona Bear
by Nicole
(Pittsburgh, Pennsylvania, USA)
I got my Mal-shi puppy baby girl Kona in June when she was 8wks old, she is now almost 5 months. She loves her Mommy and Daddy very much, but she is friendly with everyone! Although she can be shy with other dogs at first, she usually warms up to them and ends up making new friends.

Kona loves her toys, but we have to keep an eye on her or she will get into our socks and drag them around the house too! My Mal-shi puppy is smart yet stubborn when she doesn't want to follow some rules... but she is so cute we can never stay mad at her.

Kona is in the process of learning some tricks like paw, fetch and she is already potty trained! We don't know what we would do without our little Malshi girl, we just love her to pieces!!
Mal-shi Puppy - Cocoa
by Danielle
(Sugar Springs, MI)
My Mal-shi puppy Cocoa is a wonderful addition to our family. She loves to play with people and pets of all ages. Cocoa was not difficult to housebreak what so ever.

She enjoys licking mom and dad's face for our morning hello and run around with her Lab sister Sierra. We could not have asked for a better dog! Love you Cocoa!
Mal-shi Puppy - Maggie
by Victoria
(San Antonio)
Maggie is my 5 1/2 month old Mal-shi puppy. She was born on Valentine's Day and came to live with me 6 weeks ago on June 12th. A birthday present I gave myself, she is the sweetest, smartest dog I've ever known.

Maggie was completely house trained in 2 weeks. She rarely barks except when she hears something outside. Then she barks like crazy and runs around the house alerting me. When time to potty she used to just sit at the door and wait for me to notice so I hung a bell by the door and trained her to use it when she needs to potty. She was trained in one day (I'm not exaggerating!) to use the bell. I am surprised how easy she is to train to do things.

My Mal-shi likes to chew so I make sure she was plenty of raw hides and toys to choose from. She likes her crate and often goes into it on her own to sleep. She also likes to eat, play with her toys and take walks with humans. She's a beautiful treasure and a wonderful companion.
Are you a Maltese Maniac?

Join other Maltese Maniacs and get:
Our exclusive monthly newsletter
Discounts on great Maltese dog products
Notifications of contests and giveaways