Female Malshi - Emma
by Jeff
(Altoona, IA, US)
Emma is a 6 month old female Malshi and is white with some tan and black in her coat. She is extremely playful and cute as a button. My Maltese Shih tzu mix is cuddly when she wants and great with all the kids in our neighborhood.
Join in and write your own page! It's easy to do. How? Simply click here to return to Tell Us About Your Malshi!.
Female Malshi - Jia
by Donna
(Virginia)
This is my baby on her 1st birthday.
My female Malshi was a year old 10/21/11. My husband and I got her when she was 9 weeks old. This little sweetie has been a great addition to our family. My Maltese Shih Tzu mix is very mild mannered, gentle and loving but can also get roudy enough to give my 7 year old grandson a good workout. She is perfect!
Shih Tzu Maltese Mix - Macy
by Michele
(Wisconsin)
Macy is a 2-year-old Shih Tzu Maltese mix and full of lots of love. She has brought our family so much joy. She gets along great with our 4-year-old Chihuahua Rat Terrier mixed dog Roxy. Macy loves to play and go for walks and car rides. She is a nice lap dog and knows how to fetch and high five. She has a brown and white striped pattern on her body with an all white tail and black tipped ears. She had a black Cindy Crawford mole on her face as a puppy, that has since blended in. She also has big beautiful brown eyes. We love our Malshi Macy Lou so very much!
Join in and write your own page! It's easy to do. How? Simply click here to return to Tell Us About Your Malshi!.
Carmella Sophia
by Gina
(Port St Lucie, Florida)
Carmella is a three year old Shih Tzu Maltese mix, and has done nothing but make my family very happy. Carmella is the best dog ever, very easy to train, listens well, plays well with others and loves to cuddle! I suggest anyone looking for a great asset to your family Shih Tzu Maltese dogs are it. I also have three children and she is great with them also.
Join in and write your own page! It's easy to do. How? Simply click here to return to Tell Us About Your Malshi!.
Female Malshi - Sweetie
by Bonnie Granger
(Waynesville, Ohio U.S)
Our female Malshi dog is a joy! She is very playful and very loving. She was our Christmas present for this year 2011. Loves to play and run, wants lots of attention. Cute as can be and beautiful, soft silky fur. She always wants to play with our other older dog which is 9 years old. Our older dog is grumpy, so he will only play with her when he is in the mood. LOL! I would reccomend a Malshi (Maltese Shih Tzu mix) to anyone that wants a sweet little dog!
Female Malshi Puppy - Gracie
by Becky
(Taylorsville Utah)
Gracie is a 6 month old female Malshi puppy and I have had a lot of puppies and this one takes the cake. She is adorable but can be so naughty. She never stops. She loves everyone. She is no more attached to my husband and I than she is to a total stranger. She was 4 months old when we got her. We have a doggie door and once she learned that she was very easy to house break. She is stubborn and likes to bite especially me. My Malshi dog adores kids and loves when the grandkids visit. We swear that there is a hunting dog somewhere inside her. She acts just like a large dog and loves being outside seeing what she can get into. My house looks like I have a 2 year old. She has lots of toys and they are scattered everywhere all the time. If I pick them up and put them away she follows me and gets them all out again. She mostly resembles a Maltese. We had her groomed last week and cut off her long hair for the summer since she is constantly under bushes and was being bathed usually once or twice a week. I am just beginning to really bond with her the first several weeks were very difficult and I was constantly thinking what kind of dog is this. My friends and family were getting tired of me constantly saying I should of never bought her. Her saving "Grace" is that she has always slept through the night in her kennel and that she is just to darn cute!
Shihtese - Molly
Molly is the greatest Shihtese. My Maltese Shih Tzu is smart, loving, playful and very beautiful. Molly is potty trained. I bought a doggy litter box. ( they come in many sizes ) I line it with a wee wee pad and keep it in a stale shower that I don't personally use. I taught Molly to make on the wee wee pad so clean up is a snap.

On her own she learned to bark for me whenever she goes because she knows I go right in to clean. In this respect she's like having a tiolet trained child. Molly is very socialable. She adores children and adults alike. Molly picked me out when she first saw me. She didn't jump up like the other puppies. She just looked around and then kept coming back to looking at me. I went back for three visits before I bought her. I really wanted a yorkie but Molly caught my heart. She has the best personality. She sleeps with me cuddled up to my back. My Maltese Shih Tzu also wakes me up in the morning if I don't respond to the alarm. I must say though if I tell her to ly down again she will and I can go back to sleep for a while. She's a great companion. I don't like to dress her in clothing but I do buy different color leash sets. She also has a few coats and sweaters for the cooler months. Everyone loves my Shihtese dog. But, I love her most of all.
Special Malsi - Anna Mae
by Angela
(Lancaster, Ohio)
My Malshi is very special to me. We named her Anna Mae but my 2 year old calls her Animal. So thats what we all call her. My boyfriend says that the name fits her perfect because he thinks that she looks like Animal from the Muppets... Lol. She is very smart it seems like she is older than what she is, we got her when she was 9 wks and she was already trained to pee on the pee pee pads and she would wait to go outside to poop (which is a big plus).

She loves to ride in the car and stick her head out of the window... and her favorite game is tug of war, I let my Malshi win all the times so now she walks around like she misses BIG stuff! Lol. She loves to play with her toys and run around with the kids until she falls out in the middle of the floor to rest. She loves to cuddle and she always greet us with so much love and excitement I couldnt ask for a better dog. I encourage everyone to experience the joy of a Mal-shi:)
Join in and write your own page! It's easy to do. How? Simply click here to return to Tell Us About Your Malshi!.
Maltese x Shih Tzu Puppies - Molly
by Ellen
(North Carolina)
I just one of the cutest Maltese x Shih Tzu puppies Molly 2 days ago. She is exactly 7 weeks old today. What a doll. She is doing great potty training - will 'go' as soon as you take her outside to the grass.

She gets along wonderful with my 2 Chihuahua's. She is very much a social butterfly.

I will post more as the days go by.....

I positively love her!
Maltese Shih Tzu - Abby
by Shirley
(PA)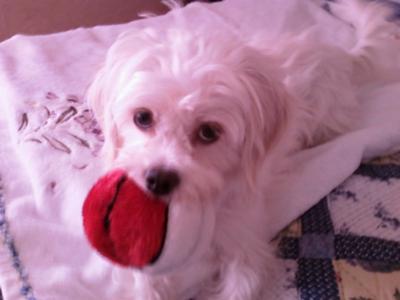 Abby Loves to play
I never knew what breed my Maltese Shih Tzu she was since she came from a shelter until I found a picture of Benji, They look like twins!! She is playful, she loves other dogs & kids she sleeps all night, she lets me know when someone is around or comes to the door, She has a trait that she knows when I am upset or stressed she wants to snuggle... my Malshi is a true joy to have!!
Join in and write your own page! It's easy to do. How? Simply click here to return to Tell Us About Your Malshi!.
Malshih - Leah
by lisa
(texas)
Leah is the most amazing little puppy I could have ever wanted! She is a 2 year old Malshih.
She is very active and loves being wherever she recieves attention. She's a mix between a preppy girl and a tom boy who doesn't mind getting down and dirty. I have another dog as well who came before Leah did. She is quiet the jealous one. These precious dogs always want attention and love being around people and cuddling.

She barks only when she gets super excited or when she feels she's not getting attention. House breaking her was not very hard. In fact, we took her out on the first day to use the restroom and then we brought her back inside. Later, when she needed to go potty, she was already standing by the glass door staring at the grass. (How cute!)
Grooming is a must! I learned that very quickly with her. If their hair is not brushed at least 2-3 times a week (very well) their hair will be very matted in a flash. One time, I didn't brush her hair enough and let it get matted. When I went to the groomer, they had to shave ALL her body because the matts were impossible to relieve.

These puppies love toys and playing. They have so much love to give. I believe this is a perfect breed to have around children and doggie lovers.
However, if you're looking for a pup to go jogging with, don't get a malshi. They are perfect for taking on walks but because of their small feet, they do get tired rather fast.
Hope this helps in making your decision. Just know, that this dog is one that wants alot of love and attention and deserves every minute of it!
Join in and write your own page! It's easy to do. How? Simply click here to return to Tell Us About Your Malshi!.
Female Malshi - Abby
by Kathy
(Connecticut)
Our female Malshi Abby is full of so much love. She is very social and always meets and greets everyone in a room no matter how many. She has much energy, but loves to snuggle on your lap when play time is over. She has the spirit of a large dog and protects her domain, nothing gets by. We have always had larger breed dogs, but after having a Malshi, I don't think I would ever go back. Very special and fun breed.
Join in and write your own page! It's easy to do. How? Simply click here to return to Tell Us About Your Malshi!.
Are you a Maltese Maniac?

Join other Maltese Maniacs and get:
Our exclusive monthly newsletter
Discounts on great Maltese dog products
Notifications of contests and giveaways