Maltese Yorkie Mix - Morkie Dogs
AKA: Yorktese, Malkie, Yorkshire Terrier - Maltese Hybrid

The Maltese Yorkie mix, also called a Morkie, Malkie, or Yorktese is a cross between a Yorkshire Terrier and a Maltese.
These mixed breed dogs are often given specific names, but keep in mind that they are not a separate dog breed.
According to Morkie owners, these dogs have an affectionate personality and beautiful coloring.
Please do not purchase these dogs from a breeder. There is no need to create more mutts when plenty are available for adoption. If you discover a Maltese mix that would fit well with your family, you can easily adopt one at a Maltese Dog Rescue instead (and for a lot less money)!
Maltese Yorkie Mix Personality
Morkie dogs take on the temperament of both Yorkies and Maltese. They are bold, energetic little dogs.
Highly intelligent
Easy to train
Difficult to housebreak
Suspicious of strangers
Good watchdogs
Morkies and Morkie puppies do best with older children as younger children under the age of 10 years old can accidentally injure this tiny dog. Most people find them to have the mellowness of a Maltese and the tenacity of a terrier.

Great Morkie Gifts

If you already have a Yorkie Maltese mix or know someone that does, check out these unique gifts for Morkie dog lovers below.
Maltese Yorkie Appearance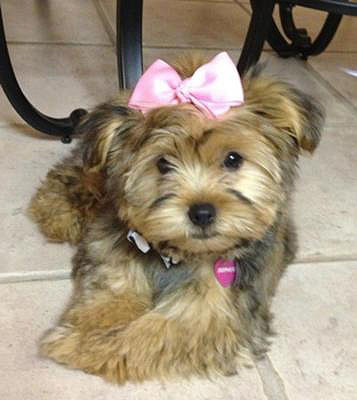 Morkie puppy - Sophie
A Maltese Yorkie can create various mixtures of hair color, hair type, and size. Most Morkie dogs hair will include some brown and black from the Yorkie and maybe a little white from the Maltese.
Hair is usually wavy and grows continuously like human hair. Therefore, they need consistent grooming by either brushing regularly or keeping a short puppy cut.
They are also non-shedding and most are hypoallergenic. Full grown Morkies average 6-9 lbs. This is about the same size as a purebred Maltese.
Maltese > Maltese Mix Dogs > Maltese Yorkie Mix

Are you a Maltese Maniac?

Join other Maltese Maniacs and get our exclusive monthly newsletter, discounts on great Maltese dog products, and notifications of contests and giveaways.