Morkie Dogs - Dolce & Chloe
by Jennine
(Buffalo, NY)
I have two Morkie dogs. Dolce is almost 2 years old and is the love of my life!!! Loves to get cozy with me. Dolce is very much a mama's girl. Dolce just got a new sister her name is Chloe who is 5 months and is also a Morkie like her big sis!!


They are sooooo cute together playing all the time and they love to snuggle with each other. They make my life happy!!! I love my fur babies!!!
Here is an updated picture of my
Morkie dogs
.
Morkie Dogs - Maddy and Teddy
by Sherry
(New England)
From my 10 year old -- Maddy and Teddy are great Morkie dogs... until they see the cat. When that happens it's an endless nightmare! But most of the time there cheerful, cute, cuddly, and playful. Once in a while Maddy will get scared by Teddy and hide in the corner :(, but after a while she gets to her senses and is a little cheerful pup again.
Join in and write your own page! It's easy to do. How? Simply click here to return to Tell Us About Your Morkie!.
Morkie Dogs - Max and Bandit
by Janice Lindway
(Boynton Beach, FL)
Our Morkie dogs Max and Bandit are brothers. We brought them home after our Maltese Yorkie Smokey passed away almost 2 years ago. They are very play full, smart and loving. Great friends.
Join in and write your own page! It's easy to do. How? Simply click here to return to Tell Us About Your Morkie!.
Morkie Update Isabelle (Belle)
by Susan
(Scandia, MN)
Belle is pictured with the Morkies here when we first got her at 12 weeks. This is an updated photo as she will be 4 years old in October (2012) She lost her big brother TJ 3 years ago and was very sad as they were the best of buddies. She got a new baby brother in 2010 named Sammy who is a Maltese and is pictures with the Maltese here. They love each other so much and play together all the time. Belle is full grown at 8 pounds and Sammy is a good match for her at 10 pounds.

She runs to him for comfort when she's scared or thinks he'll save her from bath time. lol We would always want to have a Morkie or Maltese with us, they are awesome dogs and so loving.
Join in and write your own page! It's easy to do. How? Simply click here to return to Tell Us About Your Morkie!.
Morkie Dogs - Cache Porche
by Derek
(Houma,La)
I just recently got one of the cutest Morkie dogs... he is 12 weeks old and he is wonderful! Not only is he cute, but he also is very smart and well trained at such a young age. Cache is about 3 pounds, black with white makings on his chest. I look forward to my Morkie dog getting older and spending lots of time with him... And maybe there will be more puppies like Cache in my life soon! lol
Morkie Dogs - Millie
by Anna
(Maine)
Millie is the love of my life. She is the perfect amount of energetic and relaxed. Morkie dogs are probably the cutest dog ever. I think it's right for a first time dog owner, because it potty trains really easy. I love my little Millie, and think everyone else will too.

I was the parent who wouldn't let their kids have a dog, but i finally cracked. I had white carpet, so didn't want my puppy getting it dirty. I actually trained the dog NOT to go on my carpet, it was easy! The dog has brought my child SO much joy; so parents, GIVE YOUR KID A MORKIE:) you'll be so happy you did.
Join in and write your own page! It's easy to do. How? Simply click here to return to Tell Us About Your Morkie!.
Morkie Dogs - Dolce and Chloe
by Jennine
(Buffalo, NY)
Well this is an updated pic of my girls. They are Morkie dogs and just got back from the groomer and they look so sweet!! So I wanted to show them off a bit. My Morkie dogs get along great and im so lucky to have them in my life!!

Here's an older picture of my Morkie dogs.

Loving Morkie Dog - Teddy
by Allie
(NY)
Teddy is very hyper and loving Morkie dog. He is 2 years old and LOVES his treats and bones. His favorite bones are Oinkies. He loves to take long walks to the park and play fetch, but he also loves relaxing and people rubbing his belly. He is very curious about the world around him, so he loves to go in my backyard to greet other dogs and lay out in the sun. We used to put him in a harness, but we thought he was old enough to have a coller. He was also very easy to train and know many tricks. Overall, our Maltese Yorkie mix dog is a joy to have around the house. He brings joy and love to our family and brings us together!
Smart Morkie - Sophie
Sophie is the best dog I have ever had. I don't actually use the word dog in my house. She is my child. My smart Morkie loves everyone she meets and loves children so much it always makes me happy when she gets to meet them. Everywhere we go, Sophie brings a smile to someone's face. Her sweet nature and open personality helps to overlook the few, not so wonderful, mannerisms she does have. LOL Sophie barks freely and if ignored lets you know loudly and persistently that she finds it unacceptable.

She is very smart and by 3 months had me "potty trained." Sophie does not like to go potty outside if it is raining. She does do her "other" business outside but makes sure I am also outside with her. I think that she figures if she has to go outside to use the bathroom then I should be standing beside her. Sophie does NOT like to be alone and she is happy no matter wherever we are as long as we are together. My Yorkie Maltese mix is pitiful when I say goodbye but just sleeps until I come home. She has never chewed up or destroyed anything. She greets me with unconditional love and if there is a treat for her she is always extremely excited. Sophie loves to get presents and knows that word. Christmas is such fun with her!

She is small and fragile and this not a breed for someone who is not able to put effort into making sure they are physically protected. She has steps to the bed and the couch and I make sure she does not jump down from anywhere. I am a firm believer that it so important for us to do what we can to protect the knees and backs of all dogs. Little dogs seem to be especially fragile. I could continue to go on and on but the bottom line is Sophie is a blessing, she is such a love and so willing to share that love with everyone. She is completely loyal and attached to me and makes me feel loved and comforted all the time. Although many Morkies have the Maltese ears my girl got the upright ears of the Yorkie with the size of the Maltese. She receives lots of comments on these ears of hers.

Thank you all for letting me share about my little girl! Those who have a Morkie know how special and wonderful they are! :)
Join in and write your own page! It's easy to do. How? Simply click here to return to Tell Us About Your Morkie!.
Maxx-A-Million: the Morkie Superhero of Love
by Kelly
(Reston, VA)
Maxx was a neglected Morkie puppy when we found each other. He was confined to a tiny crate for most of his life. He was underweight and underfed and his coat was covered in dried tears and mats and he smelled terrible :( But from the moment he was in my arms he was pure love. Maxx LOVES cuddles... from just about anyone! He's playful, funny, smart, and mischievous. My Maltese Yorkie mix loves to chase and take long hikes. He's wonderful with children and most other animals. He's an absolute joy and everyone who meets him gets a good dose of love and cuteness.
Join in and write your own page! It's easy to do. How? Simply click here to return to Tell Us About Your Morkie!.
Morkie Dogs - Litttle Miss Muffit
by Dianne
(Richmond, UT)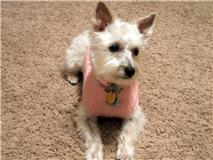 Muffit in her pink sweater
Little Miss Muffit is one of the best Morkie dogs who has a Yorkie Papa and Maltese Moma. She came to our home when she was 8 wks. old and has been a treasure! She weighs 7 1/2 lbs. and is 18 mos. old now. She has all the Morkie traits. She is very intelligent and quick to learn, but stubborn as well. She loves children of all ages and people in general; overly friendly and excited to meet everyone. She loves dogs and cats, but is a bit territorial when "guarding" me, or maybe just jealous. When younger, she was not very obedient and would run off to go visiting on her own. But now at 18 mos., like magic, she stays with me outside and doesn't run off. If she starts to wander, I just call her and she comes speeding back. It's a wonderful change!! Our Morkie dogs so much more cooperative and a wonderful little dog we can take anywhere and know she will behave. We travel quite a bit. I couldn't possibly love her more!!
Join in and write your own page! It's easy to do. How? Simply click here to return to Tell Us About Your Morkie!.
Morkie Dogs - Anghoeus
by Bernadette
(Massachusetts)
Morkie dogs are awesome and our's is adorable, very friendly, plays well with and bonded with my older lab chow dog, protective and alert but not a constant barker which is a relief.

House training with pads is the best in cold weather as going outside in the snow for very long is not a good idea... they have hair like people which is fine and not for keeping warm. I keep him in my jacket usually when driving and he growls playfully when he is tired and needs a nap.

He is a fur ball of love.
Are you a Maltese Maniac?

Join other Maltese Maniacs and get:
Our exclusive monthly newsletter
Discounts on great Maltese dog products
Notifications of contests and giveaways