Yorkie Maltese Puppies - Milo
by Linda Grego
(Port St Lucie, FL)
Milo is a 4 1/2 month old Yorkie Maltese puppy. He weighs 3 1/2 lbs, he is so energetic. I love him to death.


We are in the process of potty training, do well when we are home, but has a few accidents when we are work.
He needs a haircut but I am not sure how his hair should be cut. Any suggestions would be greatly appreciated.
Yorkie Maltese Puppies - Courage
by Tonni Kieffer
(Colorado)
Courage is an awesome companion and one of the best Yorkie Maltese puppies ever! I got him because I wanted a larger dog but my lifestyle isn't quite big dog ready.

Courage is a perfect fit for me. He is energetic and loves to play. He is curious about everything and is both interactive and independent in play. That's the big dog piece, the little dog side is just as enjoyable. He is small and he can go pretty much anywhere with me. He is friendly and loves extra attention. Courage is also very smart. He loves to cause mischief and he knows when he has done so.

He is only 5 months and he has already learned to sit, shake and lay down but he does have issues with the house training and of course I'll keep working with him on it. All in all, I am very happy with Courage and I think he is a perfect fit for me.
Yorkie Maltese Puppies - Sooner
by Penny
(OKC, OK, USA)
We have one of the best Yorkie Maltese puppies. Sooner is now 4 months old (we got him when he was just 9 weeks). He weighs 3.7 lbs, but I'm pretty sure that most of that is hair :-) He is so lovable, and VERY smart.

He is already house broke and can sit, and stay when asked to. He is GREAT with my 5 year old Daughter (even when she gets a little rowdy).

We love him very much, and can't imagine our life without him.


Yorkie Maltese Puppies - Angus
by Holland
(Minnesota)
Our Yorkie Maltese puppy Angus Jo is our first baby, he loves cuddling with his dad or on his dads clothes. We got Angus Jo when he was first born and then finally brought him home at about 3 months.

He obeys commands very well, loves playing with his squeaky bone, chewing his rawhides, and running laps outside and inside. Angus is about 5 lbs, and loves to play rough with our 20 lb cat. Angus has so much energy and loves pleasing everyone that walks in to our house.

Right now Angus is 7 months old and is not completely house broke, he knows he has done something naughty but doesn't go to the door or his potty pads at all times.
Join in and write your own page! It's easy to do. How? Simply click here to return to Tell Us About Your Morkie!.
Yorkie Maltese Puppies - Lola
by The Brasher's
(Oklahoma City, OK)
Lola is one of the most fun, loving, Yorkie Maltese puppies who has never met a stranger. She loves spending time with her owners but also loves playing with friends, human or canine.

She follows us around the house and never wants to be but a few feet away. She does not bark much, loves playing chase and with her toys.
Yorkie Maltese Puppies - Macie
by Haley
(Texas)
Macie, one of the cutest Yorkie Maltese puppies, is definitely a little furball of energy!! She loves to play and has the cutest little personality!

She is almost 8 months now and just hit 3 pounds! I couldn't ask for a better little girl :)
Adorable Morkie Puppy - Pandora
by Michelle
(Plainfield, IL)
I love my new home!
My adorable Morkie puppy Pandora truly fits her name! She is 2 1/2 months old here.(July 2nd, 2012). She is now about 4 1/2 lbs at 5 months.

She is the most adorable, loveable Mommy's princess ever. She loves pampering and dressing up, but she can also get out in the yard and dig my flowers until her white fur looks black. Then looks at me like "What? It wasn't me!".

She will look others up and down then stub them and come sit with me. If my husband or kids try to sit with me while she's around she will bark at them.

She is funny, sweet and innocent all while terrorizing my life...and I wouldn't have it any other way!

We have one other dog, a Husky/Chow mix who is 12 and she just looks at her like "where did you come from with that attitude?" It is the funniest thing to watch them interact. Pandora will go outside first, turn around and stare at Shayla (our other dog). Shayla will just stand there actually thinking it over as to whether she really needs to go out.

When she does, Pandora pounces on her and then let the games begin! Pandora is a slapping, biting little maniac. Shayla is much larger and already she realizes it- so she only uses her nose to nuzzle Pandora away from her. They play so well together- sweet sisters!

I love this little mess of a puppy. My Yorkie Maltese mix is love in a puppy package and I would be crazy without her!!
Join in and write your own page! It's easy to do. How? Simply click here to return to Tell Us About Your Morkie!.
Yorkie Maltese Puppies - Marley Hendrix
by Ara Bella
(San Francisco, CA)
She's only 3 months old but the cutest and the smartest Yorkie Maltese puppies ever! A lover of music and camera posing!
Yorkie Maltese Puppies - Misty
by Loretta Mc Nitt
(Bakersfield, CA)
When we adopted My Yorkie Maltese puppy she weighed 2.1 lbs and as cute as a minute. Misty is now almost 5 months and weighs 6.9 lbs.

I was expecting a little one, but she just keeps growing. Both parents were very small, but I guess my little one is going to be pretty good size.

She is a real character and smart as a whip. I hate to say it, but she has her Mom wrapped around her little paw, but don't they all?
Maltese Yorkie Puppy - Maddie-Lyn
by Michele Russell
(Fort Worth, Texas)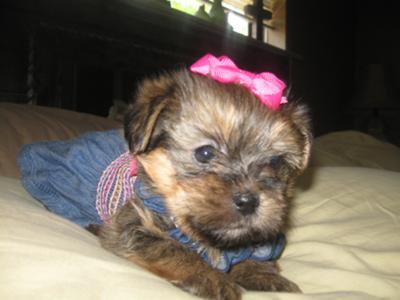 Maddie-Lyn
My Maltese Yorkie puppy is 3/4 Yorkie and 1/4 Maltese and weighs only 2.6lbs. She looks like a little teddy bear.
Yorkie Maltese Puppies - Lucky, Hershey, Recees
by Heather
(Lehigh Acres Florida)
My Yorkie Maltese puppies were born June 16th 2009 by my Maltese Precious. I have 2 Maltese and 1 Yorkie and the Yorkie went with the Maltese. Well now I have 3 beautiful Morkie puppies.

I never knew of such breed because I really don't breed dogs, but when they were born and I saw 3 different colors instead of 3 white Maltese, it was the strangest thing to see because her last liter was 3 white Maltese.

These Yorkie Maltese mix puppies are beautiful and the hair feels like human hair. They love children and run after my 10 year old son. The black and white one is the girl, she fights with her 2 brothers.
Are you a Maltese Maniac?

Join other Maltese Maniacs and get:
Our exclusive monthly newsletter
Discounts on great Maltese dog products
Notifications of contests and giveaways