Rescued Morkie - Pebbles
by Elvia
(Los Angeles)
My Little Morkie Baby came from a rescue center. She was a bit shy at first, but we are slowly building up her confidence. She is so loving and affectionate, a non barking dog, unless needs be. She has a tan with white coat, and is non shedding, easy to train.


We need to be consistent on the routine and patient though, playful only in her home or if she is only with me and her dad. But when she does play she plays, especially after walks. We love her and know we made a great choice with the Morkie mixed breed.
Rescued Morkie - Morky
by Barb E.
(Lincoln, MO)
We just got our Morkie dog Morky this week. He is 1 1/2 years old and his temperament is so sweet. We got him from a rescue shelter. He has adapted well already, although he is timid when it comes to noises he has not heard before. He prefers laps more than anywhere else.

He is really smart and is trained to potty pads. He will go outside but refuses to potty outdoors and we are going to start working on that. All and all he is a great fit for us as we are an older couple.
Maltese Yorkie Rescue - Tucker
by Cynde
(New Jersey)
1st day in his new home (love him!!)
Tucker came from an animal shelter here in NJ. He was a Maltese Yorkie rescue found as a stray on the streets of Paterson New Jersey on 9/25/12 and we adopted him on 10/7/12 (two weeks later). I wasn't sure what he really was, but when I saw pictures of Morkie's it hit the nail on the head! That's Tucker!!

He is approx. 1 1/2 yrs. old and is really a good little guy. I have another rescue that is a Terrier Poodle mix(?) It's only been a week, but they are getting along pretty good. Tucker fears NOTHING! He go up to big dogs and people with no fear at all. I want to introduce him to my sons big dogs but am afraid. He is so small (8lbs) and they are BIG. I think even playing they could hurt him.
Join in and write your own page! It's easy to do. How? Simply click here to return to Tell Us About Your Morkie!.
Rescued Morkie - Wiley
Wiley is the sweetest dog I have ever known. He loves all people, other dogs and even likes cats. I rescued my Morkie when he was 3 months old. He is 4 now and everyone in my condo building is in love with him!
Rescued Morkie - Yuna
by Abi
(Poughkeepsie, NY)
We just rescued our Morkie from a neglectful family on Saturday. As far as we know she's 5 months old and not really house trained. Amazingly, this doesn't deter her from being warm and loving! Although our Morkies fur has been chopped off horrifically, her inner beauty truly shines through. What spirit!!
Yorkie Maltese Mix Rescue - Braxton
by Tracie Adams
(Talking Rock, GA)
My Yorkie Maltese mix is so very sweet but still a little bit shy and scared. I rescued him from a puppy mill last week!!!

10 MONTHS 4 LBS.

RUFF, My name is Braxton and I have a new mom! She came and got me from those cages and now I can walk on grass...I am very sweet but scared and warming up slow... All I need is love and I promise to love you back...


Puppy mills should be against the law!! If you breed dogs there should be someone to regulate.
Join in and write your own page! It's easy to do. How? Simply click here to return to Tell Us About Your Morkie!.
Rescued Morkie - Milo
by Susan Schembri
(Victoria,BC Canada)
Our Morkie Milo came into our family 9 months ago after we rescued him from a family that didn't want or care for him. Milo was underweight not neutered and very shy and timid. I believe he was neglected from the way he acted and had absolutely no confidence. In 9 months Milo has gained at least 2 to 3 lbs and has grown 4 inches.

Can this little guy eat and we feed him only the best wet and dry food. With lots of healthy treats and chew treats for his teeth. He has since been neutered and lives with 3 other small dogs that at first he was afraid of but now torments them constantly with wanting to play and run after him. He also gets plenty of healthy exercise and lots of outings with mom.

Milo sleeps with me every night and gets plenty of love and hugs and kisses. He is a different dog entirely he is healthier emotionally and physically. His coat is beautiful and he gets regular grooming. I love my little Morkie Milo!
Yorkie Maltese Mix Rescue - Bella
by Lori
(AZ)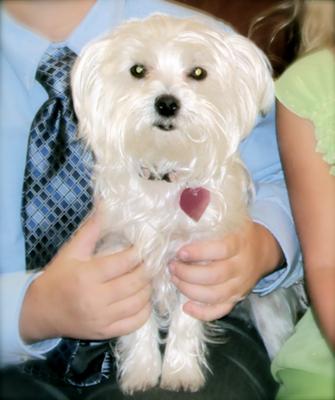 Bella on Easter
Our Yorkie Maltese mix rescue Bella came to our family as a rescue. We welcomed her to our family about a year and a half ago to fill the void I had after the loss of a baby. She has filled that void more than I ever expected. I love her just as much as my other three children. Bella has a very sweet personality. Whenever I am ill she will stay right by my side only leaving to go potty and eat. We have a lot of fun teaching her new tricks and she loves to play. If anyone is looking for a lovable dog I would definitely recommend a Morkie. I could not have asked for a better dog to join our family.
Join in and write your own page! It's easy to do. How? Simply click here to return to Tell Us About Your Morkie!.
Maltese Yorkie Rescue - Gyllie
by Loren
(Alabama)
Gyllie is a 7.5 lb Maltese Yorkie rescue dog who came to us through the cruelty of someone dumping her near a creek in the rural area where my sister lives. I scheduled an appointment with the vet to have our Morkie spayed & all shots the next week. I was told she is about 5 years old and I believe she had been bred several times. Also, she is blind in her right eye, which looks as though it might have been injured at some time. We don't know why she was abandoned, but I am so glad to have her in the family. She is housebroken, loves to cuddle, does not bark often, does not shed, and is a delight. We carry her practically everywhere!! Several people have told us she must be a Maltese Yorkie mix so I decided to look it up. I am so delighted to have this little dog.
Are you a Maltese Maniac?

Join other Maltese Maniacs and get:
Our exclusive monthly newsletter
Discounts on great Maltese dog products
Notifications of contests and giveaways