White Morkie - Coquito
by Andrea
(Hillside, NJ 07205)
He is a 1 year old all white Morkie, well his dad is a Morkie and his mommy is a Maltese... he is very playful, he loves to sleep his mommie, well me, because he is just my little angle, he is very attached to me, he goes wherever I go, he is very protective of me, he is very loud, he just loves to lay around and sleep, he prefers my bed tho, he loves skittles and food at that, he will eat anything, wait not everything he hates potato chips... he will not eat that, when he does something wrong hell immediately go in his cage and just keep his head down, when I go out and come home he goes bananas, he loves me soo much that hell get too exited, he loves to be rubbed behind his little ears and he loves me to pick him up, he loves to drink from cups and loves to play with little papers and destroys every toy he gets, he loves to sleep with pillows and covers... I sometimes think he believes he is a human... I love my Coquito!!
White Morkie - Logan
My Morkie is very energetic. He loves playing. He is very fluffy, but weighs over 11 pounds. His mom is a Maltese and his dad is a Yorkie. Logan is very observant but also tricky to train. He loves to be held and kissed and hugged.

For those planning on getting this type of dog, it's a great choice and make sure you potty train it fast. My dog isn't potty trained well and I have had to clean up many pieces of poo and puddles of pee.
White Morkie - Sophia Zamany
by Osnia
(Ontario)
I have an adorable baby Morkie. She is mostly white and a bit of cream colour on her head. She is the smallest of the litter and the breeder had told me she will mature to 4 pound maximun, I guess he's wrong cause no one knows how big they'll get, but I love her regardless.

Now back to her personality. She is so amazing and very playfull, alot of people say they are yappy dogs but not my little girl. Overall she is a great Morkie puppy and nothing from what people say about them. Well so far who knows what's in store for the future, and just to mention I payed $900 for her.
Join in and write your own page! It's easy to do. How? Simply click here to return to Tell Us About Your Morkie!.
Mature Morkie - Brittany
by Sherrie Olsson
(Umatilla, FL, USA)
She is wonderful! I have had my Morkie for over 13 years now, and found her as a stray. I have never owned a more loving, affectionate dog. She is watchful, and protective.

My Morkie is getting up in years, as she is 16 years old now, but even so she still has those spontaneous bouts of energy that she had as a younger dog.
Join in and write your own page! It's easy to do. How? Simply click here to return to Tell Us About Your Morkie!.
White Morkie Dog - Nitro
by Mary Adams
(Salina, Kansas)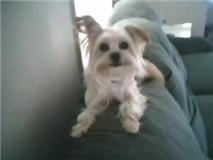 My baby Nitro
My white Morkie dog Nitro is such a sweetheart! He's almost 3 years old and he's so cute! He's one of the most loving and devoted little guys I have ever seen and he's definitely my dog! He follows me everywhere! He will even try to follow me into the shower, lol! I love my Morkie soooo much!
Join in and write your own page! It's easy to do. How? Simply click here to return to Tell Us About Your Morkie!.
White Morkie Puppies - Murray
by Mary
(Greenville, OH)
Murray is one of the rare male, all white Morkie puppies who is 17 wks old and adorable! He has one ear up and one ear down! He weighs 4.2 lbs and I got him for my son who is 12.

We already have a female Yorkie, but she is anti-social. She weighs 4 lbs and is 5 years old. She wonders why we brought a DOG into the house (she has no idea she is a dog).

Murray is bringing much joy to our lives. He is very sociable and playful. As soon as the weather improves we are starting outside training.
Loving Morkie - Darcie
by Kathy Estes
(Knoxville, TN, USA)
Our Morkie Darcie is just full of love and energy. She is about 18 months old and loves everyone that walks into our house... doesn't matter if they are 5, 25, 50 or 80 years old, she lives to make everyone love her! We got her when she was 6 weeks old partially as company to our older Maltese and partially of course because she needed a home.

She was an accidental puppy (wasn't bred on purpose) which makes her even more special to us. Our Maltese loves her (and believe me she doesn't always love other dogs). Darcie is very smart and lovable and we think she is a perfect dog for anyone!! In fact, everyone wants to take her home with them.

If you get lucky enough to get a Morkie like her you will be in love from day one! She does have to be groomed daily or kept groomed well..we usually just keep her groomed with a puppy cut. She is never sick and has never been aggressive at all.

I highly recommend Morkies to anyone who wants love, spunk and friendliness from a pet!!
White Morkie Dog - DaVinci
by Lisa
(WA)
DaVinci is a three month old and 4.5 pound white Morkie dog. His dad is a Maltese and mom is a Yorkie. He's a little doll and when he's happy, his ears lay flat on the back of his head. He looks like a bunny when he runs figure eights in the backyard. He's spoiled rotten.

The cat (13 pounds) hates his guts, but the cat is also scared to death of him. Our Morkie loves the cat, and the cat's food whenever he can get his furry little paws on it. We recently bought Angel's Eyes so we are eager to see if that works on his tear stains. Either way, this little silky guy is adorable.

We are working on potty training, walking with a leash,(he likes to attack the leash), being nice to the cat, and random nips that turn into bites. Ouch. We got Bitter Apple, and that seems to turn him off the biting. It's like raising a child -- only furry. :)
Yorkie Maltese Mix Puppy - Buddy
by Princess
(Baltimore, MD, USA)
My Yorkie Maltese mix puppy Buddy is the sweetest most lovable little ball of sunshine! He is all white with blond ears. His body is mostly Maltese like but his face looks just like a Yorkie. He is happy and prances when he is playing. He loves to trot around and play with his toys, especially his stuffed animals and squeaky toys.

He was born on 12/05/08 which makes him 5 months old to date. He just lost two of his front bottom baby teeth. Now his tongue slips out since there's no teeth down bottom to hold his little tongue in. It's the cutest thing ever! He is a wonderful blessing in every way!
Join in and write your own page! It's easy to do. How? Simply click here to return to Tell Us About Your Morkie!.
White Morkie - Carly
by Missy Prissy
(Arlington TX)
My white Morkie has really tall legs. She jumps like Tigger. She is so funny to watch. She is a off white color and her fur is cottony which it tends to matte. My Yorkie Maltese mix is the most loving little dog I've ever had. I wouldn't take a million for her!
Join in and write your own page! It's easy to do. How? Simply click here to return to Tell Us About Your Morkie!.
Sneaky Morkie - Zack
by Quinea Powell
(Detroit, Michigan)
Our Morkie is one silly, spoiled, sneaky, energetic ten month old puppy who runs around the house till he passes out... lol.

Likes to sleep in the bed, couch or a pile of clothes. Loves to STEAL THINGS AND CHEW UP EVERYTHING. Also loves to play outside. Zack is such a beggar he begs for anything; food, play, attention.

Our Morkie could be a good guard dog he lets us know when someone is at the front or back door AT MY HOUSE. He is adorable!
Are you a Maltese Maniac?

Join other Maltese Maniacs and get:
Our exclusive monthly newsletter
Discounts on great Maltese dog products
Notifications of contests and giveaways