Morkies - Butchie and Bella
by JAN B.
(NJ)
Well he is a doll boy a Biewer Morkie & his moma Bella girl & they play all day. I do have to keep them contained in my kitchen while at work so they don't get into everything.


Here they are and what a couple of swells...! I think they are the cutest mixed dogs out there today! My Morkies bring so much joy & fun into our lives... Yes there is some work behind it, but they love unconditionally!!
Morkies Ears - Oliver
by Cathy
(Hubbardston, Ma)
Many of you have been posting about your Morkies ears being up then down .Just came back from vet with my 4 month old Morkie (who's ears are currently up) She told me when they are teething their calcium levels are up and down and depending on their calcium level,it effects the cartilage in their ears. By 6 months their teeth should all be in and their ears will be the way they are going to stay. I found this very interesting and thought I would share.
Morkies - Shelby & Sayde
by Ken Knight
(Raleigh, NC)
Shelby & Sayde are sisters just over two years old. They behave just like little kids there may be 30 toys, but the one in the others mouth is the one to get. My wife and I ,well mainly me keep them spoiled. They sleep on our pillows at night. Go to two different parks every night that it does not rain.

The best decision we ever made was to get two ( almost got their brother ) as they have a ball chasing each other and making what I call Morkie noises. Unless you have had or knew someone with a Morkie you would not know what a Morkie noise is.

They both love to ride in a car. Sayde the one on the right could jump into the car but the princess she is needs to be lifted. She has no problem jumping onto our bed which is 20 times higher then the car. They are content to sit still and ride. They especially like it when the windows and sun roof are open.

Morkies are smart little dogs. They definitely love people. A lot of breeder purists do not accept the Morkie as a breed but I do not think any of us owners care. Morkies are a special dog with a unique disposition and loyalty. You can not take one ( let alone two ) the park without several people asking about them.

I guess if you are reading this you are trying to decide if you should get one or not. Please do not get one you will be disappointed. Get two and you will be happy for years.
Join in and write your own page! It's easy to do. How? Simply click here to return to Tell Us About Your Morkie!.
My Magnificent Morkie Mia
by Mariah
(Michigan)
Mia is such a wonderful Morkie dog. She very playful and energetic, but yet very sweet and humble. She wakes up every morning ready to go outside. She is soooo spoiled, and always is getting cuddled. She always barks when someone is at the door, but gives everybody a friendly welcome. I love my Morkie.!!!
Join in and write your own page! It's easy to do. How? Simply click here to return to Tell Us About Your Morkie!.
Morkies - Scout
Morkies are amazing dogs and I love mine dearly. My little Morkie's name is Scout and he is 7 months old. Scout's personality is just about crazy, spunky, and very entertaining. My Morkie is extremely intelligent and learns really fast so far we taught him how to sit, stay, and to go to the door when he needs out. He knows his name very well and also understands when you say "no" or the word "treat" lol. He is a little daredevil and automatically made himself the head of the household and he knows it.

He loves the outdoors and running through water which gives us the thought that he will not be hesitant to jump in our in-ground pool this summer. He likes to play ball and frisbee, he likes to chew on rawhide bones and has a little dog that looks just like him he carries around all the time. I read that they didn't like cats on a website before we got him but we have four cats and he absolutely loves them though I don't think the cats enjoy his energetic attitude all the time but they live pretty peacfully together. One of my cats actually likes to play with him and they chase each other and wrestle for hours.

Scout does tend to bark a lot but usually just when it's dark out and we live in the country so he sees or senses animals(deer, coyotes, racoons etc....)We housetrained him pretty well though still being a puppy has his accidents. When he is up he does require a lot of your attention. At 7 months he is about 8lbs. I have a feeling he is going to be pretty happy in his new home with him having the run of the property and our big house with four cats and two goats he and five people living here he always has something to do or someone to bother. Plus he has that swimming pool to look forward to this summer and walks in the woods. Our Morkies energetic attitude keeps us on our feet and going.
Join in and write your own page! It's easy to do. How? Simply click here to return to Tell Us About Your Morkie!.
Therapy Morkie - Jaq-Jaq
by Teri Reisser
(Thousand Oaks, CA)
I am a marriage and family therapist in Southern California, and I have been thinking about acquiring an office "therapy dog" for about three years. My husband decided to make the dream happen and my Morkie Jaq-Jaq arrived on Christmas Eve 2008.

Everything the sites say about Morkies is so far true! He's yappy and the potty training is taking longer than I'd hoped, but I have not ONCE been sorry he came into my life. He is my little shadow. My clients have been very patient with the puppy training period, and he is just my little sweetheart.

He's "Tigger" every day in the late afternoon (it's as if someone just shot meth amphetamines into him) but is so affectionate and cuddly in the evening that he lays in my arms, on his back, while I watch TV in the evening, grooming him. He barks at molecules (that YAP is going to drive me insane!) so has turned out to be quite a little watchdog, but it's annoying when he still barks at my husband every time he enters the room. :-)

He LOVES water. I'm a walker, and he walks the first two mile loop with me, splashing with wild abandon in every bit of water he can find. He loves the feel of tall grass/plants on his tummy as he joyfully bounds through them. He comes into the shower with me and happily lets me shampoo him.

The sites are correct in saying you should NOT get this breed if you have to be gone for several hours. When I've been away for a bit, Jaq-Jaq frantically bounces up and down like a rabies-crazed dog for about 5 minutes per hour that I've been away. I always plan to play with him for 15-20 minutes as soon as I come in from being away. :-)

I wouldn't send him back for the world!
Morkies - Milo and Zeus
by Kim
(Erie, PA)
My two Morkies Milo and Zeus were born July 24, 2010 and I adopted them in January 2011. There is no way I could have left one behind when I went to rescue them. They are the sweetest little Morkies! Milo is very timid and weighs 10 pounds. Zeus is the spunky one at 8 pounds! They love to get their baths and love to pose for pictures!
Join in and write your own page! It's easy to do. How? Simply click here to return to Tell Us About Your Morkie!.
Biewer Morkies
by JAN B.
(NJ.)
We had some beautiful dolls this year (just one litter). Not one was pure white. Since the Biewer Morkie dad was 3/4 biewer. We were lucky enough to have one goldust dollbaby. Her name is princess goldie.. Very special indeed! Biewer Yorkies are parti Yorkies. Some akc reg. Yorkies come out that way. All of a sudden. The ones w/ the white on their chests have an underlying parti gene & sometimes it pops up. So they are quite special & the Biewers are much more calm. I love the 5 lb size, small but sturdy & just receintly the biewers are getting biros (which means chocolate !) oh so precious! Our Baci is a golden, or goldust, its been called. Most of the sable turns a nice bronze color w/ white. So here is our goldie she has found her forever home, & we are going to keep in touch for a long time. About 5-6 lbs grown. They are registered w/int. Designer canine registry! These Morkies deserve a place within the canine society, but since they are sooo 's p e c i a l", they have a place all their own in the "cutest designer" category, that's where they are! I love them all! These were Bellas baby dolls also, just a different dad, both biewer Morkie parents. I had a feeling they were gonna be special & they are!
Maltese Yorkshire Terrier - Toby
Our Maltese Yorkshire Terrier Toby was born Nov 11 2009 when we got him, he only weighed a little over a pound. He is 11 weeks and weighs 2.3 pounds and very energetic.

He eats well and is about 70 percent potty trained. His outer coat is tan but under coat seems to be white so I think our Yorkshire Terrier mix will be more white than tan.
Morkies - Baxter
by Elisabeth
(Evansville, IN)
He is 9 months old and a loving, loyal dog! He makes my day everyday!! I really think Morkies are awesome dogs. I recommend them to everyone.
Join in and write your own page! It's easy to do. How? Simply click here to return to Tell Us About Your Morkie!.
All My Morkies
by Michele Russell
(Fort Worth TX.)
Morkie Dog - Tucker
These are some of my Morkies... Mom (Olivia) is Morkie and Dad (Bailey) is a Yorkie. Maddie-Lynn and Tucker are from the 1st and 2nd litter and Kelly Ballard's Sophie is from litter 3.
Join in and write your own page! It's easy to do. How? Simply click here to return to Tell Us About Your Morkie!.
Spunky Yorkie Mix - Pelusa
by Barbara Romero
(Aurora,IL,USA)
Pelusa Loves the Snow!
Pelusa is a great CHILD! Our Maltese Yorkie mix is 4 years old and we have had her since she was about 6 months old. She is a spunky dog that when around older lazy dogs, can make them youthful again! My brother has a 10 year old Hound dog named and HUNNY and that dog lays around ALL day, well just after being around Pelusa for a day, Hunny and her were running around playing chase! It was the cutest thing! Pelusa is very shy around strangers, she growls at them and will not them touch her! She has to be around the person for days before letting them get near. Pelusa was also very hard to potty train INDOORS :(. She would not follow our other dog Princess (13 year old toy apple head Chihuahua) to the puppy pads. But after a whole year she FINALLY goes on the puppy pad and expects her TREAT each time she does! Pelusa is a GREAT dog and very intelligent! Our Maltese Yorkie mix fetches her toys and loves the ones that SQUEAK! My husband and I love Pelusa! P.S. "Pelusa" means lint or fuzz ball in Spanish!
Join in and write your own page! It's easy to do. How? Simply click here to return to Tell Us About Your Morkie!.
Morkies - Milo and Zeus
by Kim
(Erie, PA)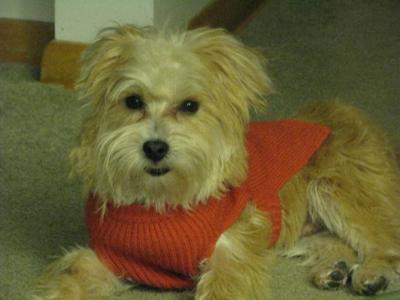 Zeus
His name says it all! Zeus was adopted at the age of five months old in January 2011. He is the most spunky little Morkie! He loves his brother Milo.

Milo is now 7 months old - He and his brother Zeus were adopted in January 2011 when they were 5 months old. He was afraid of everything when we first brought him home, but he has quite the personality now and is my boy! I love my Morkies!
Join in and write your own page! It's easy to do. How? Simply click here to return to Tell Us About Your Morkie!.
Get Companion Morkie - Jerzee
by Daquahn Colson
(Newark nj 07103)
My Morkie dog Jerzee is great companion very friendly loads of personality very active and playful not a barker. What really makes him special is that I was diagnosed with Cancer and he was very consoling through my chemotherapy treatment not as active very sad acting it seemed like. But now cancer is in remission and I'm fine and back to work he's good old Jerzee happy as can be. My Maltese Yorkie mix is 4 1/2 human years had him since 6 weeks.
Join in and write your own page! It's easy to do. How? Simply click here to return to Tell Us About Your Morkie!.
Smart Morkie - Bella Ann
by Amelia
(Memphis, tn, USA)
My son gave a Morkie named Bella Ann to me after we had to put my 14 year old Pit Bull, Big Boy down due to a chronic illness. Big Boy lived in the house with us his entire life, he was a great friend.

Bella Ann only weighed 1.5 pounds when I got her at 8 weeks old, she is two years now and weighs 5 pounds. She is very beautiful and smart, because she was so small I started out training her to the Pee Pee pads; this summer I started taking her outside to use it. After she got use to going outside I bought one those bells that you hang on the door, I tried to get her to ring it when she wanted out but she was afraid of and is still afraid of the sound. I noticed Bella Ann would watch me put on my flip flops every time I got ready to take her out, well it wasn't long before she figured out that I wouldn't go outside without those shoes, she started bringing me the flip flops one at a time when my Maltese Yorkie wanted to go out, then she would sit and stare at me until I put them on and went to the door to take her out. What a smart little girl. We all love her!
Join in and write your own page! It's easy to do. How? Simply click here to return to Tell Us About Your Morkie!.
Morkies - Scout
by Mandi
(Woodstock, GA)
We got our first family dog, Scout about a month ago off of Craigs List. His mom had cancer and was looking for a family to care for him. I had been researching Morkies and he seemed like the perfect fit. We love Scout and he is adjusting nicely. We have an open adoption, LOL, and keep in touch with Scouts birth mom often :) and plan to keep in touch over the years. We also have two Persian Kitties and they tolerate him. He is high energy, but full of love. Scout is crate trained and potty trained in the house. He is very smart and loyal. He is a very picky eater, but doing better with that. We just got him up to date on shots and neutered and plan to shower love on him for many years. His wardrobe is growing as is our love for him. He is slowly turning me into a doggie person after all. He is currently 8 months old and 6 pds. of doggie love.
Are you a Maltese Maniac?

Join other Maltese Maniacs and get:
Our exclusive monthly newsletter
Discounts on great Maltese dog products
Notifications of contests and giveaways