Golden Morkie - Lady
by Megan Tuttle
(Shearstown, NL, Canada)
Lady is our 3 year old golden Morkie and is an absolute joy! We love her so much but the best part is that she loves us so much more! She is VERY affectionate and loves to cuddle in your lap! Our 3 small girls put dolls clothes on her and push her around in the doll stroller with Lady loving every bit of it! She was actually very easy to housebreak and was accident free at 4 months. We would recommend Morkie dogs to anyone! They are loveable, non shedding and just great family dogs!
Golden Morkie - Rufus
He is a 2 1/2year old golden Morkie. His mum is Maltese and his dad is Yorkie. He is very loyal and was very easy to train, he has heaps of spunk and personality. Such a neat Morkie dog.
Golden Morkie Dogs - Peanut
by Aakash
(Los Angeles, CA)
With a tiny frame and golden hair, Peanut is one of the most attractive Morkies dogs I have seen so far. He has a Maltese Mum and a Yorkie-Poodle dad, so he also has a bit of Poodle in him. May be that's why his hair won't grow any longer than they are now.

He is a loving guy, doesn't bark a lot and licks almost everyone who pets him. :) Peanut loves long runs in the park and is obedient with a leash.
We are still potty training our little Morkie, wish us luck... :)
Light Morkie - Sami
by Kirby
(Omaha, NE)
She's a 3 year old energetic light colored Morkie. She naps a lot because she's running around all day long! My kids (ages 8-17) love this dog and take care of it.
Join in and write your own page! It's easy to do. How? Simply click here to return to Tell Us About Your Morkie!.
Morkie Puppy - Gizmo
by Kailee
Gizmo seems to be an energtic fun Morkie puppy, she gets into everything and can't stand being by herself. My Maltese Yorkie mix is a new addition to my life and I'm grateful so far.
Join in and write your own page! It's easy to do. How? Simply click here to return to Tell Us About Your Morkie!.
Male Morkie - Chesney
by Vicki Wiebelhaus
(Des Moines, Iowa)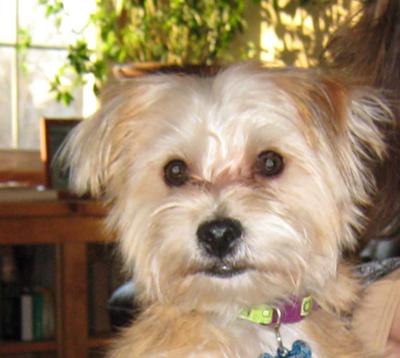 Chesney is a 6 1/2 month old male Morkie. He is so very loving. He does have a stubborn side to him though. He is totally housebroke. Didn't really have much trouble at all in that area. He is kennel trained. My Maltese Yorkie mix runs from us though when he don't want to do something. I am training him to be groomed. He seems to be pretty good with that... I groom him often. I actually enjoy doing it. All in all he is a very sweet puppy and he is very good with kids and adults as well. He does like to terrorize our kitty though.
Join in and write your own page! It's easy to do. How? Simply click here to return to Tell Us About Your Morkie!.
Blonde Morkie - Mason
by Ray Muirhead
(Warrenton,VA. USA)
Mason 1 yr old
Mason my Morkie has a blonde head and ears and legs, a grey Yorkie colored back and weighs about 9lbs. He is an absolutely wonderful companion. He is was born on 12/31/06.

He is energetic, loves to play with his brother a 20# grey cat, and yes, barks like a Yorkie especially if he see an animal on TV, a person on a bike or someone invading his territory... which is everywhere. He is a very warm affectionate dog, has an awesome smile, would never ever think about biting anyone... he will lick you to death though. He loves to go "bye-bye" in a car or golf cart (Especially the golf cart).

I can go on and on... we wouldn't trade Mason for a million $. He is the best dog we've ever owned. We are looking for another Morkie now.
Murray - Maltese Mix Yorkie
by Anita
(Bronx NY)
This little man Murray is now 1 yr old. He is a Maltese mix Yorkie and weighs about 15 lbs now. He is a high energy dog, but sweet and lovable.



Maltese Yorkie Mix Dogs - Hercules
by Leah
(New Lebanon, OH)
I love Maltese Yorkie mix dogs! Hercules is the best investment I ever made. He is my little baby bear. I spoil him rotten and he loves it. He is very feisty and would like to be fearless, but alas, he is a little wimp. He barks at his own reflection in the mirror. He loves to wear his sweater and he is such a cuddle pup.

Our Maltese Yorkie mix is almost 11 months old now and I feel like I have known him forever. We have seven kids in the house and another large breed mix and they are best buddies. Sometimes my kids tell me they feel as though they have been replaced by Hercules!! Hercules does have a problem with car sickness. He will vomit if anyone but me is holding him in the car, so I cannot take him a long distance alone, as I want him to be safe. He dances doe treats and he is very obedient. Potty training was slow at first but now we have it aced.

I love this Maltese Yorkie mix dog and I recommend the breed to anyone. Vet says he is full grown at almost 5 pounds. Perfect size for my purse! He tolerates his bath just to get the warmth of being blown dry!
Join in and write your own page! It's easy to do. How? Simply click here to return to Tell Us About Your Morkie!.
Maltese Yorkie Mix Dogs - Lily
by Malissa Thorn
(Elk City, Oklahoma)
Lily is our lil Maltese Yorkie mix princess... She is a little ball of fire... We have five dogs altogether and she is the youngest but she dominates them all. It's our Maltese Yorkie mix dogs way or no way... She is very loving and also protective.. She doesn't realize that she is only three pounds. We love and enjoy her so much.
Golden Morkie - Thor
by Rhani
(Boca Raton, FL)
My golden Morkie Thor is the most precious puppy ever!! He is 14 weeks old, super energetic, smart, and adorable. Thor has a sable colored body and white face, his tail and tip of of his ears are black. He now lives with his brother Brutus, another Morkie age 6 who is teachig him all sorts of mischief! They spend their days playing tug-of-war and napping together :) I love my Morkies! Cutest dogs ever!
Join in and write your own page! It's easy to do. How? Simply click here to return to Tell Us About Your Morkie!.
Are you a Maltese Maniac?

Join other Maltese Maniacs and get:
Our exclusive monthly newsletter
Discounts on great Maltese dog products
Notifications of contests and giveaways