Female Morkie Puppy - Sophie
by Kelly
(Fort Worth)
I got my female Morkie puppy Sophie at 6 weeks old, she is 3 months now she weighs 4.5 lbs. She is a beautiful dog. The last time I took her to the Vet he said she was one of the prettiest dogs he had ever seen, I must agree with him!! She is a great puppy, smart and friendly, easy to train. I have had other dogs but she is by far the best dog I have ever had. I hit the jack pot with her!!
Female Morkie Puppy - Cupcake
My female Morkie puppy Cupcake is 8 weeks old she is the new baby in the family. I have three children that love her very much. She might be tiny but she has lots of love to give. She is a great Morkie!!!!!!!!
Female Morkie Puppy - Kazzi
by M. Escobar
(Houma, LA)
Kazzi the female Morkie puppy was born August 20, 2011. SHE IS SOOO SWEET!! We fell in love with her from day one. She is playful and smart and was kennel trained the first day, sleeping all night! Our Maltese Yorkie puppy plays fetch and has just been a true blessing to us!
Miracle Morkie Puppy - Diva
by Karly and Jessica
She is a complete "diva". Shes turning one on August 1 2011. She is also a miracle Morkie puppy because when she was not even a month old, Diva and her sister was dehydrated because her mother's nipple became dry. Sadly she was the one to survive.
Join in and write your own page! It's easy to do. How? Simply click here to return to Tell Us About Your Morkie!.
Morkie Dog - Fredrika
by Chrissie
(Louisiana)
Our Morkie dog is a 10 week old baby girl. She has the sweetest, playful temperament. She still sleeps a lot as most babies do. But when she is awake, she is full of energy and loves to play and 'attack'. Our Morkie puppy is a new addition to our family and has proven to be very smart and easy to train. She is teething, but when she gnaws on something other than her toys, we redirect her and tell her 'No", and she catches on immediately. I could not be happier with her. She adores my Shih Tzu and my 5 year old, but she is very partial to my 16 year old daughter, who I got her for. As loving and sweet as she is to our family, when 'Mommy' comes home from school... get out of the way!
Join in and write your own page! It's easy to do. How? Simply click here to return to Tell Us About Your Morkie!.
Female Morkie - Cruella
by Michelle Nance
(Los Angeles, CA)
Cruella is very playful and highly trained! My children gave her this name for when we got her she had hair like the character in 101 Dalmation. As she gotten older she is more white then ever! It's funny how she display emotions that of humans! My female Morkie stands on her hind legs and dances upon command! She adores the kids and sleeps outside their door when they close it. However, she adores my daughter which gives her free. Range when she is home from college and sleeps at the foot of her bed or on it! She has been train to be very friendly and she only barks to alert us.

Cruella understand everything that is said to her even when she has done something wrong and she is in Trouble. She is not a pet but a family member and we speak to her as such! We love our Morkie.
Join in and write your own page! It's easy to do. How? Simply click here to return to Tell Us About Your Morkie!.
Maltese Yorkie Puppies - Mattie
by Gary
(Iowa)
We found our Mattie, one of the best Maltese Yorkie puppies, about a month ago. We were worried because we both do some traveling, and didn't know how the dog would handle it. Now, my wife and I have little battles to see who gets to spend the time with our new best friend.

She is so fun and energetic when it is time to play, and so loving and relaxed when it is time to cuddle.

She is four months old now, and just starting to learn how to bark when she gets excited. The bark is so pathetically cute that we just cant help but laugh at the one or two we hear a night.

Housebreaking is being a challenge, but I am sure that she will catch on eventually. She is so cute that we can not get mad at her no matter what she does.
Spoiled Yorkie Maltese - Bella
by Shannon
(Miami, Florida)
Our Yorkie Maltese is like a little baby loves lots of attention, a joy to be around her favorite toys are plastic bags and her stuff animals. Bella is a little princes she's 11 weeks old and I must say a little lazy. I guess we've spoiled her because she refuses to walk A LONG DISTANCE.
Join in and write your own page! It's easy to do. How? Simply click here to return to Tell Us About Your Morkie!.
Female Morkie Dog - Sadie
by Bob
(Hope Mills, NC)
I purchased my female Morkie dog Sadie from her original owner when they could no longer care for her. She is almost 8 months old and weighs 6.4 pounds. She surely fits the classic description having probably more Yorkie characteristics but she also can quickly switch to an easy going and cuddly puppy. She has almost endless energy and when she wears out may sleep for a couple hours. She does sleep well all night... She is very intelligent and only has a few bad habits because she was not trained properly. at 8 months they are a bit more difficult to deal with than a younger pup. She "most" of the time is well housebroken and has had only a couple accidents in the two weeks I have had her and she is learning quickly. She learned to do this because she was left unattended for too many hours at a time as a puppy. She also chews on things and this habit is almost completely gone by teaching her what she is allowed to chew and not chew what is not hers. As I said she is very intelligent and alert and wants to please but has to understand what you expect of her... She also has become a good watchdog, no unusal sound escapes her and alerts me even before anyone rings the front doorbell. She is good with people and wants to play with every dog and cat she sees. My Morkie has not been around any children since I got her but she loves attention and goes to anyone she sees and is always happy... She behaved well for her first grooming and does not mind being combed or brushed. She loves baths and will jump in tub before you are ready. Sadie has won my heart as she does anyone who meets her and is truly part of my family without a doubt.
Join in and write your own page! It's easy to do. How? Simply click here to return to Tell Us About Your Morkie!.
Female Morkie - Lola Valentine
by Rachel Siegler
(St. Louis MO)
My husband bought a female Morkie named Lola for me on Valentines day 3 years ago. I had originally wanted a yorkie but as soon as I set eyes on Lola I had to have her. She was 9 weeks old and so tiny. Black, brown, white... she was so cute. My husband built a square type of pen for her for when we were gone so she wouldn't have to be in a cage. Afte a week she was jumping over it. We knew we were in for it then. I have never seen a dog that can jump as high as her. She is so springy. She also is such a cuddler. She loves to snuggle with everyone. She's like a little person. She likes to wear her sweaters. I've never been one to buy clothes for dogs but she gets so cold after she has her baths she starts to shiver. So I bought her a sweater and she loves it. I don't think I have ever seen a friendlier dog. We like to camp and boat and she loves to go with us. Our Morkie dog has been such a wondeful addition to our family.
Playful Puppy - Nina Ivy
by Merlyn
(Ansbach, Germany)
She was 8 weeks in this picture
We got Nina in March when she was 8 weeks old, she is now 4 months, when I went to go see the pups I instantly fell in love with all of them. I wanted to take them all home with me, but of course I couldn't. After having my son play with the puppies, Nina walked up to me and started to bite my finger. When I picked her up I knew she was the one I wanted. She was the runt of the family and the cutest thing ever. She is very playful and can get to hyper at times, but she is the sweetest and most adorable thing. Having a Morkie does include having a lot of patience. She loves to cuddle and loves to bit wires. But I wouldn't trade her for anything.
Join in and write your own page! It's easy to do. How? Simply click here to return to Tell Us About Your Morkie!.
Female Morkie - Mocha Bella
by MelanieG
(Waipahu, HI, USA)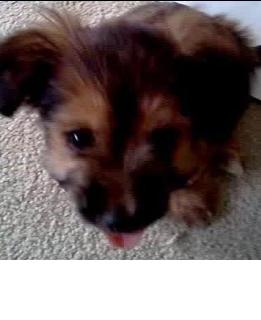 Mesmerizing Mocha at 7 weeks
We got our female Morkie Mocha Bella on an impulse... who could resist that face??? We actually walked into the "Pet Hale" which had just opened that day to pick up dog food for our other six year old Sheltie Chihuahua mix, Max.

The mistake I made... I picked her up. She is a kisser and has the most mesmerizing eyes that just seemed to say "take me home, please"...

Interesting thing about our Morkies tongue, it is able to find its way into any nostril - big or small. hahaha. She also has ears that reminded me of my first rescue dog, Monte.

We love her and and promise our next impulse purchase will be at a shelter. (Where we usually get any new family members!)
Join in and write your own page! It's easy to do. How? Simply click here to return to Tell Us About Your Morkie!.
Female Maltese Yorkie - Sasha
by Lydia Hooks
(Erie Pa)
My female Maltese Yorkie dog Sasha is a pure joy. She is full of love, and watching her play with her toys is the funniest thing. She is very smart, but like they said it is hard to potty train her. Seeing her hopping around on her two hind legs is very funny. I adopted Sasha from a puppy mill when she was three months old, she is now six months old and is truly part of the family. I just love my Morkie so much.
Join in and write your own page! It's easy to do. How? Simply click here to return to Tell Us About Your Morkie!.
Are you a Maltese Maniac?

Join other Maltese Maniacs and get:
Our exclusive monthly newsletter
Discounts on great Maltese dog products
Notifications of contests and giveaways