Black and White Morkie - Lynzi
by Val
(Honokaa, HI,USA)
Lynzi is a black and white Morkie. She is an absolute cutie! She loves traveling in her dog duffle bag and no one knows she's there because she doesn't want to interact with others... she just wants to be there with us.

She's shy of adults but loves children. Shhhhhhh... but if I wanted to I could bring my Morkie into a restaurant and hang her doggie duffle bag onto the armrest of a chair and enjoy my meal and no one would know because she'd just lie quietly until I was done. She's not only a doll but a gem too.
Click here to read or post comments
Return to Tell Us About Your Morkie!.
Black and White Morkie - Lila
by Patty
(Germany)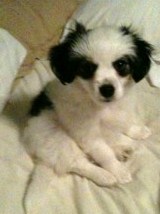 Lila at 3 months
Lila is a 14 week old black and white Morkie and weighs 4.5 lbs. We got her at 10 weeks old and she has adjusted to us quickly. She doesn't sleep thorugh the whole night just yet, She was waking up only once a night but lately it has gone back to 2 to 3 times. I hope we can get back on routine with her now that my girls ages 6 & 8 are starting school again.

If I let her she will eat EVERYTHING, if it fits in her mouth she will try and eat it. We have only had her for 4 weeks and already we have had to replace a phone cord an a two rugs. Her chewing is out of control if I don't catch her at on time. She has many toys such as stuffed animals and doggie bones. Is there anything you can recommend to help us with our Morkie puppies constant chewing?

She is not 100% house broken yet we have at least 1 accident a day. I take her out every two hours but sometimes she concentrates more on wanting to roll and play in the grass then needing to go to the bathroom... I have been trying to train her off the leash because she hates her leash. I have tried harnss and all types of different collars? any suggestions. When we put the leash on her she scratches and tries to chew on her leash.

Aside from her being a normal chewing Morkie puppy she is the best thing that could happen to us. She loves to cuddle and take naps with us. She is very playful and loves to play hide and go seek. She fits underneath every piece of furniture in the house so sometimes it's really hard to find her, but all i have to say is "Lila wants a treat?" in a really high piched voice and she will be at my feet in at a blink of an eye. She is fast.
Click here to read or post comments
Return to Tell Us About Your Morkie!.
Black and White Morkie - Rosie
by Ingrid
(Stow, Ohio)
My 8 pound black and white Morkie is a year and eight months old. Her mom is a Maltese 9 lbs, while her dad is a Yorkie 8 lbs. She has silky jet black fur, with a tuft of white on her upper chest. She is very easy to comb due to few tangles. She is professionally trimmed about every three months.

In terms of personality, you couldn't find a more playful and curious dog. However, she can be stubborn at times.

Also, she is an alert watch dog, warning me if someone is at my front door. Rosie loves to snuggle, too very affectionate.

However, house training her has been FOREVER!

Another thing about my Morkie is that she is great when traveling. She loves her car seat; jumping in when I open the car door.

Overall, she's a joy in my life :-)
Click here to read or post comments
Return to Tell Us About Your Morkie!.
Black and White Morkie - Ella
by Judy
(Whitman MA)
My black and white Morkie Ella is the best! She is a little ball of love. We are so happy to have he join the family. She is so smart. This photo was at 1.5 lbs 2 months she is now 2.5 and a little over 3 mo. she is the love of my life.
Return to Tell Us About Your Morkie!.