Maltese Mini Fox Terrier Mix - Lily
by Mike Kenney
(Bella Vista, NSW, Australia)
My Maltese Mini Fox Terrier mix Lily loves to play and play hard but has the most loving nature. She is now 7 months old and only 4.7 kgs. Extremely intelligent and learns things very quickly and is also well behaved (most of the time).
Maltese x Mini Foxie - Charlie
by Lauren
(Sydney, Australia)
Our puppy Charlie is 14 weeks old, he is a Maltese cross Mini Foxie.

Charlie is very smart and energetic, he loves to play fetch and chase us around the house.

It has been easy to toilet train him and teach him to sit and lay down, and recently Charlie has found his bark and wastes no time letting us know when he wants our attention.

Charlie weighs 2.75kgs and is quite a little dog, his coat is medium length and he doesn't shed.
Fox Terrier Mix - Little Thing
by Karen
(Brisbane, Qld, Australia)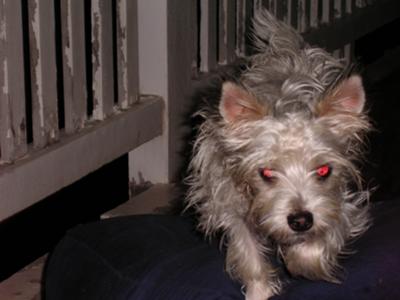 Little Thing is a Maltese Fox Terrier mix of a timid nature but likes to guard the yard by running outside and barking a lot. If someone is too near the house he might choose to guard from inside the house. He likes to play with lots of toys, especially squeaky balls and will quite often play with it on his own before bringing it back to me. He is scared of babies and little children, sudden noises and slight variations in my tone that have nothing to do with him. He will hide for an hour at a time under my bed or in his kennel until I call out 'Who wants a snack?' or 'Walkies'.

I think his hair is crossed as it is of hypoallergenic and does not shed but it is of a quite light covering and very easy to maintain. His face is in the shape of a Miniature Fox Terrier but he has a long body and does not have the cloven foot. He has the 'winter nose' of the maltese - it goes pink during winter and eventually turns black again in summer. He has the loveliest nature in a dog I have ever seen and enjoys playing with his 9 year old Miniature Fox Terrier friend. He is very loyal and jealous of me - sometimes he will try to prevent his friend coming near me and sometimes he will sulk and hide under the bed if his friend is near me. If I accidentally hurt him when I have to pull out prickles, he tries to get me to stop by licking my hand. However, he has had to have 3 quite expensive cruciate ligament operations within the first year of his life. He took it very bravely and sometimes I think he is an old dog in young dog's body. My Maltese Miniature Fox Terrier mix is very intelligent and manipulative, quite amazingly so with his friend and has tried to 'trade' with his friend my attention for a snack. He was very quick to learn toilet training and is no trouble to me whatsoever.
Join in and write your own page! It's easy to do. How? Simply click here to return to Tell Us About Your Maltese Mix Dog!.
Max The Maltese Fox Terrier
by Nicola
(Brisbane,Queensland, Australia)
My dog Max he is white and black. His mother is a Mini Fox Terrier and his dad is of course Maltese! He is so cute.




Maltipoo Toy Fox Terrier Mix - Tootsie
by Evie
(Indiana)
This picture was taken when our Maltipoo Toy Fox Terrier mix, or "Moxy-Poo", Tootsie was 7 weeks old. She is now 4 months old and still the cutest little dog I've ever owned.

Her personality is super extroverted. Her dad, Tutu, lives with us and she torments him no end, which I think he mostly enjoys. My neighbors actually say they enjoy hearing her squeaky little bark. It's a good thing.

Currently, Tootsie has had four weeks of obedience training. She sits, comes, and goes potty on command. However, she has not yet learned to NOT go potty minus my command. ha.
Maltese Fox Terrier Mix - Suki
Suki is a 2 year old Maltese Fox Terrier mix female, she is very loving and has lots of personality. She is white with a lovely champagne colour on top of her back. She has black eyes and nose and loves her adopted mum Ebony (a purebred Silky Terrier).
Maltese Fox Terrier Mix - Scooter
by Katrina
(Adelaide, South Australia)
Gorgeous Scooter, the Maltese Fox Terrier mix, is such a DEVOTED dog and definitely a Mummy's Boy! :) He sits on my lap at EVERY opportunity and although he plays with the children, he leaves their games at the earliest chance to sit on my lap again!!

His favourite food is dry, plus our food, never canned/wet. He sure loves barking and is extremely protective & territorial.

To sum up, he is a total lap-dog, who has a great deal of energy too!
Maltese Toy Fox Terrier Mix - Sadie
by Justin S
(Daphne, AL US)
Sadie is a 14 month old Maltese and toy Fox Terrier mix. Her mom was a 4 lb Maltese, dad was a standard toy Fox Terrier. she weighs in at 10.1 lbs.

She is quite the adventurer... she goes everywhere with me, hiking, kayaking, road trips. she even comes and helps out at work sometimes.
Join in and write your own page! It's easy to do. How? Simply click here to return to Tell Us About Your Maltese Mix Dog!.
Fox Terrier Mix - Spotty
by Di Orchard
(Australia)
My Maltese Fox Terrier mix had a mother that was pure bred Maltese, father pure bred Mini Foxie, there were 4 pups in the litter, one looked like a pure bred Maltese, and the other 3 took after the Foxie.

Spotty has taken after the Foxie, apart from the gorgeous fluffy curly tail of the Maltese, and the lovely soft coat - and the good part is he doesn't shed much at all.

Thinks he is a pit bull terrier - the leader of the pack - even although he would only measure around 10 inches from the ground to the top of his back.

Sooooo intelligent, we love him to bits, he sleeps in/on the bed, and thinks that is his given right, so spoiled, so on the ball, a great little watch dog.
Join in and write your own page! It's easy to do. How? Simply click here to return to Tell Us About Your Maltese Mix Dog!.
Fox Terrier Mix - Scruffy
by Janine
(Salamander Bay, Australia)
Scruffy is my 12 week old Maltese Fox terrier mix and is full of energy. She loves to have a bath. She is an excellent guard dog but often scares the postie.
Join in and write your own page! It's easy to do. How? Simply click here to return to Tell Us About Your Maltese Mix Dog!.
Maltese x Foxy - Polly Peaches
by Rebecca
(Adelaide, South Australia)
Polly is a 9 week old Maltese x Foxy... it was love at first sight! Crazy little lady that just loves EVERYONE!!!! Polly is the first small breed I have owned, she's amazing... she has me in hysterics daily and has the sweetest heart I have ever known, 3 weeks she has been with me and I couldn't bare to be without her :))))
Join in and write your own page! It's easy to do. How? Simply click here to return to Tell Us About Your Maltese Mix Dog!.
Maltese Fox Terrier Mix - Brax
by Leena Anderson
(Caboolture, QLD, Australia)
Brax (at 4mnths) on the day we got him home. (26/12/11) Brax is a Maltese/Fox Terrier mix.
Brax is a 9 month old Maltese Fox Terrier mix. His mother is pure bred Maltese. His Father is a black/brown and white, long-haired, Fox Terrier Maltese mix. Brax therefore has a stocky build (rather than the petite build of a typical Maltese). He doesn't have the petite triangular-shaped head typical of the Maltese either. It is stockier, with a firmer jawline and wider set eyes - beautiful brown eyes. Brax has the long white fur typical of the Maltese. It is beautifully soft to touch and doesn't mat (due to regular trips to the groomers and regular brushings).

We like to keep his hair short because we don't like it to look messy. Brax is pure white, except for some faint brown tinges at the base of his paws, under his jawline and at the tips of his ears. He also has a very faint brown patch on his back. These faint brown tinges make it evident that he is not a pure Maltese.

He also doesn't have the yappy bark typical of the Maltese. He has a loud, gruff, big dog's bark, which I assume is the Fox Terrier in him. He is playful, affectionate, loves people, and loves visiting our local dog park where he runs around with all of his friends.