The Bichon Maltese mix, also called a Maltichon, is a cross between a Bichon Frise and a Maltese.
These mixed breed dogs are often given specific names, but keep in mind that they are not a separate dog breed.
According to Maltichon owners, these dogs are very affectionate and look like fluffy, white cotton balls. Read more about this Maltese mix below.
Please do not purchase these dogs from a breeder. There is no need to create more mutts when plenty are available for adoption. If you discover a Maltese mix that would fit well with your family, you can easily adopt one at a Maltese Dog Rescue instead (and for a lot less money)!
These dogs take on the temperament of both Bichons and Maltese. They are lively and affectionate little dogs.
Very intelligent
Easy to train
More difficult to housebreak, as with any smaller dog
Great for agility and obedience competitions
Learn quickly
Get along with everyone
These dogs do wonderful with children and other dogs. Most people find them to have a willful and clownish personality.

If you already have a Bichon Maltese mix or know someone that does, check out these unique gifts for Maltichon dog lovers below.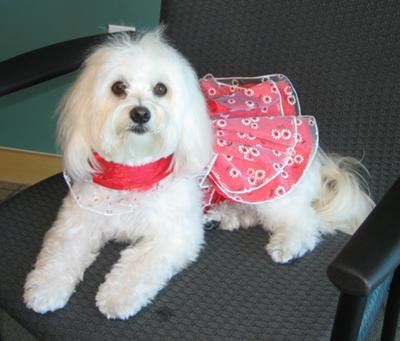 Bichon Maltese - Suki
If you like a little white puffball, than this Maltese mix might be right for you! Since both the Bichon Frise and the Maltese are white, this hybrid dog is also always white.
Hair is usually soft, fine, and loosely curled. These dogs should be professionally groomed every 4 weeks to keep hair trimmed and clean.
They are also non-shedding and most are hypoallergenic. Full grown Bichon Maltese mixes can weigh anywhere from 6-15lbs.
Do you have a Maltichon?
If so, your Maltese mix could be famous! Please tell us all about your dog and we'll put it on our website. What kind of personality does s(he) have? What makes him/her so special? Let other Maltese Maniacs know what to expect from a Maltichon. Submissions must include at least 200 words of text and a picture to be accepted. Thanks!
What Other Maltichon Owners Have Said
Click below to see contributions from other Maltichon dog owners...
Subscribe to Bichon Maltese Mix Updates by Email