Bichon Maltese - Bentley
by Jenny
(Virginia)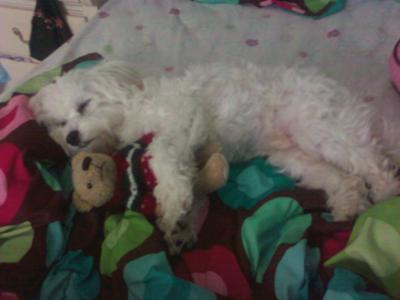 My Bichon Maltese Bentley will be one on August 4th. he is the BEST dog that I could ask for! He sleeps on my bed at night and watches me the whole night. It isn't until around 3:00 in the morning he passes out because he is to tired :)


Even though he bites sometimes and barks non stop, he will look up at me with his puppy dog eyes and all is forgotten. He destroys all of his stuff animals so we stick with squeaky balls and tennis balls. Even though my Bichon Maltese is small, he loves going on a mile run everyday :)
Bichon Maltese - Lily
by Kelsey
(Australia)
We bought our Bichon Maltese Lily about a year ago as a friend for our border collie x lab Nemo. She is a gorgeous little puppy, very mischievous, LOVES attention, and playing, and hates being separated from her Nemo.

She loves people and food, though she has a bit of trouble getting along with other dogs, and u cant let her off the lead because she wont let u catch her.

Overall she is a wonderful dog, though u have to groom them otherwise their coat gets all matted (it happened to us, and when we took her to the groomer, she had her whole coat sheared off!)
Join in and write your own page! It's easy to do. How? Simply click here to return to Tell Us About Your Maltichon!.
Bichon Maltese Siblings - Maggie and Max
by louise campbell
(valdor quebec canada)
Our Bichon Maltese dogs Maggie was born Feb. 17 2009 and Max was born from another family on March 30 2009. Maggie is the excited one and Max just follows whatever she does. They are like brother and sister but they are really girlfriend and boyfriend.

Maggie is now 7 months old and Max is 6 months old. Maggie is having her first time in heat but we are waiting for the next time to let her have some babies. They love to run in the yard. Maggie sleeps with me and Max with my daughter but if my daughter is away I have both in bed with me. They sleep all night.

My Bichon Maltese eat well they go on paper mats for their business but also go outside. It didn't take long for Maggie to be trained we got her at 2 months and at 3 months she was trained. Max took a little bit longer but he is also trained now. He has started to lift the leg but only outdoors inside he squats.

They both love to go in the car. They also bark a bit when people come to the door but it doesn't last. We also have a male cat and they both love him they keep washing his face so funny. That's all for now.
Bichon Maltese - Suki
by Judy
(Cayman Islands)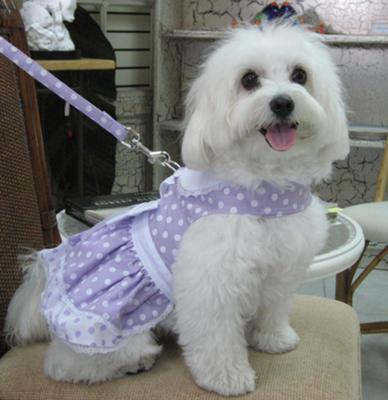 Suki Posing
We got our Bichon Maltese Suki when she was 7 weeks old, we saw her the day after she was born. She will be 2 years this December. She was spayed at 16 weeks and is the most adorable loving little puppy. She is full grown now and has maintained her 11 pound weight for the past 5 months. She is never left alone as she goes to work with me and everywhere else I have to go. If we go out then our helper "puppy sits" for us. Suki goes on her play date 3 times a week (with my nephew's Shitzupoodle)...they play for about 3 hours and she comes home pooped !!! Both little doggies are air-conditioned doggies as they only go out to do their business then it is in the house in their playroom for them !!!

Suki has never had any fleas or ticks and has never been sick...thank heavens! She gets her petmeds the 1st of every month. Our Bichon Maltese mix never has table food, we put her on Wellness Dog Food as that is "human grade" dog food and she just loves it.

We do spoil her but she has never known anything else so we cannot say that she is spoiled. She has a plethora of toys and knows the name of each one. She is very intelligent too !!

She goes to her groomer every other Friday and we bathe her every other Saturday....her groomer cuts the paw hair, buffs down her nails, trims her eye hair, trims the hair by her bottom and also gives her the bikini trim on her tummy, then blow dries her. They also massage her too !!! It takes them 2 hours. It is well worth it !! Our Maltese Bichon is a beautiful little doggie and we just love her !! She shops at Bark Avenue and looks so adorable in her little dresses.
Bichon Maltese - Bella Boo
by Crystal
(NY)
Bella Boo the Bichon Maltese was born on December 26, 2008. We brought her into our home on March 3, 2009 at 10 weeks old, 3lbs 3oz. She is now 7 months old, 9lbs 1oz (a little butterball, but our vet says she is very healthy & should be at her full grown size/weight.)

She doesn't shed, which is a major plus... but regular grooming is important & needed, as Bichon Maltese mixes hair does grow pretty long. Having a white coat, they tend to get dirty easily, so they need to be bathed often, which is the only thing Bella does not really like.

Easily potty trained... a little harder to break of chewing things. Bella is a big part of our family. She loves to play fetch & run in the yard. We camp alot, taking her along everywhere we go. Bella is very good with kids and other animals. She is very alert, a good watchdog, even though she is small. At night, she loves to sit in the chair and cuddle & have her belly rubbed. Bella is full of affection & loves to give out kisses to anyone who will let her. Bella Boo is our little sweetheart!!

Anyone who is looking for a smart, small, loving companion, should definitely look into getting a Maltichon. Keep in mind, they are very close to their owner and do not appreciate being left for long periods of time.
Bichon Maltese - Toby Tobicito Gelbke
by Gretchen Gelbke
(Door County, WI)
When our Bichon, Buddy, 16 years old passed away we were grief stricken as anyone is when they lose a beloved member of the family. Our daughter and her husband thought it would be a great idea to get us our Bichon Maltese Toby to fill the void Buddy's passing had left in our lives. I felt guilty initially when my affection for this little guy kept building. He won our hearts over in no time. But what he actually did was make it possible to remember all the wonderful years we had with Buddy rather than be sad that he was no longer with us. Toby has added so much joy to our everyday life and we can not imagine a day without him in it! No matter how much stress or how bad you think a situation can bring or be, just one look at that adorable little face or the wag of that always rotating tale makes the worst day better. Toby is so amazingly smart and aware of our feeligs and movements. His vocabulary understanding is quite large. If you ask him to bring you his duck, piggy, frosty, Mr. squirl etc. he brings the right toy. Tell him to give dad, mom, grandma or whoever he is familiar with a kiss he wil go to the right person and kiss them! He can sneeze on command, close his eyes on command, if I tell him he is tired he will lie down! He has been with us from coast to coast, north and south, in all but three states and loves meeting new friends where ever he goes.

I would recommend a Bichon Maltese mix to anyone. And I thank our daughter and son in law on a daily basis for bringing him into our lives.
Bichon Maltese - Apple
by Kelly
(Republic,MO,USA)
Sometimes we refer to our Bichon Maltese Apple as our little demon dog! She can be an absolute maniac at times - but she also loves to snuggle. She talks tough, but she's really a people person and loves everyone she meets.

She is the smaller of our two dogs (the other is a purebred Bichon and outweighs her by about 10 pounds), but she is definitely the alpha dog. When she wants to play, she will push and push and push until Cosmo (the Bichon) finally gives up and does what she wants. She likes to hide behind the love seat and ambush Cosmo.

She is crazy for the daily walk and when she decides it's time to go, she will follow me around the house making poor, pitiful baby noises. When she needs to go outside in the middle of the night, she licks my husband's face (she lets me sleep) until he wakes up.

She's afraid of her Frontline Plus - something about the sound it makes when you open the package - and she hates it when you put the stuff on her! We think our Bichon Maltese is just the cutest little girl ever. Even when she looks like this -
Join in and write your own page! It's easy to do. How? Simply click here to return to Tell Us About Your Maltichon!.
Bichon Maltese - Kostia
by Irene M.
(WOODLAND HILLS 818)
My Bichon Maltese is the most amazing dog in the world, he listens to everything I say.

He pees everywhere tho & poops (my fault not his), but other then that he is very smart!

I LOVE MY MALTICHON!!!!!!!!
Bichon Maltese - Lilli
by Michelle Vines
(Queensland, Australia)
My Bichon Maltese is almost 4 years old. I have only had her for a few months she attached to me straight away. My family and I have usually had big dogs or protective dogs but recently I decided that I wanted a small dog and she was advertised in our local paper so I rang up and went to see her. Sshe was gorgeous, I sat on the floor and she sat right in my lap and didn't move.

We took her home that night and have never regretted it. We take her out almost everywhere with us and she loves going to the park and socializing with other dogs.

She is protective of me and our home/territory, she doesn't like people who where hats or sun glasses .I'm thinking something happened to her when she was young, we ask anyone who meets her to take off their hats etc.

She reacts to people who have a agitated personality, almost like she is saying "stay away from my mum". She is quiet and friendly, her fav foods are chicken, and ice cream, has anyone else heard of lactose tolerant dogs?

When she was with her previous owners, she had puppies. I have decided to let her have a litter with us, but giving her a rest between her last litter to when we breed her. What do you think of breeding her with a Maltese Shih Tzu?
Join in and write your own page! It's easy to do. How? Simply click here to return to Tell Us About Your Maltichon!.
Bichon Maltese - Shogo
by Lynne
(USA)
When I first saw my Bichon Maltese Shogo, he had his food dish on his head. I knew right away he was the dog for me.

Fast forward five years, and my guy is still a clown. He loves to throw his toys in the air, emotes every feeling, and has a real joy of being alive. Shogo is gentle, loves people and is protective of his home. While he will never be a fierce guard dog, he is aware of every movement on my property and lets me know when there is anything unusual.

My Bichon Maltese loves to eat, and never refuses a snack. If I'm too busy to give him his treat RIGHT AWAY, he opens the cabinet door, gets out the bag, and helps himself.

Shogo is very smart. He gets along very well with my other dog (although he is like a 2 year old: he always wants the toy the other dog-Sulu- has) and is just amazed by children.

He's independent to a degree. My Maltese Bichon mix loves human companionship but is not needful. He can entertain himself but loves to play catch.

Well, he's ready to go outside and bury himself in the snow. Got to go!
Join in and write your own page! It's easy to do. How? Simply click here to return to Tell Us About Your Maltichon!.
Bichon Maltese - Murphy
by Stacy
(Bayonne, NJ)
We just got our 9 month old Bichon Maltese mix or Maltichon about a week ago. The woman we got him from said he was the product of a divorce. I am not sure why they were willing to give him up. This dog is very smart, playful and obedient. He is completely housebroken. Never has an accident. He even gets along well with the cats! :)

We are trying to teach him how to fetch and give paw. I don't think his previous owners ever played with him. He loves to be walked outside and play in the yard. Our Bichon Maltese also really likes to take a ride in the car. I have a pretty small apartment but he doesn't seem to mind. He is really good with my kids(5,7 and 15). Especially my younger two.They sometimes are aggressive and in his face and he never nips or bites. I am a beginner dog owner. I have always had cats so this is pretty new to me. I have some questions. Any info you all can provide would be very helpful.

Murphy absolutely adores my husband! He plays with him, licks him all over his face, nibbles on his go-tee. Do Maltese Bichon dogs prefer one owner over the other? I feed him, walk him, bathe him, brush him and when I try to play with him.... nothing????? LOL.

He also eats very little. Is this ok for a small dog? Last but not least,he has some pretty bad stains on his face and paws. I have given him a bath already. The stains won't come off though. As a first time dog owner, I really can't ask for a better dog all in all!!
Bichon Maltese - Lucky
by Carol S.
(Germantown, TN)
Lucky is a Bichon Maltese mix. He is just the cutest and sweetest dog in the Memphis tn area. Actually we live in Germantown which is just East of Memphis proper.

His Mom is retired and she dotes on him. My friends told her when she got me, to not lose sight of the fact that I am a dog, but she lost that long time ago.

I am her companion. We just flew to San Antonio for Thanksgiving, me sitting in her LAP. I was the center of attention.

Thanks for including me and I look forward to being Marley's new friend.
Bichon Maltese - Samson
by Ms. Terri Franz
(Napoleon Ohio USA)
I recently received a Maltichon as a gift. Sammy is 4 months oid and was the runt of the litter. He weighs about three lbs. My Bichon Maltese is a little clown and very loving.

I am in the process of training him to potty outside. He got the bowel movement down quickly watching Kippy, my Bichon. He learned to walk with a leash quickly by watching Kippy. I have an older Bichon that is ten yrs. old and he received Sammy quite well.

I had two Bichon brothers that lived to be 15 and 16 yrs. old. I loved them dearly. I will be seventy yrs. old next month, I am a retired teacher and enjoy my pet friends.
Join in and write your own page! It's easy to do. How? Simply click here to return to Tell Us About Your Maltichon!.
Bichon Maltese - Lil Pooch
by Nakia
(Baltimore,Md)
Well my Bichon Maltese mix Lil Pooch is a joy to be around, every time I enter my house he is waiting sometimes at the door wagging his tail and jumping up so I can pick him up. Once I pick him up him gives me plenty of kisses all over my face and then he makes this noise somewhat like a cat does when they are purrring.

We have a stuffed dog in his crate that he loves to take out and shake it, carry into other rooms so he can lay on it. He is only 14wks but he is so smart, he knows when I'm sleep b/c when he is in his crate he will not disturb me. However, if he is in his crate when I am awake he will make a whining noise. I take him out everyday to take a walk and since then I have lost 5lbs b/c he wants me to run with him.

There is soo much he does that I could go on and on, but that is my baby pooch and he is well loved and he knows it too.
Join in and write your own page! It's easy to do. How? Simply click here to return to Tell Us About Your Maltichon!.
Bichon Maltese - IcyBella Bigles
by STACY
(MONROE GA)
My Bichon Maltese baby is very playful. Loves playing with the kids and with my other dog (Snowy Maltese). Loves to get in bed with us and starts digging at the quilt until she finds a comfortable spot to lay in. We have a lot of fun with our Bichon Maltese.
Bichon Maltese - Ruby
by Katrina
(Brisbane, QLD, Australia)
My Bichon Maltese Ruby is a joy! She was born on 20 July 2008 and came into my life at 6 weeks old, and is now 14 months. She is extremely playful, friendly and loving. A great companion who loves sitting on your lap and getting cuddles.

She gets along with any person, but mostly only other dogs of her size, she's a bit scared of any bigger dog. Ruby doesn't need much walking, and will often give up and end up being carried home after 5-10 minutes.

She has lots of toys that she loves playing with, especially squeaky toys and pieces of knotted rope. The fact that she doesn't shed at all is great, as I am allergic to animal hair. Her coat gets quite curly and takes a daily brushing, and a visit to the groomers every 2-3 months.

Ruby only weighs 5lbs and is very comfortable being picked up and carried around. She gets quite chilly in winter, so she wears cute little jumpers and coats to stop the shivers.

Such a great little dog, I would recommend this a Bichon Maltese mix to anyone looking for a great little companion!
Bichon Maltese - Benny
by Louise
(Sunshine Coast, Qld, Australia)
I am, writting this in memory of our wonderful Bichon Maltese mix Benny who was the most amazing dog I have ever met. More like a person then a dog. Having come from a farming family, dogs were only for outside to my husband and I but we could not put Benny out, I think he was about 12-18mth old when he found us. But he never had any problems with toilet training and would stay in our bedroom with us all night and wait till we got up so he could go out side. We even had to teach him to bark when people arrived, so that we would know that someone was here. Our Bichon Maltese loved to entertain us by running around & around the pool table like a mad thing, he was great with children & thought everyone came to visit him. When we took him for a walk he thought all other dogs wanted to be his friend and everyone would stop to say hello to him. Benny bought so much love to our lives, such a special dog. Although now I am amazed to see that a lot of his personality is because he was a Maltichon. I would recomend this dog mix to anyone. Your life will be changed forever.
Join in and write your own page! It's easy to do. How? Simply click here to return to Tell Us About Your Maltichon!.
Bichon Maltese - Pixie
by Dawn
(Missouri)
Pixie is my almost 3 year old Bichon Maltese. She is like my other child. She loves to sit on my lap when I watch TV. Loves to play with all her toys.

She has a personality like no other dog I have owned. She was hard to housebreak. She is a very picky eater. Has a sensitive stomach. I keep her shaved because she does get hot very easy. She's not found of the rain, its very hard to get her go out potty when its raining, unless she has an umbrella held over her.

My Bichon Maltese mix loves everyone, but is a little unsure of large dogs. I can't imagine my live without her.
Bichon Maltese - Stella Blue
by Kate
(Chicago, IL)
Stella is a 5 1/2 year old Bichon Maltese mix and came to live in our home when she was 4 months old. She is so smart, she learned house breaking on her own. She is a very sweet dog that has ton of affection for my young sons, ages 10 and 8. My oldest son is really Stella's best friend. She loves it when he comes home from school and they sit on the couch and 'snuggle' because she has missed him so much.

We bought Stella at a pet store, which I never thought I would do. She has turned out to be the perfect dog for our family. My younger son, who is 8, has autism and Stella has so much patience with him. Our Bichon Maltese won't let anyone in the house have a 'down' day, because she is so happy and wants to love us all the time.

We are so lucky to have this Maltichon in our lives. I would get another dog of this breed anytime. I highly recommend this designer breed. She does not shed and her coat is relatively easy to maintain.

The only health problem we have had with Stella is that she gets 'hot spots' frequently on her skin. Sometimes these hot spots require a trip to the vet and medication. Other than the hot spots, our Bichon Maltese mix has been totally healthy.

I can't say enough how happy we are with Stella Blue!
Join in and write your own page! It's easy to do. How? Simply click here to return to Tell Us About Your Maltichon!.
Maltese Bichon - Arnold
by Julie
(St. Louis)
My husband and I got our Maltese Bichon Arnold 3 years ago in October. He's an absolute joy. He's our happy, playful shadow. He plays with toys quite a bit and whenever we come home we are greeted with him squeaking his toy and wagging his tail running in circles. He's very loving, cuddly and sleeps at my feet every night. In the morning, he makes his way up for a cuddle before work.

His fur looks almost like its crimped. It's less curly than a Bichon, and the Maltese in him makes it more manageable than a Bichon. He does have a stubborn streak. When he sees the hairbrush come out, he goes running under the bed. He also loves to collect underwear under the bed and snatch things off the coffee table. (Mainly food wrappers, etc.) He's definitely a chow hound.
Bichon Maltese - Foofley
by Catherine McGillacotty
(England)
I was strolling the streets of England when I seen a lady setting up a big cage and putting Bichon Maltese dogs into a big crate.

A specific one caught my eye. He was only about 5 inches long with white loose curls and charcoal eyes and nose. "Wait Maim'!" I screamed. She paused. "I would like that dog," I said pointing to that dog. "Okay," she smiled. And bent down to pick up the dog. "You can go to William to pay and if you want doggy supplies go to Charles," said the woman. "Yes by the way what is your name?" I asked maybe wanting to name the dog after her. "Foofley, actually it is Fiona Fofflemoore but, everyone calls me Foffley," she smiled. I nodded and went to William to pay. Then I went to Charles and got some supplies. When I was done I caught the nearest horse and buggy home. I sat on my couch thinking of names then it hit me. Foofley William Charles McGillacotty III. It was perfect.

After I found out the breed and got a mate for Foofley and named her after the associates of the place I got her. So her name was Emily Bella Rose McGillacotty III.

I love my Bichon Malteses.
Join in and write your own page! It's easy to do. How? Simply click here to return to Tell Us About Your Maltichon!.
Help My Bichon Maltese Josie
by Patty
(Las Vegas NV)
Please help me with my Bichon Maltese dog. I inherited Josie from my daughter when her husband and her had to move in with me due to loss of there home. Josie was about 7 months old,Josie became super close with me and would follow me every where. I could even take her for a walk without a leash.She was very happy just to be near me,and so was I to have her near me,I had surgery when I came home Josie became OVER protective of me and no one was allowed in my room. She would bark hysterically and want to bite anyone that tried to come in. When we were out of my room and still does this she wants to be in the same room I am.

But now here is the problem. All of a sudden my Bichon Maltese Josie is terrified of ME! As soon as I go to pet her or call her she runs and hides and acts like I have been abusing since the day she was born! She has been acting like this for about 2 months. I have been trying everything I can think of to be her friend again. I do not to scold her the couple times she made poop mistakes,I make it a point to be the only one that feeds her, I talk sweet puppy talk to her and I do not raise my voice to her. The only thing I can think of is a few days before her turn on me is that I stepped on her tail by mistake. Get over it Jo I'm sorry.

Can someone please help me get my Josie back and explain why she is acting this way. I miss my Bichon Maltese even though she is always in or near the same room I'm in and sleeps in my bed with me every night. I can give her belly rubs sometimes but as soon as I stop for a second she jumps off the bed and hides under my dresser.
Join in and write your own page! It's easy to do. How? Simply click here to return to Tell Us About Your Maltichon!.
Bichon Maltese - Apollo
by Samantha
(Glace Bay, Nova Scotia )
My Bichon Maltese is a funny little guy and loves affection. When his water dish or food dish are empty he will throw it at me hahah in other words i want food or water right now I have had him for 16 years since he was 5 weeks old he is now missing a couple of teeth. I love, my little guy he has always been there. Requires a lot of attention I can't go anywhere without him or he cries till his voice is rough. So I pretty much take him everywhere. He is not crazy about other people or other dogs and he hides if there atre kids around he doesn;t like them. No one has ever hurt my Bichon Maltese so can't figure out why he is like that, very jealous if I pet another dog, he is a one of a kind. He requires a lot of grooming and hates being groomed especially by someone other than myself. But Apollo is my best little buddy.
Are you a Maltese Maniac?

Join other Maltese Maniacs and get:
Our exclusive monthly newsletter
Discounts on great Maltese dog products
Notifications of contests and giveaways