Maltese Poodle Mixes - Maltipoo
AKA: Maltese Poo, Multipoo, Maltepoo, Maltapoo, Malti-Poo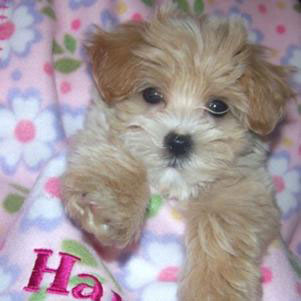 Maltese Poodle mixes, also called Maltipoos, are a cross between a Miniature

or Toy Poodle & a Maltese.

These Poodle hybrid dogs are recognized by the American Canine Hybrid Club and can be registered on their website.

They are one of the most popular Maltese mixes because of their high intelligence and their recognition of being non shedding dogs.

Read more about the Maltipoo below to see if this is the right Maltese mix for you.

Do you have a Maltese Poodle mixes? Click here to join us on Facebook and post pictures of your lil cutie for everyone to see!
---
Personality
These dogs take on the temperament of both Poodles and Maltese. They are amusing, clever little dogs.
Malti-poos are also highly intelligent and easy to train. You should socialize and train them to combat barking and boredom. They are sometimes reserved with strangers and can serve as a good watchdog.
This dog does best with older, considerate children as they can be high-strung and timid. Most people find them to have a people pleasing and carefree personality.
---
Cool Maltipoo Gifts
If you already have a Maltese Poo or know someone that does, check out these unique gifts for dog lovers below.


Look for a personalized gift at Zazzle.


---
Famous Owners
Famous celebrities that have Maltese Poodles include Jessica Simpson (Daisy), Carmen Electra (Kiko), Ellen DeGeneres (Wolf), Michelle Kwan (Tofu and Ginseng), and Ashley Tisdale (Blondie).
---
Appearance
If you like a wide variety of colors, than a Maltese Poodle mix might be right for you! Poodles come in many colors such as apricot, cream, black, white, and brown. When you mix this with a white Maltese, you get varying shades and patches of color. With so much variety, you'll be sure to find a color and style that suits you.
Hair is usually straight and grows continuously like human hair. Therefore, they need consistant grooming by either brushing regularly or keeping a short puppy cut.
These dogs are also nonshedding and most are hypoallergenic. Full grown Malti-Poos average 6-9 lbs, about the same size as a purebred Maltese.
---
Learn More
Find the perfect dog for you. Learn about other Maltese mix dogs.
---
What Other Maltipoo Owners Have Said
Click below to see contributions from other Maltipoo dog owners...