Maltese Poodle Mix Rescue - Cookie
by Lindy Taylor
(Lawrenceville, GA USA)
I rescued Cookie my Maltipoo 4 years ago. My Maltese Poodle mix rescue was shy and looked thin and sickly. Now, not only is she adorable, but she has tugged at the hearts of everyone I meet. She is now friendly, loving and just saved a kitten from drowning in a storm drain. Here's the story:


How a Cookie saved the Kitten
In these times there is a saying 'paying it forward'. It's when someone does something nice for someone they don't even know and that person then goes on to do something for someone else and it creates a chain of kindnesses to strangers.
I have seen this 'paying it forward' at my Starbucks drive-thru window. A customer at the window will ask to pay for the car behind them, even though they don't even know who it is. When that car pulls up to pay and they are told that
their bill was paid-for by the person in front of them who has already driven away, it gives them such a good feeling that they decide to do the same for the car behind them. I have seen this become a chain of events for dozens of
customers. When this occurs, it makes my day too!
Well, one morning as I and my husband were on our daily walk with our dog, Cookie. We passed by a storm drain in our neighborhood and we heard a tiny meowing. Cookie's ears stood up and so did ours. We stood still and tried to figure out where the meowing was coming from. After a few more kitten sounds, we discovered that the meowing was coming from down inside the storm drain. Then we continued our walk home. I called the animal rescue department and they said they would send out a rescue vehicle. About an hour later I received a call-back from animal rescue unit. The lady on the other end of the
telephone line told me that the rescue worker had tried to rescue the kitten but his loop tool was too short to reach the kitten and he was not allowed to climb into the storm drain. He, therefore, had to leave without accomplishing the
rescue. I then called the public water department and they said they were not in the animal rescue business. So, I tied two sheets together and took a hot dog and my dog cookie back to the storm drain. If no one else would rescue that poor kitten, then I would try myself.
When I arrived I noticed that the storm drain cover was off and as I leaned over to peer into the drain, a head
popped out. It was the head of a lady that lived in our neighborhood and she was trying to coax the kitten to her but the kitten
was scared and it has crawled far into the drain pipe that crossed under the road leading to another storm drain. She said that the kitten was too small and young to grab hold of the sheet that I had dropped into the hole.
That was when I devised a plan. I told the lady to stay in her hole and to take my Maltese Poodle mix and hold her while I climbed into the storm drain hole across the street. The manhole cover seems very lightweight as I pulled it up and set it aside. After I climbed into the hole I could see her and Cookie on the other side and in the middle of the drain pile under the road I could see the tiny outline of the kitten. I told the lady to put Cookie down and I proceeded to call Cookie to me. Cookie was a bit confused but when she saw me on the other side of the pipe she began to come toward me. When she got to the middle of the pipe she stopped and sniffed the kitten. She and the kitten sniffed each other for a minute or two and then Cookie came toward me.
The plan worked, the kitten followed Cookie through the drain pipe right into my grasping hands. Hurray! The lady at the other end climbed out of her hole and ran across the street to help me get the Kitten and Cookie out. We pushed the manhole covers back in their places and we took the kitten back to my house to bathe it. After Cookie and the kitten were bathed the kitten snuggled up to Cookie for warmth and comfort. I think it wanted Cookie to be its new adoptive mother.
At first Cookie was a bit leery but her motherly instincts kicked in and in a heartbeat Cookie was allowing the kitten to snuggle and Cookie started licking the kitten dry, just as the mother cat would have done after the ordeal this poor tiny kitten went through that day.
Cookie was a rescue dog that I had rescued from a bad situation three years before. Cookie was now 'Paying it forward'. Even the kitten was 'paying it forward' for Cookie, because the Veterinarian had told me that before I rescued her, she had had a litter of pups but they had been take away from Cookie. Now Cookie has a chance to be a mother all over again to this precious needful kitten.
Maltese Poodle Mix - Oreo
by Laura Perez
(El Monte, Ca.)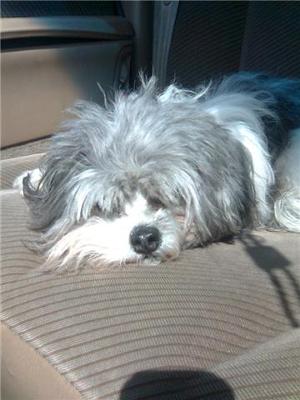 Oreo chilling
Oreo was Maltese Poodle mix. She recently passed away but she was the greatest dog ever. Oreo was a really great watch dog and very very intelligent. She was very friendly with both bogs and humans and loved children.

She was also very playful and full of energy, I loved taking my Maltese Poodle on my bike rides, she would ride in the basket and just chill. I miss her dearly. Hope to get a great dog as she was.
Maltese Poodle Mix - Cotton
by Brianna Wesley
(Greensboro,NC,USA)
My Maltese Poodle mix Cotton is loving, crazy-fun,cute, and a big baby. He loves to cuddle and give hugs and kisses.He barks as if he's my protector and does not tolerate violence. He is also considerate of others meaning if you cry he will cheer you up and lick away your tears. The car is his favorite getaway if you grab keys he will love to ride in his stylish flight jacket.

My Maltese Poodle mix loves wearing nice little outfits for every occasion. The only thing he mainly dislikes is getting wet meaning bath time. He will run away or if you finish cleaning him will try to make self dirty.
Join in and write your own page! It's easy to do. How? Simply click here to return to Tell Us About Your Maltipoo!.
Maltese Poodle Mix - Cupcake
by Claudia Diaz
(Torrance, Ca)
Cupcake is fun loving, smart, adventurous Maltese Poodle mix. Very capable to do small tasks on command. She enjoys playing with my 8 year old or just lounge with my 16 year old and lets not forget "daddy" when he comes home from work. Cupcake get sooooo excited that she even dances backwards... lol. Love our Maltese Poodle mix "Cupcake".
Join in and write your own page! It's easy to do. How? Simply click here to return to Tell Us About Your Maltipoo!.
Maltese Poodle Mix - Fifi
by Tinkersnow
(Philippines)
Fifi was having a massive diarrhea for three weeks when I first got her. My Maltese Poodle mix was two months old then. And no one aside from me in the family likes animals. So one day I brought her to my sister's house to show off to my family and I was embarrassed as they were picking on me, betting that my dog will die after two months because she was having a massive diarrhea!!! Grrr

More than two months have passed and Fifi is now a very lovely young lady, I have her enrolled in an obedience training, home service and even the trainers-k9 trainers were so impressed how easily she learns lessons. Without their knowledge I train her by myself everyday before and after going to work so there will be another lesson to learn the next week when the trainer comes in. :) One way to save money of course!!

Fifi is a very picky dog she doesn't like the same food everyday grrr!!! And she likes me to brush her hair while she's eating. I feed her raw meet and OMG she grows sooo fast.

My Maltipoo likes to put her paws on my hand or any parts of my body while she's playing with her piggy toy which oftentimes very wet by her saliva. hahahah. She's a wild dog inside the house always wanting to play but when we are outdoor she's a lady!!! I can't believe she behaves very well. And oh she likes ice cream, apple, banana and potato. One time I bought 5 apples and put it in the living room's center table, the next morning all of them were on the floor with her teeth marks on each. Grrr.

Anyway here's her photo. I took it on my bed. xoxox
Maltese Poodle Mix - Precious
by Brianna Isbell
(Sylacauga, Alabama, US)
My Maltese Poodle mix Precious is solid white, her hair is curly, but her body shape and facial structure is of a Maltese. She's 11, very calm, & lovable!
Join in and write your own page! It's easy to do. How? Simply click here to return to Tell Us About Your Maltipoo!.
Maltese Poodle Mix - Tegan
She is very sweet natured and loving. My Maltese Poodle mix follows me around everywhere in the house. She can be sleeping and if I leave the room she wakes right up. My Maltipoo dog is a wonderful combination of the two breeds, Maltese and Poodle.
Join in and write your own page! It's easy to do. How? Simply click here to return to Tell Us About Your Maltipoo!.
Maltese Poodle Mix - Pearl
by Ed
(Canton, Mississippi)
Our Maltese Poodle mix Pearl is a hoot of a dog! She can entertain herself for hours with her toys. She has learned to throw them for herself! She will be in her her bed, throw the toy out in the middle of the room and fetch it back to her bed to throw again. She can even bark with her mouth full.

She has turned in to quite the mouser as well. We live in the country and she gets quite a bit of outside time and has learn to hunt mice. Our Maltese Poodle found a field rat one day and the rat didnt run. It instead decided to stand its ground and stand up to look at Pearl! Pear stood up to look down on the rat and the rat thought better of its decision and scampered away.

We have had a couple close calls with Pearl. I was out with her one day and a red tailed hawk made a pass at her. Luckily the hawk missed and flew away. Another close call was a snake. She found it in the firewood pile. I noticed our Maltipoo payin an awful lot of attention to the wood pile so I went to see what she was seeing. When I got there, there was a copperhead with its head sticking out of the wood pile. Thank the lord she didnt get bitten.

Our Maltese Poodle mix dog will be one year old on November 10th.
Join in and write your own page! It's easy to do. How? Simply click here to return to Tell Us About Your Maltipoo!.
Poodle Maltese - Daisy Mae
by Susie
(Port Washington, Wisconsin)
Daisy Mae, my Poodle Maltese "granddogger", is a spunky girl. She has her grammie wrapped around her cute little paws. She lives with cats, one of which is bigger than her. She loves to instigate the fun, running circles around the kitties until they finally will engage in the play. We have sleepovers, and she tells me when it's times to hit the sack with her little nose nudges and the sweetest look on her furry face. With those adorable brown eyes, she can make the exact expression and melt my heart.

We play tug and she shakes her toy at me when she gets it away from me, daring me to try to get it from her. I always get the best greeting when I visit, and after a little tussle on the floor, we settle in for a little snuggle time. This little darling brings joy to my heart! Absolutely love my Daisy Mae!
Join in and write your own page! It's easy to do. How? Simply click here to return to Tell Us About Your Maltipoo!.
Poodle Mix - Riley
Riley is the center and glue of my family. Our Maltese Poodle mix is now 2 years old, and has shocked us all with how much love we can have for a dog. Everything about him puts a smile on your face. He is extremmely social, and has to to say hi to EVERYONE we meet, dogs and people alike. When we throw a ball for him, he bounces like a bunny instead of running. He loves tug-of-war and fetch. His personality is hilarious, he is very vocal, and makes the funniest noises. He gets so excited when any of the family walks in the door that after covering them with kisses, he chases his tail for a bit. Our Maltese Poodle mix has tons of friends in his dog walking group, and is a sucker for a pretty puppy. I couldn't imagine my life without him.
Join in and write your own page! It's easy to do. How? Simply click here to return to Tell Us About Your Maltipoo!.
Poodle Mix Dog - Charlie
by Cayla
(California)
My Maltese Poodle mix dog Charlie is such a smart dog! He is very sneaky, and especially loves to go to where his treats are and make us give one for his very cute face! He goes out and in the dog door to go to the restroom, and very kindly does not pee in the house.

My Maltese Poodle mix is a little over a one year old, and he is a great lap dog and is so friendly. If you are having a bad day, you come home and his welcoming face is always waiting to see you!
Maltese Poodle Mix - Penny
by Leanne
(Long Beach, CA)
I took this dog in because he needed a home. My friend bought this dog in front of a grocery store for 50 dollars thinking he would be a companion to their other small dog. However, the energy was too much and acutually this puppy would bite and bully the older dog.

I have had him 2 days and was wondering if he actually is a Maltese Poodle mix and my guess is right , he look just like the pictures on this site. I have 2 older cats he barks at but they just ignore him.

I took him too bed with me because he was barking at everything. That worked I finally got some sleep. Took him for a couple walks, now he won't let me out of his site. Geese, he jumped in the shower with me and would not get out, he must love water. After our bath, I discovered he loves to play ball, I didn't teach him to retrieve, he did it on his own, and when he got tired he hid the ball.

This pup is 8mos. I thinking he could be trained to do other stunts, he wants attention all the time, his energy is never ending.

I am reading all I can on this mixed breed. I'm exhausted.
Are you a Maltese Maniac?

Join other Maltese Maniacs and get:
Our exclusive monthly newsletter
Discounts on great Maltese dog products
Notifications of contests and giveaways