Poodle Mix Rescue - Tinkerbell
by Fanny Chen
(Norcross, Georgia, USA)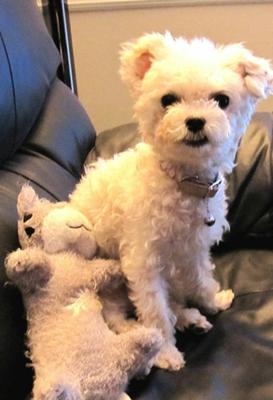 Tinky & Mr. FishBone
Tinkerbell is our Maltese Poodle Mix rescue dog. She was rescued in a kill shelter in West Palm Beach, FL. She was my foster baby and we decided to adopt her after she was adopted and returned (terrified their other dog.. hee... hee...).


They think she is 1.5 years old. She loves to chase other dogs in circles. She loves to cuddle with human. She licks you when you hug her or feed her. Our Maltese Poodle mix is extremely smart, she learns SIT, DOWN, STAY commands, potty trained, leash walk in a few weeks.
She brings so much joy and love to our house, we can't imagine life without her.
Poodle Mix Rescue - Oscar
We got our Maltese Poodle mix rescue Oscar when he was about one year when we got him. He is really cute with a personality a little on the ADHD side. He is excellent with babies and little kids and is a great companion for us as well. We live on a golf course and he is very animated toward the golfers who come by and has even taken on 3 deer at the same time to get them to leave our yard. Our Maltese Poodle mix has been great fun.
Poodle Mix Rescue - Annistacia Mari
by Sharon
(Seattle, WA USA)
I rescued my Maltese Poodle mix Anni when she was not quite 3 months old. (Her birthday is April 6 and I got her June 18.) She had already had two families and I was determined to be her last. She was bought from a breeder for $900 by an older woman who was looking for a companion. But the puppy was too much for her and she sold her to another woman for $600. This woman was a single mom with a 5 year old daughter. The daughter was a bit rough with the puppy, so this woman, thinking about the puppy, told her niece she wanted to find a good home for her. I worked with the niece, who knew I was looking for a small dog. She showed me a photo of the puppy and immediately, I knew this was my dog. I named her Annistacia right then and there. When I went to get my puppy, the little girl was holding her by the neck. I asked the girl if it was ok if I held her puppy and she gave her to me. Anni licked my face and the woman told me she knew she as doing the right thing and with Anni's reaction, she knew I was Anni's choice also. I paid nothing for Anni, although I offered. Anni sat in the passenger seat and stared at me the entire trip home (about 45 minutes). For me, it was love at first sight. My Maltese Poodle mix rescue was welcomed home by my husband, who instantly fell in love also, a Border Collie/Lab, a parakeet, and two cats (all females). Anni loves her kitty pals and runs along side her big black "momma" every where they go. Anni will be 3 in April. I am so pleased with her personality and intelligence. She is such a joy to have. She loves to meet all humans she sees and at the doggie park, she loves to play with the big dogs. Her favorite game is fetch, although we are still working on giving the ball back. She runs faster than any little dog I have ever seen and really gives the big dogs a challenge to keep up with her. I love the way she holds her long tail as she runs. She stretches it out straight behind her. With the long white flowing hair on the tail, she looks so graceful. She is my precious little princess.
Join in and write your own page! It's easy to do. How? Simply click here to return to Tell Us About Your Maltipoo!.
Poodle Mix Rescue - Kiddo
by Kirk
(Colorado)
Well, I got my Maltese Poodle mix rescue Kiddo about a year ago from the Humane society of Colorado. She was shipped up from a shelter in New Mexico. I assumed she was going to be put down in NM. I got her home and she was scared of just about everything. Since I was a guy I thought it might be a guy thing. I took her to the vet and she had heartworm, so I almost gave my Maltese Poodle up. Not friendly, a scared pooch, and she was going to cost a fortune. I couldn't get her fixed because of the heartworm. Lucky my Pap had been neutered.

Well, it's been a month by month process. 1st teaching my Maltese Poodle it's OK to go up the stairs, then teaching her it's OK to go down the stairs. Same thing with jumping off & on the bed. Now she's a good buddy and I'm sure heartworm free. She goes to the vet this week for a final checkup. Amazing how she prances around with those floppy ears flying around. It's a gas to watch and I'm glad I stuck it out with her.

She's the most affectionate dog I've even had.
Maltipoo Rescue - Rosie
by Jill Grant
(Silverwood, Michigan)
my first haircut
My Maltipoo rescue dog Rosie, had a bad start in life. She was picked up as a stray, though they think she may have been dumped and was a puppy mill puppy. A rescue got her before she was to be euthanized. She was beaten and bruised, sick with an ear infection and an upper respiratory infection, tested positive to parvo and scared to death. She spent 5 days at the vets hooked up to IV's , then sent to a foster home. Her foster mom had her for 3 weeks, til she was healthy enough to put up for adoption. I was chosen out of 1700 applications, within 24 hrs. of submitting my application.

This little girl is just the most precious little girl in the world, she is 7 pounds of pure love!! I love my Maltese Poodle rescue so much and have promised her she will never know anything but love and will never have a bad day for the rest of her life. I have not had her for a full month yet, we started the New Year together, a new start for both of us. You see, I had just lost my 16 yr.old pocket Poodle, Hannah, 2 weeks before Christmas, (she was 5 lbs.). I was devastated and so lost. I saw this sweet girl on petfinder and was drawn to her. I think fate must have had a hand in us being together. I think maybe Hannah is Rosie's guardian angel, and helped us find each other. We were both lost and needed each other. She has helped me deal with the loss of Hannah, and in the process I have fallen madly in love with her, and she has found out what love is, and that she never has to be scared, ever again.
Poodle Mix Rescue - Knuckles
I found my Poodle mix rescue Knuckles when he weighed two pounds and was very shy. All I needed to do is show him love and know he is my best friend.

I don't know life without my little man. What a great pet to have. They are the best breed for loving,and caring about there owner.

Pam & Knuckles from Peoria IL
Join in and write your own page! It's easy to do. How? Simply click here to return to Tell Us About Your Maltipoo!.
Poodle Mix Rescue - Molly
by Denise Watson
(Long Island, NY)
I have a Maltese Poodle mix rescue. What a wonderful little dog! She is a rescue, and sometimes I wonder who rescued who!
Join in and write your own page! It's easy to do. How? Simply click here to return to Tell Us About Your Maltipoo!.
Poodle Mix Rescue - Cafe Con Leche
by Leche's Foster Mom
(Deep in the Heart of Texas)
He's an almost 13-week old Poodle mix puppy that we got from a student who was trying to keep in a campus dorm. She'd bought him online (so we know nothing of his previous life) but realized how difficult it is to keep a puppy smuggled in a dorm room! She was about to sell him to the highest bidder (this poor puppy) so we had to step in and counteroffer.

Yep, we were dumb enough to pay for a Poodle mix rescue - but otherwise he might have ended up anywhere. But now he is here with us. Instead of a dorm room, he's got a roomy place, a nice fenced-in back patio and lots of trees and sunshine.
He was renamed Cafe Con Leche (or Leche ) for short, which is the Spanish word for milk.
Leche is a playful, spirited, puppy who we are learning more about, in the last 2 weeks that he's been with us. He hates being left alone, doesn't care for his crate unless he's absolutely sleepy, and likes to be kept busy and entertained.
If only we could get him to sleep through the might consistently.
Join in and write your own page! It's easy to do. How? Simply click here to return to Tell Us About Your Maltipoo!.
Are you a Maltese Maniac?

Join other Maltese Maniacs and get:
Our exclusive monthly newsletter
Discounts on great Maltese dog products
Notifications of contests and giveaways