Malti-poo - Toolee
by Ryan
(Pocatello, ID)
My Malti-poo is great!!!! I was a non pet lover who agreed upon a Malti-poo to satisfy my husbands urge to have a dog.


Living in Idaho we have manly men who claimed they hated our "kick dog" before they met her now our friends are fighting over who gets to watch our Maltipoo when we leave town... she's another kid with a trainable temperament.
Join in and write your own page! It's easy to do. How? Simply click here to return to Tell Us About Your Maltipoo!.
Malti-poos - Cleo
by Heather Kennedy
(Barrie, Ontario, Canada)
Cleo is one of the most intelligent Malti-poos I know! I love her to death when Cleo was a puppy she was always full of joy and always wanted to be near someone.

Cleo is now nine years old and still has the energy of a puppy, still to this day Cleo has never bit anyone around her. While on walks Cleo is always calm and collected, if another dog is near she just keeps on walking.

Recently Cleo and myself have began to train her for agility trials we are so blessed that a new neighbor has moved in next door who is a agility judge and knows a thing or two about training them.

Cleo is very old and I still called her a puppy. If anyone is interested in getting a Malti-poo you will not be disappointed!
Malti-poos - Snow
by yvonne
(biloxi, ms, usa)
I didn't know anything about Malti-poos until I got one. Snow is a little over 4 months old, and I have enjoyed her company ever since.

She's sweet, yet rotten. She also can be a good listener, but if she doesn't feel like it she wont. She's a riot. We are in puppy training classes and if i ask her to do something and she doesn't feel like it, she will give me this grunt and then do what I asked her to do. You have to love a dog with a funny personality.

I couldn't ask for a better friend.
Join in and write your own page! It's easy to do. How? Simply click here to return to Tell Us About Your Maltipoo!.
Maltapoo - Miley
by Barbara Weitzel
(Ashland Ohio)
I absolutely adore my Maltapoo, I have had alot of different dogs throughout my life but this little girl who has got my heart.

The only problem I have is with her tearing eyes, but then again every dogs comes with there own set of problems so I consider this a small one.

She has the most sweetest personality,loves to play, sit on my lap, sleeps cuddled up next to me ,sleeps all night.

So if you want a puppy who stays a puppy this would be the one, with constancy she housebroke easily. She is what I wished I had long time ago.
Malti-poo - Faith
by Tammy Smith
(Meridian, MS USA)
My Malti-poo is the cutest, smartest and cunningest dog I've ever had, she rules the roost in my house. I have another dog that's 3 1/2 and about 20 lbs bigger than her, out she bosses him and he knows he better mind her.

One thing that's not good but I can't help but laugh is she is very selfish, she wants every toy, every bone and every treat all for herself, she doesn't like sharing at all.

I wouldn't take all the money in the world for her, she's my little girl Faith.
Malti-poo - Shep aka Shepito Bandito
by D
(Denver, CO)
This little Malti-poo man is seriously the cutest guy around. He has so much spunk - he will stand up on his hind legs, put his front paws up in front of his face, and hop around to show you just how happy he is.

He is a lover, content to just lay next to you or on your lap... but he can be just easily coaxed into a game of fetch. He loves going for car rides and is great on a leash - we actually wouldn't even need one if it weren't for leash laws, he has absolutely no desire to stray more than a few feet away.

He is the most loyal, loving, and intelligent dog - if he is indicative of most Malti-poos you just cant go wrong! :)
Maltipoo Pup - Boshia
My boyfriend and I were looking for a small dog (at pet shops and shelters) for almost 9 months until we found our Maltipoo pup Boshia. We found her at a reputable pet shop and took her home at about 8 weeks of age and 3.5 lbs.

Today our Maltipoo is almost 3 years old and is a great dog! She is smart, playful and very loving towards people she knows well. She is a little shy towards new people but not vicious. She loves to run and play with children under 4 years old. Somehow she knows they are just children and is very careful with them.

Our Maltipoo is about 10 lbs and loves to eat, play, sleep, follow me around the house and bark at strange noises. We love her.
Maltipoo Pups - Mop
by Jo Ellen
(Dublin, Ohio)
Mop is one of the funniest Maltipoo pups. He is extremely O.C.D.--he stares out the upstairs window most of the day, looking for other dogs/people. When he spots anyone, he then alerts the whole house with barking and scratching at the window. He gets REALLY excited if he sees a white dog that looks like him! He'll also round up his favorite toy or bone and keep it on the windowsill with him.

Mop is also very loyal. Our Maltipoo follows me around, and sleeps on the bed with my husband and I--always making sure some part of him is touching me!
MaltiPoo - Molly
by Denise
(LI, NY)
Three years ago I receieved one of the few lucky breaks that I have gotten in this life; in the form of a rescued MaltiPoo now named Molly. That scared little scruffy dog is now a beautiful member of our family and is so very loved <3
Female Maltipoo - Lucy Vezzali
by Russ & Jennifer Vezzali
(Rohnert Park, California)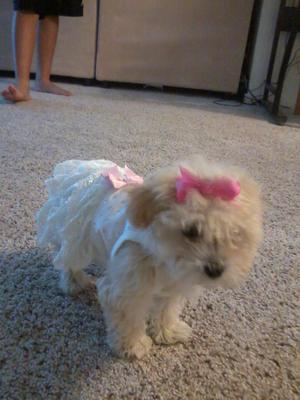 OMG! I love our female Maltipoo puppy LUCY VEZZALI was born on June 3, 2012 and weighed only two pound when we bought her. She is now 2-1/2 lb, LUCY VEZZALI is very, very smart ... so smart it is scary!

LUCY VEZZALI is a "wild and crazy girl!" She loves people and is very outgoing but there are times he is reserved. Also, she likes to follow me everywhere when is not playing with her many toys!

Now i have 4 dogs and i love it!!!!
Join in and write your own page! It's easy to do. How? Simply click here to return to Tell Us About Your Maltipoo!.
Malti-poos - Megan
by Angelle
(Picayune, Mississippi)
Well my Malti-poos weird, she doesn't hate bath time but she doesn't love it... after her bath she likes to roll around in what ever is dirty. She "LOVES" rawhide chew bones by dingo and she's a very picky eater.

She's solid white and has an array of personalities. My Malti-poos favorite toy is a stuffed squirrel. She barks at everything and doesn't like new people or little kids and she absolutely loves to sleep in my bed under the blanket right up against my back, and between her and my husband I can't get comfort to save my life. For Megan though this is heaven.

She was half dead and in extremely poor health when we got our her from an animal hoarders house and she had been recently attacked by a red nose pit. (4 years later) she's now an inside dog only (raccoons) and she has her dream home now.

I love my Malti-poo Megie pie. For more on Megan and what she's like e-mail me at angellyfish19@hotmail.com
Join in and write your own page! It's easy to do. How? Simply click here to return to Tell Us About Your Maltipoo!.
Maltipoos - Buddy
My Buddy is theee funniest pup ever. For being so small he has the biggest personality. He really seems like a human to me. I am always curious if other Maltipoos do this... but he crawls across the room on his belly with his little back leg pushing him along. We call it his solider crawl. It is the funniest thing. He throws little tantrums if he doesn't get what he wants, but in a polite way... flinging his head back and growling. He is so picky about eating. Sometimes we have to feed him a piece at a time. We can't just leave the food out for him to eat eventually because our Bichon is a piggy. He uses food to get her to play with him. Our Maltipoo likes to curl up on the back of furniture and lay his head on my shoulder when I'm sitting there. When he is not doing that, he lays on a stuffed dog that looks exactly like him. It is like his best friend. Soo funny.

I was very sick for a few years and I got Buddy to help me get through. He was sick when I got him, so I saved him and he saved me. I could not imagine life without him. Our Maltipoo is the sweetest most loving dog I have ever met.
Maltipoo Pups - Huggie
by Willa
(Peoria, Az )
This is how I found the best Maltipoo pups. I stopped in a mall pet store just to look! I asked to hold a cute little girl Maltese, but when I commented I prefer boys the clerk left the small room and came back with a 4 month old Maltipoo we took one look at each other, he laid his head on my shoulder and cuddled then looked up with those snapping grey green eyes into mine. This is my puppy I said to the girl and so it was.

Huggie is now 15mos old and he is such a personality. He's very laid back, but will come to you every couple of hours just to cuddle. and gets so excited when my husband or I comes home that he runs in a circle barking this high pitched bark mixed with squeal that is so comical to hear cause he almost never barks otherwise. And anytime we have company he sits quietly right next to their feet hoping for some attention (and he always gets it). He is a little obsessive-compulsive about change though, my husband repositioned the bricks near the doggie door and he sat outside the door for hours until I noticed he was yapping to come in. And if I change the flavor of his Ceasar moist dog food he will only take a couple of bites or none at all.

He is smart and easy to train but he can be stubborn about some things and will not come when you call him...he can sit, lay, fetch, stay and he is very obedient and eager to please. Until you say "Come" with out the leash in your hand. If you call him to come he will just dart out the doggie door and sit just outside it in the backyard looking at the screen door until you come and get him even if he's being called to eat.

He prefers to eat outside and everyday he comes to the kitchen doorway where I always feed him and watches me mixing his dry and moist food together in his bowl he will dart from the kitchen straight outside the doggie door the minute I'm done mixing hoping I will bring the food out. (I fed him outside maybe twice when he was about 6 mths old) I have to go outside and pick him up to bring back to the kitchen to eat...everyday! He also will not eat in a room where there are people! I have to leave the kitchen before he will eat. When I used to feed him on the patio he'd wait until I went back inside and slid the patio door closed before he would begin to eat. He's a character and I couldn't love my Maltipoo any more.
Maltepoo - Fido
by Nezy
(Huntington Park )
Fido is a two year old Maltepoo or Maltese Poodle mix. He is a loving lil puppy. I luv him my grandma made him like a dog carrier, but a baby purse lol. Fido is the most living puppy u will ever meet <3

Join in and write your own page! It's easy to do. How? Simply click here to return to Tell Us About Your Maltipoo!.
Malti-poo - Bella Sparkles
by Tammy
(Memphis, TN)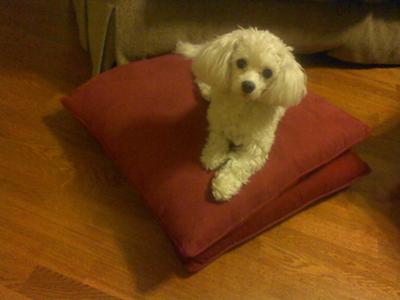 Bella Sparkles
Bella Sparkles is my and my husband's little Malti-poo baby whom we can and do spoil rotten. She has slept with me and my husband since the day we brought her home. As a baby she was small enough that she could sleep in my husband's bedroom shoe. It was so cute. Now at 1 1/2 years old she weighs 8 pounds and has her own doggie bed for day time napping. She loves children of all ages and actually makes a wimpering noise when she sees a child because she wants to play with them. She is a people person and wants to go every where we go. As a baby she couldn't walk for more than about 10 or 15 mins without needing mommy or daddy to pick her up and carry her.

All the other dog walkers in the park would get a laugh out of seeing me or my husband carry our Malti-poo around the mile long dog walk. But our little baby tried hard to be like the other big dogs and now at 1 1/2 years she can walk up to 30 mins without needing mommy or daddy to carry her. Her favorite things to do are play fetch with her orange rubber ball, ride in the car and wrestle with her daddy. We love Bella very much.
Are you a Maltese Maniac?

Join other Maltese Maniacs and get:
Our exclusive monthly newsletter
Discounts on great Maltese dog products
Notifications of contests and giveaways