Male Maltipoo - McFlurry
by Yota
(Greenville, NC)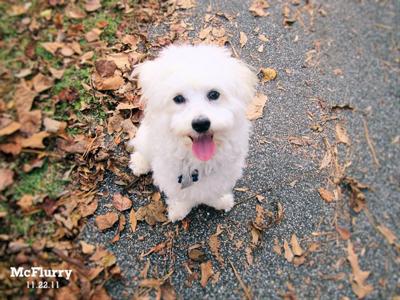 A regular walk with McFlurry
My male Maltipoo dog was born on Feb. 22, 2011 :) (Currently 9 months and some) Weighed 4lbs when I picked him up. (Current weight: 12lbs & taller than I expected!)

My Maltese Poodle mix is mostly white with some patches of Apricot when his hair grows out around his ears and a little swirl on his back.

Thus I thought of the name sundae, swirly, or ice cream names related. Thought those were too girly, and figured McFlurry sounded more like a cute boyish name! Plus, all that furrrry he has (: Why not McFlurry? Most importantly I want his name to describe him - white, soft, sweet, and someone everyone would enjoy with a big smile. (:

Never knew a cute puppy would bring so much responsibility. I have learned so much! However, I don't regret getting my bundle of joy! He is super sweet!!!!

50% hyper, needs lots of running (poodle legs), play time, and mind games to keep him happy because I promise you if he gets bored... YOU CAN BET THE HOUSE IS A COMPLETE DISASTER all due to this little man! Especially water bottles, he loves to open those, any kind of toilet paper, will pull a roll apart or drag one around! Receipts, you will never be able to puzzle those pieces back together. And most importantly any kind of cord with a paper dangling on it. *sigh* immediate trouble (my blow dryer, 2 chargers, iron, vacuum, etc)

50% a snuggle & cuddle cutie! Loves laying on his back like a human and hiding under the covers and stealing my super soft pillow! Better yet, he loves taking up the entire bed laying perpendicular! Surprised I have not fallen off the bed yet! He does not sleep forever though. 730 am he is ready to get his day started with or without me!

Super protective & jealous. His mommy is all his - - - forever and always!
pffft! Talk to my boyfriend about it! haha!

Shy at first around people, may even bark, but once he gets use to you, you better run because he wants to play all day everyday! My Maltipoo loves other dogs, and will bark and bark until you play with him. Def. an attention seeker too! If not attention, he will pester until he gets things his way. He is a handful I tell you!

We are constantly working every day on his social skills, something he lacks I admit , but he is getting better around people. When I first got him, it was just, me, him and David all the time. He knew of no one else.

Heck, now he lets people at the dog park pet him, keeping a close watch on me though. You could never steal him because he would never let you get a hold of him like that.

CAUTION: He knows how to put his little teeth to work. *sigh* ask my vet about that one. I think she came on as too aggressive for him. You have to go slow with him, or maybe it's just teething.

Spoiled... most of the time ♥ But he knows what "kennel" means (: Sits when told. Will STAY and knows when I am leaving and coming. Can do 10+ tricks! Just learned to ring the bell before he goes outside to potty. My Maltese Poodle has too many toys and just got into frisbee. His theory, the bigger the better! He may love to run and chase balls and frisbees, however, does not enjoy bringing them back. Instead rather you chase him lol. We are working on the fetch game.

I am constantly trying to keep his mind working by teaching him new tricks, things, and every day stuff. He is a challenge but something I have put time, dedication, money, and lots of love into.

Think he sounds like a normal puppy? Get out of here. Dogs are like humans, they each have different personalities and something different about each and every one of them. No one is like McFlurry. My one of a kind, and I plan to make him the happiest doggie alive if he isn't already there. (:
Male Maltipoo - Gio
by Abbie
(NY)
I am so in love with my male Maltipoo Gio. He is an incredible, smart, funny, and above all loving dog. He attacks me with kisses every chance he gets. We call him my "shadow" because he follows me everywhere I go. He always wants to know where everyone is going and what everyone is doing. He loves to be around people. My Maltese Poodle is very polite and sweet with strangers and children. It's almost like he just knows when it is appropriate to act like a crazy puppy or a proper puppy with great manners. He loves to cuddle and be as close to be as he can get. Sometimes we joke he is my doggy scarf because he will crawgil under my chin and sleep on my neck. I couldn't have imagined a better puppy than my Gio and I fall more in love with him everyday!