Poodle Mix Puppy - Chloe
Chloe is a 4 month old Maltese Poodle mix puppy. She is an adorable puppy. She enjoys belly rubs as well as dressing up when she goes out.


She enjoys kids and the elderly. She is a very smart puppy. And she is loved by all her family. My Maltese Poodle is a bundle of joy.
Maltese Poodle Puppy - Sundrop
by Carol
(Milwaukee)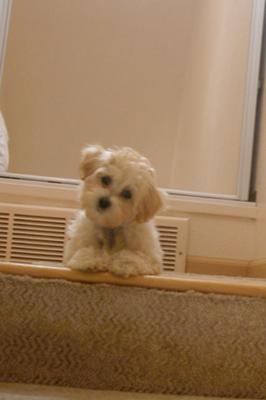 Curious, Inquisitive, Mischievous Me
I found my Maltese Poodle puppy on Petfinders.com at Bichon and Little Buddies rescue in Mukwonago. He was born in rescue on 3/11/11 and I got him about a month ago. He weighed in at his second vet check-up last week at 4.88 pounds. I've had a couple different breeds of puppies before, but this little lover boy has the biggest personality for his little self that I've ever experienced. He is getting great socialization in my condo community and is absolutely loved by everyone here. He loves to play with all kinds of other dogs, no matter what size or age. He was very attracted to the cat at my vet office, but Oliver the cat did not take interest in him. He loves little kids and sits on walks and stares at all the kids across the street, longing for them to play with him. I am so happy to have him and he is learning well with potty/poop training outside although I use potty pads inside and he's doing well with those too. What a delight to have! My Maltipoo puppy is so curious about everything, very fearless and mischievous whenever he gets the chance, but sleeps through the night and is a snuggle bug.
Return to Tell Us About Your Maltipoo!.
Maltese Poodle Puppy - Barkley
by Lorraine
(San Bernardino)
Meet our Maltese Poodle puppy Barkley, the newest addition to the pack. He only 11 weeks old and he already has a great personality. Our Maltipoo loves to play rough and tumble with his new big brother Bentley and big sister Marley. For some reason he is little puppy teeth are very slow to erupt. So these days he is spending most of his time chewing on Bentley's favorite bone. How nice of him to share.
Return to Tell Us About Your Maltipoo!.
Poodle Mix Puppy - Peluche
by Ashley
(Tampa, Florida)
My Maltese Poodle mix puppy is very hyper. He likes to bite, but he's cute. He stayed small for ever. Only at 3 months did my Maltese Poodle mix get big.
Return to Tell Us About Your Maltipoo!.
Maltese Poodle Mix Puppies - Bella
by Samantha
(Texas)
Bella is very energetic, outgoing, spunky, loving, and funny. Maltese Poodle mix puppies are the best! She welcomes home every member of our family by jumping straight towards you. She loves to play and give kisses.

Bella doesn't like to be left alone, when we leave she will stand at the door and cry which makes it very hard for us to leave. I love to take her outside to play because she likes to race us and give us a good run.

I couldn't ask for a better dog. I don't even treat her like a dog, she is more like my child.
Poodle Mix Puppy - Dolly
by Stephanie
(Fort Worth, Texas, US)
My precious Maltese Poodle mix puppy Dolly is a perfect pup! She's very smart and potty training her has been super easy? at least compared to potty training my 11 week old Malti-tzu (which of course I love too!) She's a huge fluff ball and just looks like a cotton ball with eyes. When she eats, she'll go to the food bowl, grab one tiny piece of food, go lie in her bed and eat it. One minute later she gets up and does it again until she's full. It's so funny but such a long process : )

Her best friend is our Malti-tzu, Gunner. She's a tough cookie and despite being a few inches smaller and a few weeks younger, she can really dominate him when they play wrestle! She hates to wear bows so needless to say this was a hard picture to get before she'd shake her head and make it fly across the room.

I've only had my little Poodle mix girl for a week so I'm still observing her silly and sweet behaviors. I can't wait to find out more!
Return to Tell Us About Your Maltipoo!.
Poodle Mix Puppy - Estrella Elias
by Michelle
(Las Vegas, Nevada)
Well we got our Maltese Poodle mix puppy (Estrella) when she was 6 weeks old. Her birthday is June 25,2009. She is now 3 months old. She was a litter of two, her mother had a boy and a girl. She was given to me as a gift cause someone stole my Jack Russell "Lil Bitt".

When I got her I was very HAPPY cause she is so cute and she looked like a cotton ball. She is also playful, but doesn't like to cuddle with anyone. She stays in her kennel over night without crying. She is a good puppy and knows when she has done wrong. When I get home she is excited to see me and tries to jump into my arms to give me kisses.

Our Maltese Poodle mix also understands Spanish. We talk to her in English and Spanish. Estrella is bilingual. Her name is Spanish for Starr. She also likes to be dressed. When I go pick up her dad from work she doesn't want to leave if she's not dressed.

She also has a brother and a sister that she loves alot. She is very lovable. She also likes to get her belly rubbed..
Maltese Poodle Mix Puppies - Spencer

(Lakeville)
I got my Maltese Poodle mix puppy or Maltipoo in March. he was born December 18, 2007. He is so cute and cuddly. He has an awesome personality. He has had no accidents (presents) EVER.

I totally recommend a Maltipoo, but I like Maltipoos to me more on the Maltese side.


Return to Tell Us About Your Maltipoo!.
Maltese Poodle Puppy - Mia
by Kelly
(Taberg, NY)
Christmas Princess
Mia is a sweetheart Maltese Poodle puppy. We got her at 6 weeks old she was only 1.6 lbs so tiny. She loves every one. She lives with my husband and me he sleeps days so she has to go in and take a nap with him to. She is very loving and loves to play. Our Maltese Poodle will bring the toy to me and tease me with it I get it and throw it she loves to play fetch. She also plays with our 13 yr old Pekingese she will pull his tail and run. He grumbles and tryes to get hurt. She sneaks around and pulls his tail again. I think that's what keeps him going. We call her princess Mia cause she acts like one!!!
Return to Tell Us About Your Maltipoo!.
Maltese Poodle Mix Puppies - Meka
by Joanne Murray
(Sharm El Sheikh Egypt)
My Maltese Poodle mix puppy Meka is a year old now and we (me and my hubby) got her from Cairo, Egypt. We weren't looking for a dog, but she was so lovely I could not resist!

I have had many different types of dogs over the years and Meka is my baby and I love her to bits!

She likes to chew shoes, the couch, well everything really! We are getting her to chew her own toys too sometimes!!!:-)

She also loves to chase and be chased!

She is very clever and understands everything we say to her... if she could talk I'm sure she would!!!

When I come home from work she lights up my day and there is never a dull moment with her!