Female Maltipoo - Jovie
by Kellie Kaser
(Largo, FL, USA)
Jovie
Jovie is an 11 month old female Maltipoo dog. She is very sweet and loving. She is smart and can do tricks. She prances when she walks, like a proud little pup. She is playful and curious. She loves to dig in the dirt and chase squirrels. She gets a lot of baths. My Maltese Poodle mix doesn't care for baths to much but she lets me groom her all the time. One of my favorite things about her is she loves to sleep on her back with her legs and paws up in the air. It's so funny. She lays on her back and looks at you up side down with her toy or chew stick hanging out of her mouth. She's very special. My Maltipoo puppy doesn't like loud sounds. Oh and lastly, when she meets someone for the first time she will make snort sounds and show her bottom teeth almost like a smile. She's the best dog I've ever had and I love her!
Click here to read or post comments
Return to Tell Us About Your Maltipoo!.
Female Maltipoo - Molly
by Jacqueline Nelson
(Des Plaines IL, USA)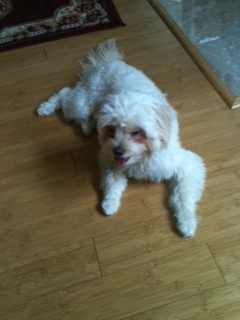 Molly is a loving intelligent female Maltipoo puppy she is 1 year old and is the sweetest puppy ever. I was never a dog lover but once I got Molly she won my heart loving and loves to cuddle. She was house trained very easily and also trained to go outside. She loves her early morning walk, loves to watch us get ready for work and as soon as she sees us ready she runs to her cage and wait for her treat, races my husband to his favorite spot on the couch, cutest think to watch. Our Maltese Poodle is the greatest addition to our family. At night before she goes down I would take her to her little puppy pad and say go potty and she would go before she goes to bed. Anyone guessing on whether to get a Maltipoo, go ahead you won't be disappointed.
Return to Tell Us About Your Maltipoo!.
Female Maltipoo - Lizzy
by Ray
(St George, Uta)
Lizzy is a 6 month old female Maltipoo and is 9 lbs and white. She loves to run and jump and she is very fast. My Maltese Poodle can really jump with ease. She can jump up on a bed that is three feet high. She is very strong and will fight to get out of your grasp if held more than a minute. She shreds paper especially toilet paper and always seems able to find paper. My Maltipoo scratches and digs to find things. She loves to chew and playfully bites or chews on my hands or feet. She rings a bell to go outside but still makes mistakes. She is crate trained and does not get upset when we leave the house, but will lay in a spot and wait for us.
Return to Tell Us About Your Maltipoo!.
Female Maltipoo - Zoë
by Katie
(Cambridge, Ontario)
Zoë is a wonderful little female Maltipoo dog. She weighs about 7 pounds, and is mainly black with white paws and a white tummy. She's extremely intelligent. When teaching her tricks like sit, stay, down, shake a paw, or wave, she got it basically immediately. She's just over 5 months, and we're still having trouble with house breaking her. Some days my Maltipoo whines to go outside, but others she just goes on the floor. She is noticeably stubborn. Although she knows a whole bunch of tricks, she basically picks and chooses when she feels like doing them. I believe the stubborness is having a huge impact on the house breaking. When we're out on walks, she gets so excited when people or dogs walk by. She loves meeting new people/dogs. My Maltese Poodle actually starts to whine sometimes when someone wals by her without greeting her. She's also very good with children. Romping around with them has got to be one of her favourite things to do. As I've read about the breed, I've found that she's not near as 'calm' or generally relaxed as they are described to be. But in a way I'm thankful for that, because she's so entertaining. Overall , she's a just such a sweet, loving dog, and captures the hearts of anyone she comes in to contact with. Wouldn't trade her for anything in the world!
Return to Tell Us About Your Maltipoo!.