Silkese - Maltese Silky Mix
AKA: Silky Terrier Maltese Hybrid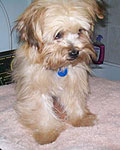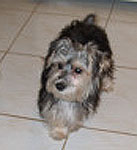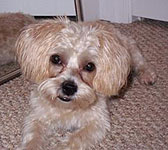 The Silkese, or Maltese Silky mix, is a cross between a Silky Terrier

and a Maltese.

These hybrid dogs are recognized by the American Canine Hybrid Club and can be registered on their website.

They are a courageous and cheerful Maltese mix that is growing in popularity because of their high intelligence and affectionate personality.

Read more about the Maltese Silky mix below to see if this is the right Maltese mix for you.

Do you have a Silkese? Tell us more about his/her personality & your dog could be famous!
---
Personality
These dogs take on the temperament of both Silky Terriers and Maltese. They are spunky and cheerful little dogs.
Most are very intelligent and eager to learn; which makes them easy to train. Maltese Silky Terrier dogs also make good watch dogs, but are curious about everything and tend to be very active diggers.
They are great with children and other dogs, but tend to chase cats and other small pets because of their high prey drive. Most people find Maltese Silky Terrier puppies to have an energetic and sociable personality.
---
Cool Maltese Silky Mix Gifts
If you already have a Maltese Silky mix or know someone that does, check out these unique gifts for dog lovers below.


Make personalized gifts at Zazzle.


---
Appearance
A Maltese Silky Terrier dog can have various mixtures of hair color, hair type, and size. Most will include some brown, black, tan, or silver.
Hair is usually long and silky. These dogs are prone to tangles and mats, therefore they need daily combing and brushing. A professional grooming every 4-8 weeks is ideal.
They are also nonshedding and most are hypoallergenic. Full grown Maltese Silky mixes can weigh anywhere from 6-12lbs.
---
Learn More
Find the perfect dog for you. Learn about other Maltese mix dogs.
---
Do you have a Silkese?
If so, your Maltese mix could be famous! Please tell us all about your dog and we'll put it on our website. What kind of personality does s(he) have? What makes him/her so special? Let other Maltese Maniacs know what to expect from a Silkese. Submissions must include at least 200 words of text and a picture to be accepted. Thanks!
What Other Silkese Owners Have Said
Click below to see contributions from other Silkese dog owners...