Maltese Silky Dog - Idgie Pooh
by Rebecca
(Coffs Harbour, NSW, Australia)
Idgie Pooh, my Maltese Silky dog, was a wonderful dog, he was just like a child. I loved him very much and when he died on 12 April 2008. He was just shy of 14 years old on 24 July. I thought there was nothing left in my life anymore. He was my best friend and child. He knew when someone was sick or hurt as he would follow them around and not leave their side. He was the smartest dog, he really understood English.


I breed him and have his male puppy which is a Maltese x Silky which I called Buddy. He is lovey and beautiful just like his father. I remember one of the puppies going missing one day, so I asked Idgie to go and find the puppy, he kept going to the side fence and barking, I couldn't see anything, so I let him out the front and he went next door, I followed to find my next door neighbours son holding the puppy. He wouldn't give me the puppy back when I told him it was mine, Idgie convinced him otherwise when he started to nip at his legs. I am looking to get a female Silkese for my son so we can also breed her so we can get another male.
Buddy is now 7 years old and this is the only breed I really like, I don't want to break the DNA chain. Does anyone know of any Maltese Silky mix breeders in NSW Australia that can help me? This mixed breed in not recognised in Australia. I tried years ago to get in recognised, but with no success, not many people have them. Find the picture above of my baby.
Maltese Silky Dog - Poppy
by Jackie
(Brisbane)
We adopted our Maltese Silky dog Poppy from the RSPCA as a puppy 8 months ago. She is gorgeous! She was such a good little puppy, so easy to toilet train. She is wonderful with the kids, she is so playful but also loves the quiet time and lots of cuddles.

We also own two cats and a Border Collie and Poppy has fit in so well, she is not aggressive at all, she just wants to be friends with everybody. She brings our family so much joy, I can't believe how much! I thought I was a cat person until we got Poppy. Now I know better. I'm a Silkese person!
Maltese Silky Dog - Nelson
by Jessica
(Whistler, BC, Canada)
Our Maltese Silky dog Nelson has been the light of my family's life for the past 15 years. My father never wanted another dog because he was so heartbroken after accidentally running over our last dog (a Maltese) a few years earlier. When my mum and I went to look at Nelson my dad was adamant that we weren't to come home with a dog, and when we returned with Nelson my dad wouldn't even look at him for a week. It didn't take Nelson long to win him over though. For fifteen years the two were inseparable and over the years could be seen going for bike-rides together (with Nelson looking pretty uncomfortable in the basket on the back head-butting dad's backside every time he braked suddenly), and every night you would hear the familiar call throughout the house from my dad "You comin' to bed mate?" and he wasn't talking to my mum ;-).

Nelson won over everyone he met with his friendly, gentle nature and good behavior. He was a constant companion and hated to be alone. Luckily my mum was home with him all day and he would follow her from room to room, and sit out in the garden with her. Until he lost his hearing a couple of years ago he was the ultimate guard dog and would always bark to announce visitors (and even us). When he realized it was one of the family coming home our Silkese would always greet us at the door with something in his mouth, head down, tail wagging. While you walked up to the front door you would hear him scurrying around inside frantically looking for his squeaky toy, a sock, a slipper or even a rubber flip flop to bring to you to welcome you home.

We never had any trouble with Nelson digging up the ground or destroying things. He liked to chew the occasional wool slipper, but seemed to grow out of the habit. He definitely hated cats with a passion, and would chase them across a highway if he had to. Once, to our extreme surprise, he even hunted down a rat in our garage, chased it and killed it with one shake of his head. I was flabbergasted because I'd never seen anything like that in him before. But it was just his instincts coming through and I had new respect for him because in so many ways he was a bit of a nerd and a pushover.

He loved to play and be chased around the house with his squeaky toy in his mouth. Our Maltese Silky dog would play the big man - growling and threatening when I tried to take it out of his mouth, but he never bit, and if a finger accidentally got in the way he freaked out more than you did because he knew he was in a world of trouble. He was never a 'fetch' type of dog.

One day he was struck with acute Pancreatitis which we were told was due to my mum feeding him a lot of left over bacon that morning. We had no idea that dogs are not supposed to eat pork. But we always did spoil him with human foods like chocolate and leftovers. After the Pancreatitis he was on a specific diet for the rest of his life, and not allowed anything but his medicated food. We since learned that Silky's are known to suffer from Pancreas issues, but we will always feel responsible for feeding him the wrong foods.

Nelson was such an integral part of our family and blessed with such a beautiful innocent nature that everyone who met him loved him, and he was known around the neighborhood by name. Until the age of 13 you would never have guessed that he was in his twilight years, he was always so sprightly and spunky.

The last time I saw Nelson was six months ago and it broke my heart. He was completely deaf, and nearly blind, and a little senile too. But bless his heart he just had so much love still in him, and liked nothing more than sitting up on your lap on the back porch.

I hope so hard that one day I find another special dog like him, but I don't know if I could get another Maltese Silky mix just because I would always compare them to him.

I miss you Nelson.
Sebastian J.R. Hoodin
by Carmen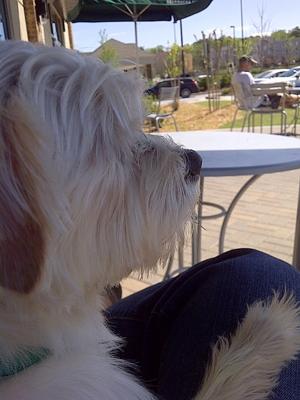 Cosmopolitan Sebastian
My Silkese has personality plus! He a sweetie, a bit calculating and an escape artist! Sebastian is a "lovie-dovie" doggie. My Maltese Silky terrier mix enjoys sitting on my lap, leaning on my leg with his tummy up for rubs. His hipnotic eyes are his greatest tool to getting his way... an boy does he know it!!

Sebastian is also quite calculating. If he does't get his way (laying on my lap for as long as possible or going out with me to work everyday), he can become quite annoyed; so annoyed a couple of times that he strategically tinkled on the two spots where I sit in the morning to enjoy my breakfast... he knew exactly what he was doing (thus middle name J.R. from the tv show "Dallas")

Additionally, Sebastion is quite the escape artist. My Maltese Silky as busted out of his kennels on numerous occasions.... he his very methodical in finding loop holes: he can lift and slide open the lock on kennels, slide out the tray and squeeze out the bottom; he even flipped his smaller kennel on the side(away from the wall) so that he could push out the tray and escape; he even knows how to jiggle rig locks to pop them!!!... phew!! It has been a long hard haul; two kennels and two pad locks later (one to secure the tray and another to secure the door) he is secured in his kennel!!!

Overall, my Silkese is a hillarious little buddy who is very protective of me and loves hanging out with me just as much I love hangin out with him ;-)
Maltese Silkie Cross - Eric
by Linda Hunter
(Bayswater, Perth, Western Australia)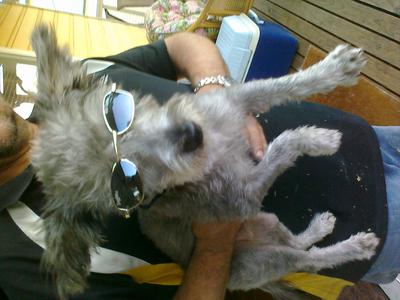 Lord Eric Costalot Hunter Pearson (aka: Eric)
Eric is just over 3 years old. In Australia his breed is known as Milkie (Maltese Silkie cross).

He was 12 weeks when we adopted him into our home. He was very nonchalant about his new environment and we worried that he missed the other puppies he had spent the first 3 months of his life with.

After about a week of showing him he was a very much-loved addition to our family, he rewarded us with reciprocal affection.

He is the guardian of our home and always lets us know that someone has arrived, or, in a one-off case early last year, that there is an intruder. Just like myself, Eric was traumatized by the intrusion and while it has been a long road to recovery, we have managed to console each other and have worked through it together.

My work keeps me away from home 19 days out of each month, so Eric and my husband (Bill) keep each other company until I get home. Eric comes to the airport with us when I'm flying out (he seems to know when I'm about to leave as he is always wanting my attention), and again when I fly in. He cries, wags his tail and licks my face, then ignores me for the rest of the rest of the trip home. He knows it's "Mum Week" and he'll have all the attention for the next 9 days.

If Eric needs to go out into the backyard he will produce a gentle 'ruff' and glare at us until we get up from our comfy couch. He will walk behind us but in between our legs which brings a whole new meaning to 'heel' LOL.

While working at my computer, Eric will sit on the floor and stare up at me, then 'ruff' at me. I'll make out like I'm going to grab him, then it's game on. He'll run, and I chase.

He learnt how to swim last summer. We used to get him to swim out to us but he'd swim 'up' instead of out, so would panic and head back to the shoreline. We persevered and now he'll head into the water by himself, almost showing off to the other dogs..."look at me, look at me".

Adorable is an underrated word when referring to Eric. Never have I known such a huge personality in such a small body. He is gentle but protective, a comedian, cute, adorable, and fantastic with our 5 grandchildren who are all under 4 years of age.

We cannot imagine life without Eric and treasure every moment with him. He travels everywhere with us and we book our holidays accordingly.

We love our little boy and in return he provides us with so many fond moments. In fact, maybe I should write a book on the Antics of Lord Eric. It would surely be a best seller.

Thanks for the opportunity to share Eric with you. Enjoy the photos.

Join in and write your own page! It's easy to do. How? Simply click here to return to Tell Us About Your Silkese!.
Adopted Maltese Silky - Ted
by Michelle
(Canada)
I adopted my Maltese Silky Ted when he was 2 1/2 years old. I fell in love with him right away! He has a very loving personality. I sometimes take him to work with me. I work in a nursing home and he loves the attention he gets from the residents. He has his favorites there too. He will sometimes stop and sit in front of a wheelchair to socialize and get picked up. He is such a good dog.
Silky Maltese Cross - Molly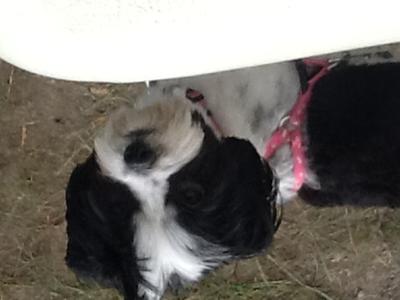 I got my Silky Maltese cross when she was 3 month old. She is now 3 years. I have had 3-4 dogs in my life and Molly was the easiest ever to potty train. I did it over Christmas break. Molly has the softest, sweetest personality. She loves attention. She has the run of the house as we work and our children are in school - no accidents all day.

She is a fabulous family dog. We love her!
Join in and write your own page! It's easy to do. How? Simply click here to return to Tell Us About Your Silkese!.
Maltese Silky Dog - Benji
by Chrissy
(Australia)
I'm not sure if our dog Benji is a Maltese Silky dog or Silkese, but he seems to fit the description. He's a spunky little dog with heaps of character and intelligence. He "talks" when you speak to him in a grumbling growl, I joke that he's like an old man complaining (he's 13 years but people still think he's a puppy when I take him for walks).

Anyway, have a look at the picture and let me know if you think he's a Maltese Silky Terrier mix!
Are you a Maltese Maniac?

Join other Maltese Maniacs and get:
Our exclusive monthly newsletter
Discounts on great Maltese dog products
Notifications of contests and giveaways