Maltese Husky Mix - Po
by Thuan Trieu
(San Lorenzo, CA. 94580)
My 3 month old pup is a Maltese Husky mix or Maltsky. Mom was the Maltese and Dad was the Husky. Purely accidental breeding, but he sure came out as a show stopper. Of course all the dogs in the litter do not look the same. Some has more Maltese features and some have more Husky features. But the all have the Husky markings.


I named him Po after the Panda in Kung-Fu Panda because he looks like a panda and has short legs. I'm hoping he'll be about a medium size dog. He's very smart and already knows 4 tricks. Play dead is one of the hardest to teach him so far but we almost have it.
If someone out there has the same type of mix but full grown, I like to see a pic to see how my Po will be when he grows older.
Maltese Husky Mix - Beefie
by Jimmy Bach
(San Francisco, CA 94116)
Kobe Beefie is my puppy's full name. He is a Maltese Husky mix. Maltese have been my dream dog; I had always wanted one, but ever since this I laid eyes on Beefie, I do not want any dog except for him.

Beefie encompasses the friendly, lovable, and gentle trait of a Husky and the appealing, not-as-hyper, and "lap-dog" nature of a Maltese. Beefie will lie quietly for long periods, either in my arms, under the bed, or on the couch. He falls asleep in a flash.

Beefie is a show-stopper, everywhere we go we get flocked by people asking if they can take pictures of/with him... although Beefie doesn't like the attention as much as I do. HEHE

One of Beefie's best characteristics is his soft FLUFFY coat. Man is it one of a kind! It has the glorious flow and downy of the Maltese coat, and the beautiful color and thickness of the Husky coat.

We are still trying to potty train him. He seems to have mastered pooing on the peepee pad, but with peeing, he always aims at the corner of the pad. Any ideas on how to fix this?

Beefie's favorite trick (or mainly mines) is the "Play Dead" trick. He is such a soldier. Not one word BANG can make Beefie fall. With my finger pointed about 5 inches away from his body, I have to say ~3-5 bangs, with the last BANG shaking the walls of the rooms before he does his belly flop. Haha. He likes that trick so much that when I say other commands, he automatically dives to the floor with his legs up in the air, ready for a treat as if he mastered the PLAY DEAD trick.

I am having so much fun with Beefie. He lightens up my day like no other; Truly a blessing in my life.

Beefie's brother, PO, is also featured on this website! He is also such a cutie! Check him out!
Maltese Husky Shepherd Mix - Mia
by Nick & Tracy
(Dayton, OH)
Mia is a mix between a Maltese, Husky, and Shepherd (though the exact breed of Husky and Shepherd are unknown). She is 6 months old.

Mia is all black with some white markings on her paws, nose, chest, and tail. She looks mostly like a very "large" Maltese, weighing in at 25 lbs. She does not shed, and house-breaking her has been an ordeal. Her personality is most like a standard Maltese, though she seems to have a bit more energy than any Maltese I've ever encountered.

sheShe enjoys constantly running, tormenting our cats, or barking at anything that moves outside (especially people walking by and other dogs!). When people are within arms reach, she enjoys sniffing, licking, "dancing" for them by jumping around on her hind legs, and being petted.

We are so glad to have this unique Maltese mix as a part of our family!
Maltese x Husky - Tweety
by Myra
(Cape Town, South Africa)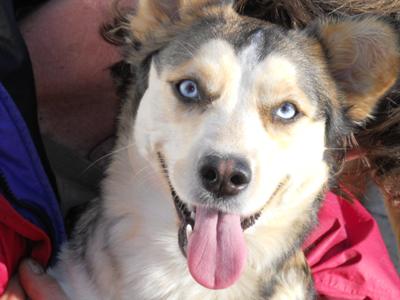 Tweety is a Maltese x Husky mix that was born 13 January 2010. Her mother is a Maltese and daddy is a Siberian Husky. She is very cute, and highly energetic... loves to play with anything she can get her mouth on!
Maltese Husky Mix - Koda
by Vanessa
(Ontario, CA)
I got my Maltese Husky mix Koda off of craigslist the owner got him as a gift from a friend and I was lucky enough to get him before someone else. He is the most adorable thing. Mom was the Maltese and gave birth at the vet hospital and dad was a white husky with some tan. Koda has green eyes and white fluffy fur. He has the spunk of a Husky with the sweet cuddly side of a Maltese. His face is very husky like he is like a mini husky :) He is playful and fun sweet and kind you cant help loving him. <3
Join in and write your own page! It's easy to do. How? Simply click here to return to Tell Us About Your Maltese Mix Dog!.
Maltese Husky Mix - Coco
by Laura
(Montreal Canada)
It Just Happened No One Knew The Mama Was Pregnant Her Mother Was A 15 Pound Maltese And Daddy Was A 70 Pound Husky

Shes 4 Months Now :) Shes Very Sweet And Loving And Really Smart Follows Me And Can Be Stubborn At Times Or A Little Drama Queen But Shes Wonderful Excited Too See How Big She Will Get Now She Is 18 Pounds
Are you a Maltese Maniac?

Join other Maltese Maniacs and get:
Our exclusive monthly newsletter
Discounts on great Maltese dog products
Notifications of contests and giveaways