Using Topical Treatments As an Effective Dog Tear Stain Remover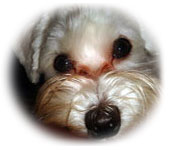 Looking for the perfect dog tear stain remover? Once you know what is causing your Maltese dog's tear stains, it will be easy to find one that works.
If you have not read our series of articles about the major causes of Maltese eye stain, please read these first to get to understand the source of the problem.
These solutions work well for Maltese that have excess tearing, dog allergies, or genetic issues.

Read below to find the best topical dog tear stain remover for your dog. Choose from homemade solutions or store bought products.


Make Your Own Dog Tear Stain Remover
There are many mixtures you can make at home that are a safe, effective way to reduce Maltese eye stain. However, you must extra careful to follow the instructions carefully and don't get any of these products in your dog's eyes, only on his hair.

Milk of Magnesia, Corn Starch, and Peroxide
If you need a quick dog tear stain remover that will work overnight, create this mixture.
First, combine equal amounts of milk of magnesia and 20 volume peroxide (the beauty shop variety NOT the brown bottle at the drug store).

Then use the corn starch to make a paste out of this.

Next, apply to the stained area of hair and let dry overnight (make sure to be VERY careful to NOT get it in you dog's eyes).

Finally, wash out and condition well. Many Maltese owners use Nexxus KerapHix restorative strengthening conditoner.

---
Hydrogen Peroxide and Crown Royale Magic Touch
For a longer term solution to Maltese eye stain, use this mixture.
First, mix Crown Royale Magic Touch formula concentrate with hydrogen peroxide (3% from the brown bottle at the drug store NOT the beauty shop variety) in equal parts. You should create enough for a week at a time and keep in a closed bottle as it may take a week or two to remove all stains.

Next, use a cotton ball to clean around the eyes with this solution. DO NOT allow solution to get in eyes.

Finally, condition well. Nexxus KerapHix restorative strengthening conditoner works great.
---

Quick and Easy Products to Remove Tear Stains

If you don't feel comfortable mixing up your own solutions, there are also some great, topical, commercial products available to help alleviate dog tear staining.

Diamond Eye
If you don't want to mix something up yourself you can try this commercial dog tear stain remover. It's made by Vitacoat which has been around for over 40 years. Diamond Eye works by applying to the hair around the eye with a cotton ball or swab. It's safe, convenient, and you don't have to condition the hair afterwards.


---

Eye Envy - Highly Recommended by Maltese Maniacs
This is also a commercial product and works in two steps. First, apply the liquid on the hair around the eye with a swab or cotton ball. Next, gently work the Eye Envy powder into your dog's hair around the eyes. You can use a small brush, Q-Tip or your fingertip. Allow to dry. For really bad stains use twice a day for two weeks to see the best results.

 

Missed Part 1 of our "Maltese Eye Stain Solutions" series? Read it now:
<< Naturally Reduce Dog Tear Stain
Are you a Maltese Maniac?

Join other Maltese Maniacs and get:
Our exclusive monthly newsletter
Discounts on great Maltese dog products
Notifications of contests and giveaways