Baby Maltese - Abby
by Natalie M Alvarez
(Miami, FL)
Abby is my human Maltese! She sleeps, lives, and eats with us! She's our baby! Abby is a very intelligent spoiled baby! She sleeps in between my boyfriend and I on her back with legs spread out every night. We wake up to her charming licks among our faces until she is let loose outside! Let me tell you, she is one persistent licker!! OH! If Abby finds me putting my shoes on anytime, you bet she will start giving me the puppy eyes! I can't even walk past the bed when shes laying on it because shes on my tail 24/7!


My Maltese is also the nosiest little dog I've ever seen! Sometimes we go to my mothers house with her, and she will be checking out the house and following everyone everywhere they are going! She is just too much to handle! Days I need just a laugh to make me feel better, Abby always seems to satisfy that laugh! She's simply my baby!
Tiny Maltese Puppy - Pork Chop
by Katie and Beth
(Silver Spring, MD)
At only 3lbs, my tiny Maltese puppy Pork Chop might seem like a fragile dog, but he's actually anything but. Pork Chop loves to run around outside and patrol the yard. His sense of duty has even earned him the nickname "lieutenant." He keeps an eye on his neighbors and make's sure they say hi to him before he lets them continue their day in non-barking peace.

If he's not lying in front of the heater, he's basking outside in the sun or stretched out on his back in his owner's lap. He's a total lap dog and loves to be held. Pork Chop also loves to chew on his rubber chicken "Barry," started playing fetch at only 10 weeks, and now we can't get him to stop.

My Maltese puppy is more cat-like than a dog, and loves to swat at the strings of window blinds or roll around on his back kicking his toys in the air.

Pork Chop is a 6 month old purebred Maltese. Follow his story on twitter at www.twitter.com/its_porkchop.
Little Maltese Puppy - Alaska
by Mary
(Sydney NSW, Australia)
My little Maltese puppy Alaska has the sweetest little face... and a personality to match. She is full of beans and loves going for walks or just a run around the backyard, where she will always stop by the rabbit cage to say a quick hello to our bunny Charlie, before continuing on her quest to find the biggest patch of dirt to play in.

Alaska is very bright, learning to sit, shake, stand, spin, lay down, wait and play dead at just 10 weeks old, not only in English, but also in Vietnamese!

My little Maltese puppy turns even the worst days into good ones... You can't help but smile and feel happy when someone is that excited to see you come home at the end of the day :)

She has wormed her way into every member of our family's heart... Even tough ol' dad!
Alaska is now 6 months old and is a much loved and valued member of our family :)
Join in and write your own page! It's easy to do. How? Simply click here to return to Tell Us About Your Maltese Puppy!.
Purebred Maltese Puppy - Coconut
by Marcella Wolfe
(Millbrae, Ca, USA)
Coconut is a purebred Maltese puppy. She was born September 14. She's very friendly with children but sometimes is an ankle biter. The only thing that stands out from Coconut is her eye stains but I have read your remedies to prevent it. So that's taken care of. My Maltese puppy is 11 months old. She has not been neutered. She's the cutest puppy there is. She was from a breeder Verla. She's so loyal like right now shes sitting at my feet chewing her bone. She's a toy breed. A cute little puppy that when I walk her EVERYONE says: "Aw, look at the cute puppy!" or "Thats a maltese right?" Most people can tell that she's purebred of course. She's her average size, weight, and height. She has the personality of a great dog.
Join in and write your own page! It's easy to do. How? Simply click here to return to Tell Us About Your Maltese Puppy!.
Princess Maltese - Khloe
by Rebbecca Irving
(Willis, Texas, USA)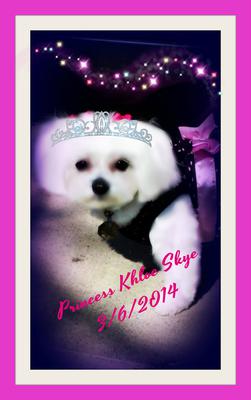 Princess Photo Shoot
Princess Khloe Skye is my Maltese puppy. She is very social and likes to meet new people. She is okay with me dressing her up almost everyday and we have photo shoots when she gets groomed or when she gets something new to wear!!!
She helps me with my depression and when I cry she licks my tears away. I never have had a dog like her, she is very in touch with our feelings. She loves her Daddy and likes to ride in the truck with him when he goes anywhere. She is catching on to things we spell.... she has videos on YouTube, and she is on Twitter and Facebook. Her picture is on Channel 13 ABC's website 3 different times. Everyone that knows Princess Khloe Skye loves her. She is so smart and so kind and loyal. She knows to stay in her own yard without a fence and she has dog friends where we live. (they are all much bigger than her ...however she doesn't care ...even tho she is a Princess she likes to get dirty and play in the yard with her friends) She does a lot of yard work with her Daddy! I love this little girl forever and then one more day! <3
Join in and write your own page! It's easy to do. How? Simply click here to return to Tell Us About Your Maltese Puppy!.
Pure Bred Maltese Puppy - Chumley
by APRIL DUKE
(Clermont FL)
7 weeks old male pure bred Maltese puppy named Chumley.
Join in and write your own page! It's easy to do. How? Simply click here to return to Tell Us About Your Maltese Puppy!.
Are you a Maltese Maniac?

Join other Maltese Maniacs and get:
Our exclusive monthly newsletter
Discounts on great Maltese dog products
Notifications of contests and giveaways