Black and White Malchi - Bandit
Our black and white Malchi is a moma's boy and afraid of thunder but an all around good family dog. We love our little Malchi!
Join in and write your own page! It's easy to do. How? Simply click here to return to Tell Us About Your Malchi!.
Black and White Malchi - Moose
by Michelle
(Massachusetts)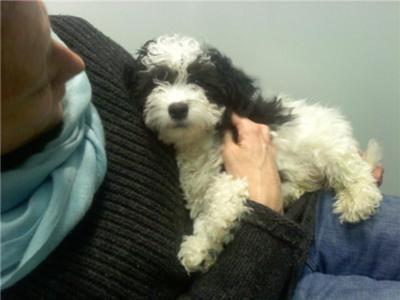 Moose is a 1 year old black and white Malchi. Moose barks sheds and can be somewhat aggressive with strangers. Moose fur is very hard to manage, he gets matted so easily. Moose is a handful but so very loved!
Black and White Malchi - Leo
Leo is my 6 month old black and white Malchi! He's very sweet, and smart knows sit and down at 5 months. He knows that shoes mean we are going out and waits patiently by the door! He is soo calm but so quirky.

He is about 6 pounds and I don't think he will get much bigger! My Malchi is obsessed with big dogs. Like Great Dane big! The first dog he ever met was a Great Dane when he was just 9 weeks and 2 pounds :-)
Black and White Malchi Puppies - Bella
by Stephen
(Albertson, NY)
Bella is the most loyal, but interesting black and white Malchi puppies. At night around 7:30 or 8:00 she will lie down next to the door and will wait next to the door until somebody comes and tries to protect you. Right now on August 14th she is only 8 months old and is very healthy and weighs 5 pounds witch will be her full growth.

Bella about two weeks ago was at the vet getting spayed and had 5 teeth removed because sometimes her breed does not their baby teeth. This was a very hard time for me and Bella. When my Malchi puppy got home she was very lethargic and just wanted to sleep all day. After two day she was back to normal and was her playful self.

Till this day from when we got her she is a very spoiled pampered dog witch is always good. This is a picture of my beautiful Malchi dog!!
Black and White Malchi - Mandy
by Ann
(Netherlands)
Mandy is a little black and white Malchi princess of 15 weeks, weighing 1136 grams. She loves playing with our cat and running around, sometimes like a mad'dog' in circles around the coffee table :)

But when it's time to sleep, she always finds my lap. She think it's beneath her to walk outside and prefers to be carried around LOL
Jag the Black and White Malchi

(Logan, Utah)
Jag has been the best dog. He is the cutest black and white Malchi. I have always been a big dog person but when I got married and moved into a condo I figured I better settle on a little house dog. Well I got the little dog, as far as the indoor house dog part, let's just say he prefers pretending he is a cow dog along side my parents Australian Shepherds on our 300 acre ranch. He is the last one to get tired, well actually I have never seen him tired, even after all day on the ranch, we are headed in and he is still dragging a stick around wanting to play fetch.

From the beginning he was awesome, my Malchi won over my non-pet husband, the dog gets the first hug when he comes home from work. He learned sit in under an hour the second day we had him and never forgot it. Within the next two weeks he had mastered more tricks then I can name.

He is also a favorite with all the nieces and nephews, especially the babies they try to escape him but he is like their shadow. Everyone who meets him loves him, I get an offer to buy him about once a month.
Join in and write your own page! It's easy to do. How? Simply click here to return to Tell Us About Your Malchi!.
Cute Black and White Malchi - Brady Boy
by Rich
(Dayton, Ohio, USA)
Brady is our 4 year old Malchi and he's our pride and joy. Brady meets us every night at the door with one of his many toys.

He is very loving and likes to be close to you all the time. Brady sleeps with us every night snuggled as close to my wife as possible.

Brady makes me laugh when he does what I call Doggie Olympics, he runs from one end of the house to the other over and over again and then flops on the floor all tuckered out.

I look forward to getting home everyday so we can play.
Black and White Malchi Puppies - Lucy
by Traci Grandinetti
Lucy is one of the best Malchi puppies. She's 5 months old and full of life!! She is like our baby, she sleeps with us all NIGHT & is protective but not overly protective. She is without a question a momma's girl.

She is still currently not potty trained... She is finding this very difficult, although she does not go in her kennel even though she is in it all day when were at work. Our Malchi is really bossy of other dogs and acts like she is a huge dog that rules all others. I'm a little worried about her with kids because she is so bossy.

Another nice thing about Lucy is she is hypoallergenic. All and all I would never give her up because she is so loving but she does have her hang up's like any dog. We love our Malchi puppy Lucy :)
Maltese Chihuahua Mix - Sherlock
by Aleeta
(Australia)
I had been looking for a puppy for over a year when I found my little Maltese Chihuahua mix Sherlock on line and as soon as I saw his picture (which looked like a little husky even though he has changed since then) I fell in love with him and had to have him. So my partner and his parents got him for me as an early Christmas present and lets just say best Christmas ever.

He is a great little dog smart and easy to train and finished first in his class at puppy pre-school. We have now moved on to dog obedience school and after that we will be trying agility.
He is almost 6 months old and getting him was the best thing I could do. He love cuddles and is such a happy little lap dog who has a toy box to rival any child.

I didn't know the Malchi mixed breed existed until I got him but would recommend it to anyone who wants a loving companion.
Black and White Malchi Puppies - Muppet
by Shawn Eastburn
(Oklahoma)
We got one of the best Malchi puppies Muppet when he was 6 weeks old and it was love at first sight! He is now 12 week's old and he has been the best addition to our family! He is lovable and playful, it is amazing how something this little can bring so much joy and happiness into our lives!

He is very smart, and knows how to work the "cuteness" factor very well, and he can be stubborn when he want's. Our Malchi puppy loves to go "bye bye" and love's being out and he behaves very well.
Maltese with Long Hair Chihuhua - Rudy
by Maria
(Miami , Flroida)
Rudy is a Maltese mix with Long Hair Chichuhua. His mom is a Maltese and his dad a long hair chichuhua. He got his mom's looks more than his dad. We got Rudy when he was 4 weeks old. I saw him in the internet (so it was love at first sight) when we took him to the vet they told us he was albino. This is why he has a pink nose and blue eyes. He is a very special dog. We are all so happy and he is a great companion,friendly and lovable dog. He is a very important member of our family. We celebrated his birthday on April 13 and invited my sister's puppies... they are best friends and they love each other and had some doggie birthday cake.

We are blessed to have such special dog.
Join in and write your own page! It's easy to do. How? Simply click here to return to Tell Us About Your Malchi!.
Black and White Malchi - Milo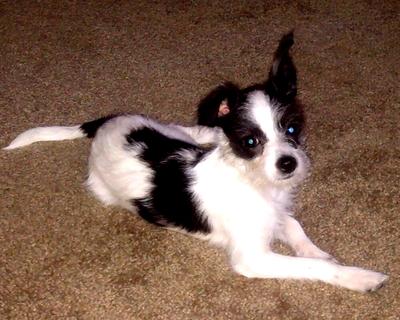 Milo is a black and white Malchi puppy, is about five months old and is such a fun dog. He doesn't shed too much. He isn't the best with the potty training or coming when he is called but he does sometimes.

He absolutely loves to play outside and chew on pine cones which I have no idea where he picked that up. He is very protective of me and definitely loves to cuddle up on my chest.

My Maltese Chihuahua does very well when he is left alone and likes his kennel. He loves to play with his mini tennis balls, chew on his bone, throw things in the air and give kisses.

He is my little boo-bear.
Join in and write your own page! It's easy to do. How? Simply click here to return to Tell Us About Your Malchi!.
Are you a Maltese Maniac?

Join other Maltese Maniacs and get:
Our exclusive monthly newsletter
Discounts on great Maltese dog products
Notifications of contests and giveaways