Buddy
by Linda Folk
(St joseph, MI)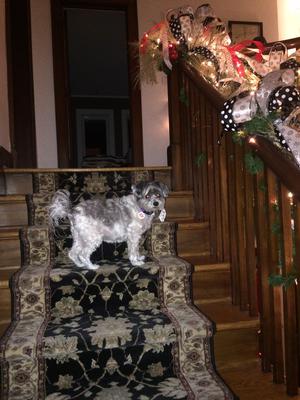 We bought Buddy as a purebred Chinese crested powderpuff, from a breeder in New Jersey. After she shipped him to us, and we spoke to her vet, we learned he was a mix, not a purebred. What luck for us! He is now 10 years old, and everyday has been a joy. He is patient and kind and gentle and funny and caring and always the big brother to our other two purebred cresteds. Bud is loved by everyone who meets him, his quiet strength makes him a hero. Two years ago he became insulin dependent and through this, he has taught us so much about love and joy. Last year he has his knee redone and is plays like a puppy with his new, pain free, leg. We travel a lot with all three dogs, and everyone remarks about how quiet, calm, and well behaved they are. We simply call them, big dogs trapped in a little dog body.


Bud is unassuming, stoic, curious about the entire world and never wants me out of his sight. There isn't a better dog.
I remember the night we picked him up at the Detroit airport and driving him 3 hrs to his new home, my son was holding him against his chest and looked at me with tears, "mom, I love him so much already, my heart is overflowing". It has never changed, he is the best dog ever!