Chihuahua Maltese - Hugo
by Peter Jonas
(Robina, Qld, Australia)
The happiest little dog he is a Chihuahua with 1/3 Maltese. He is very good with kids he sees a 1 yr old all the time and he is happy to play with her. My Chihuahua Maltese mix gives u a cute look when he has done something wrong. but over all the best little friend a man could get.
Join in and write your own page! It's easy to do. How? Simply click here to return to Tell Us About Your Malchi!.
Chihuahua Maltese - Buster
by Kristine
(Long Island, New York)
Buster is an extremely loving, smart, and loyal Chihuahua Maltese dog. He is now 3 1/2 years old and still plays like a puppy. Buster loves to play fetch and learned how to "sit" "lay down" and "speak" on command. He was easily potty trained to use wee wee pads while indoors and also goes outside as well.

Buster is very jealous when other people or dogs get attention. He also is very scheduled and doesn't like any change in his daily routine.
My Maltese Chihuahua has a wonderful, sweet personality!
Chihuahua Maltese Father - Gismo
by Theresa
(Baltimore MD)
My Chihuahua Maltese is very gentle and easy going. He is almost 2 years old. Loves to be cuddled. He has fathered 6 puppies so far. # with my Chihuahua and 4 with my Yorkie. He helps with the puppies when they start getting around by playing with them. My Maltese Chihuahua is very gentle and caring with the puppies. You couldn't ask for a better dog. I have (2) male puppies for sale now.
Chihuahua Maltese - Sophie
by Destiny I
(Laguna Niguel, Ca)
I've had my Chihuahua Maltese puppy Sophie for 3 days and I am in love! She is the sweetest dog I've ever met. She loves to play with her rubber alligator and loves her tote bag which is very convenient she literally goes everywhere with me even to my physical therapy and dr. appointments. She is extremely quiet, I wonder if she even has a voice and she is so tiny she looks like a toy! Sophie is a Chihuahua Maltese and she was born on 1/1/11 so she is about 3 months old and 1.5 lbs I've been researching and im guessing she's abnormally small for her age and breed from what I've read so far but i dont know for sure. Either way I am in love she is beautiful!
Join in and write your own page! It's easy to do. How? Simply click here to return to Tell Us About Your Malchi!.
Teacup Chihuahua Maltese - Prissy Leah
by Crystal Chauppetta
(Clermont,FL)
Prissy is our very lovable and smart teacup Chihuahua Maltese mix, she know the word bye-bye, and when your geting dressed she know you are going somewhere she gets really exited and heads streight for the door, she loves rideing on our shoulder in the car, and she knows when its time to get my daughter up for school and when its time to go down to the bus stop, she is also very protective if she hears any noises at night she barks and growls, when one of us is sick she is right there by our side and she dont really want anyone to bother you,s he loves to hide shoes and take clothes out of the hamper, she loves playing with our cats sometimes I think she thinks she is one, we were always cat lovers untill we got our Chihuahua Maltese mix, now she is part of the family.
Chihuahua Maltese - Yoda
by Rachel Hodge
(Sumter, S.C. USA)
We have had our Chihuahua Maltese Yoda since he was a year and a half old. He only weighed 3 lbs. 14oz. He is now 4 years old and weighs 4lb. and 15oz. We are an older couple so he is our "baby" and a very precious one. He is black and white with a little brown on his back leg and very large ears that stand up like a Chihuahua.

He is sweet, loving and loves to be held like a baby. He is the most unique dog in looks and personality that we have ever had. He loves to pull on peoples pants legs when they enter. He is a very picky eater and LOVES TO RIDE IN THE CAR. To us he is the most precious dog in the world.
His sweet personality and loving ways are so outstanding. I just can't imagine life without him!
Join in and write your own page! It's easy to do. How? Simply click here to return to Tell Us About Your Malchi!.
Chihuahua Maltese - Alora Willow
by Elizabeth Zapete
(Columbus, Georgia)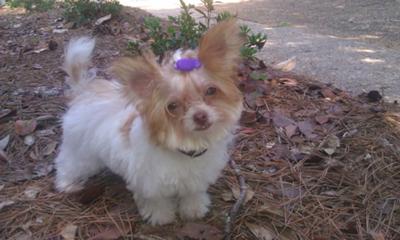 Hello, I have Chihuahua face with Maltese hair
This is our smallest dog we have ever owned. Our Chihuahua Maltese mix was born January 1st 2011. Her mother Phoebe is a purebred Chihuahua (chocolate color) and her daddy Mitchell is a purebred Maltese. We have had her since she was 6 weeks old. When we got her, she was petrified of me and my seven year old son. She was scared of riding in the car and being in the house. Now, she is 5 months old and 2 pounds of nothing but personality is quite extraordinary. She jumps in and out of cars, couches and even bath tubs!! She is almost potty trained, doing a number one accident every 5-6 days. She knows how to sit and come so far. She is kind of aggressive with younger kids. She will only tolerate so much of roughess and too much handling. Other than that, she is definately not a barker. The only time she will bark is when stranger comes around or when she hears a strange noise. She is quite the lap dog and ready to relax anytime or day but she loves to run a play with stuff and pull toys. Her hair must be brushed everyday because is will quickly get matted. SHE HAS MALTESE HAIR!! I bathe and blow dry her every 4 days. She is used to being cleaned, brushed and blowed dry. She will listen to all bath time commands. My son and I can't say enough about our little Chihuahua Maltese mix Alora. Can't you tell?
Join in and write your own page! It's easy to do. How? Simply click here to return to Tell Us About Your Malchi!.
Chihuahua Maltese - Mishka
by Grace
(Australia)
WELL! My Chihuahua Maltese is a little maniac, she was passed down from two families because she was just too much for them so we got her for free. At first she was a living nightmare, escaping every two minutes, chasing down down every man, woman, child, car, bus and truck that passed our house. She's jumped from my car window at 60km/h onto a busy road, been hit by a four-wheel drive and been attacked by a Pitbull but she's our little gem. In one year she's managed to settle down a lot and has become very tame. My Chihuahua Maltese mix has a hierarchy of love in this house... her loyalty settles most with my Mother-in-Law, followed by by MIL's partner, then my partner's sister... then it's a toss up between myself and my partner. She loves us all but there's an obvious distinction of who she loves more. I'd never pass up buying a Malchi again, they're beautiful, loyal, intelligent and very pretty dogs. Hard to train, she likes to pee on our carpet if she's cranky (sigh), but we love her to death. Also, she seems to like older people, dislike children and unfortunately she seems to have some sort of a racial indifference which is very embarrassing. She barks at darker skinned people, whether they be VERY tanned or cultural... it's not a positive factor, but it's very "giggleworthy".
Join in and write your own page! It's easy to do. How? Simply click here to return to Tell Us About Your Malchi!.
Chihuahua Maltese - Stormy
by Melea B
(Arkansas)
She is 3 months old and fits the Chihuahua Maltese description to a T! She loves everyone in our house and EXPECTS us to love her in return whenever she decides.
Join in and write your own page! It's easy to do. How? Simply click here to return to Tell Us About Your Malchi!.
Chihuahua Maltese - Mitzi
by Crystal
(California)
Mitzi is a very loyal Chihuahua Maltese dog that can be playful at times. She loves to lay on the bed and follow you everywhere. My Malchi also barks a lot, but mostly at strangers or when she hears a noise. She does best with young babies or older people, young kids tend to bother her since their too active. She's a good listener most of the times and is picky with food.
Deerface Chihuahua Maltese Mix - Marmaduke
by Bambi Murwin
(Jacksonville, FL, USA)
Duke is very sweet and energetic! He is bad about eating leather especially my daughter's dance shoes and our couch! I recently found out that he may be a Deerface Chihuahua Maltese mix, which I never knew, but suspected because I constantly remarked on how his face reminded me of a deer!

He is so cute, with short, but shaggy hair and his markings remind me of a German Shepard, he is tan and black. He is definitely a Momma's boy, but loves to sleep with the kids and has to be tucked it in!! He will roll over on his back w/ his head on the pillow next to the kids and wait for a hug and kiss and for you to tuck him in, I swear he thinks he is human, if you don't tuck him in he won't go to sleep!!

He is a joy to have around, if only he didn't eat the couch and shoes, LOL!! He also love to play w/ our Pitbull, in fact he thinks she is his mother and she acts like it as well, it is too cute!! His tail curls toward his back and as he runs it taps him, there are times when he will turn around and see if someone is behind him, and I absolutely love the way he prances when he walks, he is just too cute and too fun!!
Harley - Chihuahua Maltese Mix
by Susan
(Edmonton, Alberta)
Harley is a smart and funny Chihuahua Maltese mix. He loves to play for hours by himself. He is full of energy, but sleeps well. He is soft and had more black when we got him. The black on his head is being replaced with reddish brown. He is so cute. Today he is 11 weeks old.
Are you a Maltese Maniac?

Join other Maltese Maniacs and get:
Our exclusive monthly newsletter
Discounts on great Maltese dog products
Notifications of contests and giveaways