Cute Boy Dog Names - Bailey Bear
by Tina Hewitt
(N. Ireland)
My gorgeous Maltese baby helped me choose his name. I had a list of cute boy dog names to choose from and I called each one out to him but the only one he responded to was Bailey. The Bear bit just seemed to come from nowhere and stick. So he gets called "Bailey Bear" or "Bo-Bo".


I got my Maltese just 6 days after my Yorkie died from Cushings Disease. It was the most horrendous time of my life losing "the love of my life" but it was the best decision I have ever made getting Bailey Bear. He is just the most sweetest, adorable, lovable, affectionate wee soul. I truly love the bones of him.
Male Maltese Name - Boo Boo
by Jack
(Spain)
Boo Boo was chosen a week after we got the little darling, just by his cheekiness and his bubbly way! He really is a Boo Boo, 18 months old now and him and I have a wonderful love affair, he is my best friend. He has an older brother (not related) called Teddy Tickles who is very very chilled, he is a Bichon Havanese. Jack, Spain
Join in and write your own page! It's easy to do. How? Simply click here to return to Maltese Dog Names.
Maltese Mix Name - Gysmo
by Michele
(Queensland Aus)
Gysmo was chosen because he looked just like Gysmo from the movie Gremlins when he was a puppy. Nicknames included Gyssy, Gys, Dustmop, Dishmop, Gizburgen (after the V8 Supercar driver in Australia), Gyssyip and Gysmop. He was a tan and white Maltese Shih Tzu, and sadly passed away last May at the age of 15 years 2 months. Just today (March 8 2013), we have bought a 7 month old Maltese Silky, who already has the name Jackie. We're not sure how she came by this name, but she seems happy with it. No doubt she'll come by some nicknames in the future though!
Join in and write your own page! It's easy to do. How? Simply click here to return to Maltese Dog Names.
Italian Dog Names - Topo gigio
by Rita cz
(Kenosha, wisconsin)
He looked like a little mouse and his dad said "oh he looks like a little mouse! He said he looks like Topo Gigio the little italian mouse! (Being both italian we agreed) I wanted to name him "paisan" but he talked me into Topo gigio because he did really look like a Topo Gigio. Topo has passed now and not a day goes by that we dont miss and think of him... I hope you will share our story as no one could ever forget a Topo Gigio! ~:)
Cute Boy Dog Names - Spencer
by Debbie
(Kennedy)
I think my Maltese puppy just looks like a Spencer. I think it's a really cute boy dog name for other adorable Maltese puppies too!
Top Dog Names - Peanut
by C. Henry
(Beaverton, OR)
We named our Maltese Pomeranian mix Peanut because of her small beige marking and her size. We were looking for top dog names and Peanut rescued our family in June 2010. She is a Maltipom. Peanut's personality is eager to please, comforting and affectionate (Maltese trait), and protective of her home (Pomeranian trait). Peanut always wants to be with her person. We have a very senior German Shorthair Pointer at home. Both of them are very happy to have each other during the day while their people make dog food money. Peanut can go on long walks, but is happy if it's short as well. Thankfully since we live in the Northwest and we have a lot of rain she is ok if our exercise just around the block. Peanut enjoys visiting dog parks, but mostly for the people who can give her more love. Peanut is agreeable with both big and little dogs, but it smart enough to understand that other dogs do not have pets or treats.

I do say that Peanut rescued us... we adopted her just after my father had passed. The times when I found my emotions were tough to bear, Peanut had a way of knowing and would just come and put head on my chest and let me cry and greive. I have so enjoyed teaching Peanut tricks and my heart is absolutely filled everytime I see her bright eyes and sweet face.

Her rescue story: Along with her mother, a Maltese, and her father, a Pomeranian, Peant (then "Tinkerbell), and an unrelated Shih-Tzu got loose from their breeder. Peanut was only 1 year and 3 mos and at the time had not been bred yet. The county shelter altered all the dogs when the breeder did not pick up the animals after a wait period. Once the county notified the breeder the dogs were altered, the breeder refused to claim animals. Peanut was shaved and not really looking her best, had worms and was very thin from being loose and found in a field. However, when I went to meet her along with our other dog, she her personality of shined. Peanut was already housebroken and could walk on a leash when we adopted her. I encourage everyone to look at shelters, as I don't think many people think a fancy breed can be found at shelters. The photo I provided was taken only 6 mos after her adoption.
Unusual Black Dog Names - Mad Max
by Rita
(Allen, KY, USA)
My daughter actually named my Maltese mix dog a pretty unusual black dog name. She gave him to me because he was using her 2 month old son as a chew toy Hence the Mad Max part, but he's certainly earned his title always eager for attention and nipping to get it.
Join in and write your own page! It's easy to do. How? Simply click here to return to Maltese Dog Names.
Uncommon Dog Names - Philadelphia
by Marianne Blazowich
(Bradenton, FL)
Some of my Maltese dogs have uncommon dog names. I loved a movie that was an HBO miniseries call "All The Rivers Run". It was set in Australia around the early 1900s. One of the main characters was named Philadelphia (Dellie), another was Brenton, their child's name was Gordon.

I named three of my Maltese after these three characters. (I now have 5 Maltese but I ran out of names from the movie, the other two are Lacy and Madison)
Join in and write your own page! It's easy to do. How? Simply click here to return to Maltese Dog Names.
Male Dog Names - Desmond
by Cheryl Nacey
(Eddystone,Pa USA)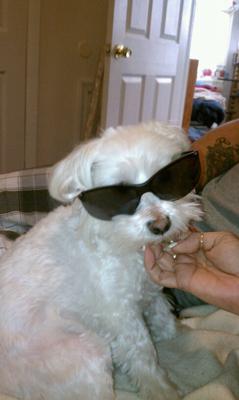 Im the dog
Like a child sometimes you want a name that runs in the family yet is perfect for your pooch, Desmond Anthony is a combination of great && great grandfathers in his blood-line that also happen to be blue ribon champions. Tho Des has a less then perfect black nose, he is my best friend && my furry little son, he's a Virgo and is true to his sign. He couldn't be more loving and loyal, and well behaved. He know lots of tricks and will do them now by hand command. Hes not a yippy or barky dog, but will let you know when something isnt right. He is super protective, and you dont want to hurt his famiy, Tho small if he truly feels threatened look out. Desmond is a great male dog name and fits him to a tee.
Join in and write your own page! It's easy to do. How? Simply click here to return to Maltese Dog Names.
Cute Boy Dog Names - Thumper
by Stephanie
(Texas)
I found a one of the cutest boy dog names. From the moment we brought him home to even still today 5 years later, he hops when he's happy, and he prefers bouncing around over running. My family always names our pets after Disney characters, and Thumper, the bunny from 'Bambi', fit our pup perfectly.
Join in and write your own page! It's easy to do. How? Simply click here to return to Maltese Dog Names.
Boy Dog Name - Zeke
by Denise LePard
(Old Bridge, NJ, USA)
My youngest daughter named him because she said he looked like a "Zeke."
Join in and write your own page! It's easy to do. How? Simply click here to return to Maltese Dog Names.
Movie Dog Names - Bogie
by Pete
(Nova Scotia, Canada)
We named him after Humphrey Bogart in the movie The Maltese Falcon.

He was every bit as classy as the actor.
Join in and write your own page! It's easy to do. How? Simply click here to return to Maltese Dog Names.
Small Dog Name - Clifford
by Shalet
(Sodus, NY, Wayne county)
Because my puppy (7 months) was such a little dog, he needed a big name to boost his pride my aunt wanted to name him Brudice or something like that. but he also has this reddish gold tint to him in the right light. Also even when he was a puppy he tried to do big dog things like attempt the bottom stair or try to jump up on the couch.

He was such a cute little fluffy ball when he was just a baby but now he is much leaner and taller just like Clifford the big red dog. It took me forever to think of a great name for my precious little puppy but now that he is a little older I feel that i have picked the perfect name for my Maltipoo.
Football Name - Aggie
by Judy
(Ft. Worth, TX, USA)
Since we are big fans of Texas A&M Univ., where its students and alumni are referred to as "Aggies" & the campus at College Station, TX is known as "Aggieland", we could not resist naming our baby Maltese "Aggie".

Aggie was born 11/9/2013 and her AKC registered name is: "Fancy's Little Texas Aggie Girl".

Our little Aggie girl wears her Texas A&M jersey for every televised football game and barks whenever HER team makes a touchdown (just kidding).
Join in and write your own page! It's easy to do. How? Simply click here to return to Maltese Dog Names.
Cute Dog Name - Cooper
by Michelle
(Wisconsin)
I met an elderly man that called ALL dogs "Cooper" and I thought that was unique and cute. So I ended up naming my little guy- "Cooper" His AKA name is: "Mr. Cooper Goes To Town" and it is so fitting since he loves to go to town! I came up with that from the movie "Mr. Cooper goes to town -starring Gary Cooper" And that is how Cooper got his name
Are you a Maltese Maniac?

Join other Maltese Maniacs and get:
Our exclusive monthly newsletter
Discounts on great Maltese dog products
Notifications of contests and giveaways